Edwards climbs within 56 points of leader Bowyer with Phoenix win
Updated:
November 9, 2008, 7:37 AM ET
Associated Press
AVONDALE, Ariz. -- Carl Edwards improved his bid to win a championship this season, rolling to a dominating win Saturday at Phoenix International Raceway to stay in mathematical contention for the Nationwide Series title.
[+] Enlarge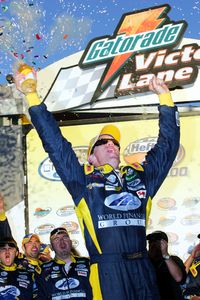 Todd Warshaw/Getty Images/NASCARCarl Edwards celebrates his sixth Nationwide win of the season.
Edwards, the defending series champion, led a race-high 78 laps and withstood a final challenge from
Kevin Harvick
and
Denny Hamlin
on a late restart to win his sixth race of the season. The victory chipped into
Clint Bowyer
's lead -- Bowyer started the race up 91 points, but was in an early accident and finished fourth.
Bowyer now goes to next week's season finale at Homestead-Miami Speedway with a 56-point lead over Edwards.
"If we run like we've been running ... we can close 56 points without Clint having trouble," Edwards said.
But Bowyer can win the championship next week if he finishes eighth or better, regardless of what Edwards does.
"Man, I can't handle this stuff anymore," Bowyer said. "We're still in it. We dodged a bullet, though. If you have a day like that and come back and finish fourth, that's what wins championships," Bowyer said. "You have to be able to bounce back. I thought we were done."
Edwards refused to start thinking he had an advantage after Bowyer was stacked up on the sixth restart of the race. He immediately thought back to Friday night's Truck Series race, when championship challenger Ron Hornaday wrecked on the first lap but still managed to close his deficit when points leader Johnny Benson later wrecked.
Fast Facts
• With his 19th career Nationwide win, Carl Edwards trimmed 35 points off Clint Bowyer's points lead.
• Bowyer's lead is down to just 56 points, the closest the Nationwide race has been since May 1.
• There is just one race remaining. The leader with one to go has won all but one Nationwide championship. The only exception was Rob Moroso, who beat Tommy Houston in 1989. Bowyer can clinch the crown by finishing eighth or better at Homestead next Saturday.
-- ESPN research
"I thought to myself, 'as soon as I start relaxing here and counting points, it will be a wash,'" Edwards said. "I assumed with some damage, he was going to run worse than 10th. I didn't relax, I knew the same thing could happen to us."
But Edwards has been on a tear in both the Sprint Cup and Nationwide Series. He hasn't finished lower than fifth since California in August, a span of eight races. And he's rolling in the Cup Series, too, winning the last two races to chop away at Jimmie Johnson's lead.
"We're just performing well," Edwards said. "It's a great feeling to go to the race track and know you can win. That's one thing I thought about a lot with respect to the season -- I feel like we're going to be really tough for years to come.
"This success lately, when I'm not wrecked or having parts that fail, that makes me really excited for next year and the year after."
Still, Bowyer seemed undaunted by the challenge.
"If someone would have come to me at the beginning of the year and said 'You'll have a 56-point lead,' I'd have been pumped," Bowyer said. "If we go out there and do exactly what we did today, then we'll be the champions."
Hamlin finished second and Harvick was third.
Bowyer, who dropped all the way back to 30th after his accident, rallied to finish fourth.
"If you have a day like that and come back and finish fourth, that's what wins championships," Bowyer said. "You have to be able to bounce back. I thought we were done."
Kyle Busch finished fifth and was followed by Landon Cassill, Jamie McMurray and Mike Bliss. The top 10 was completed by Mike Wallace and Joey Logano.

Copyright 2008 by The Associated Press
SPONSORED HEADLINES
MORE RACING HEADLINES
MOST SENT STORIES ON ESPN.COM