Forsythe hopes to run three cars
Updated:
March 9, 2004, 5:30 PM ET
By
John Oreovicz
| Special to ESPN.com
| | |
| --- | --- |
| | |
| | Carpentier |
LONG BEACH, Calif. --
Patrick Carpentier
is one of only two Champ Car World Series drivers who won races during each of the last three years. But a month away from the start of the 2004 season, the laid-back French-Canadian has no guarantee he will be on the starting grid for the Toyota Grand Prix of Long Beach, even though he has a contract with team owner Gerald Forsythe.
Carpentier showed his class by attending the Forsythe Championship Racing press conference at Champ Car's media days alongside his 2003 teammate (and defending Champ Car series champion) Paul Tracy. Also present was Mexican Rodolfo Lavin, the second-year driver who is replacing Carpentier on Forsythe's A-team, thanks to the keg full of pesos he brings from sponsor Corona beer.
Forsythe has an aversion to public appearances, so he left his business development manager Peter Davies the task of explaining to the gathered media why one of the Champ Car series' most successful and charismatic drivers is being replaced by a second-year pay driver who counts a pair of eighth-place finishes as his best results. Carpentier could only grin and bear it as Davies confirmed the bad news he had heard through the grapevine from Tracy just three days earlier.
"Two or three days before there were some rumors and some people called me, but I said I had gotten my testing schedule and team clothing," Carpentier said. "The same thing had happened in the past and I had been trying to ask people what was happening but I didn't get an answer.
"Then Paul called me, and he told me that they had announced at the shop that I was not part of it. Gerry finally called me Friday night. He just said he might have the money for me to run one or two races but that's about it. He doesn't have the budget or the sponsorship for me and Paul, and Rodolfo came in and they decided to go with that. For me, there is nothing they could do."
Carpentier was a can't-miss prospect when he won the 1996 Toyota Atlantic championship and graduated to CART Champ Cars the following year with Player's/Forsythe Racing. While it took Carpentier until 2001 to win a race in the series, he followed that breakthrough with two more victories and a career-best third place finish in the CART championship in 2002 and a flag-to-flag victory at Mazda Raceway Laguna in 2003, ending up fifth in the championship standings.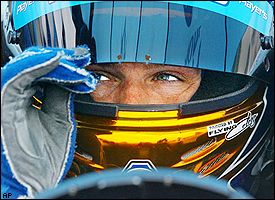 Carpentier might be on the outside looking in when the season opener at Long Beach rolls around.
But in October, Canadian tobacco legislation required Player's to withdraw its sponsorship. It was a huge blow for Canadian racing in general and Forsythe's team in particular. Throughout the offseason, team personnel confidently spoke of an unnamed replacement sponsor. But when the 2004 team was introduced Monday in Long Beach, a graphic showed Tracy and Carpentier in cars featuring the logos of Indeck Energy, one of several companies Forsythe owns. A third Corona car for Lavin was also shown, and that's when Davies began the task of explaining how three goes into two.
"We'd rather not be going out with Indeck and Forsythe Racing on Paul's car," Davies said. "Now with the good news that is being announced (regarding the series), hopefully we can close many of the commercial arrangements that have been effectively on ice. I'm confident we'll see a lot more changes with the team as the weeks progress. Three drivers will be competing in fully competitive equipment in all of the races."
What Davies refused to actually say was that Carpentier would be farmed out to another team -- with his salary paid -- to drive a car in Indeck colors, which in an ideal situation is not what Davies wants to do. On four occasions, he stepped around the issue.
"If it was double-speak, it was double-speak," Davies said. "We're committed to having our three drivers. We've had a long relationship with Paul and Patrick and more recently with Rodolfo. We're determined that those three drivers will be competing in the championship. The relationship is long and strong and all three drivers will have fully competitive equipment. We're absolutely determined and supportive and committed to deliver that to all three drivers."
Of course, this isn't the first time that Forsythe has had three contracted drivers vying for two seats. In 2003, Alex Tagliani was left hanging in exactly the same way when Tracy was recruited to the team, before eventually landing with Paul Gentilozzi's start-up Rocketsports Champ Car team. But it's one thing to be replaced by a series superstar and another to be moved aside by a rent-a-driver.
"The only thing that makes me unhappy is if they would have told me in September it wouldn't have been too bad," Carpentier said. "But right now, just one day before I had to come here and sit at a press conference, for sure it's a bit difficult. All the other series have already started and Champ Car is starting in a month. To find something would frankly be impossible and that's difficult to accept.
"I know Gerry told me he is working hard, and I understand what the series is going through. If he finds me a competitive ride, and that's what he is working on right now, it's no problem whether I driver for Gerry or another team -- as long as I get to drive and race this year. If a driver stops for a year, it's difficult to step back in. To me that's more of a concern than just getting a paycheck at the end of the month."
| | | |
| --- | --- | --- |
| | " | For sure it's a bit difficult. All the other series have already started and Champ Car is starting in a month. To find something would frankly be impossible and that's difficult to accept. " |
| | | — Patrick Carpentier |
The Forsythe saga provides a snapshot for the finance difficulties that all forms of motorsport face right now. Car count is a crucial issue in Champ Car and the Indy Racing League, with both series under 20 cars, while even NASCAR is having trouble filling its traditional 43-car Cup fields.
A situation similar to Forsythe's can be found at Kevin Kalkhoven's PKV Racing, where Mika Salo's pay demands were not met. Meanwhile, Roberto Gonzalez, a Mexican with only two Champ Car starts to his credit, brought backing from NII Holdings (formerly Nextel International) to snag the team's second seat alongside Jimmy Vasser. From a purely competitive standpoint, taking a paying driver rather than paying the price to hire the best available pilot weakens both teams.
Pay drivers are nothing new in any form of motorsport. But until recently, they tended to drive for smaller teams, keeping owners like Derrick Walker and Dale Coyne in business. It's no coincidence that Walker (who was the beneficiary of Lavin's Corona money in 2003) doesn't have a Champ Car program this year.
"Guys have always brought sponsorship into racing and that will continue to happen," said Vasser. "It comes down to economics."
John Oreovicz covers open wheel racing for National Speed Sport News and ESPN.com.
Autos, Open-Wheel
Motorsports Writer for ESPN.com
Covered Indy car racing for 20 years
Work published in 12 countries
SPONSORED HEADLINES
ESPN TOP HEADLINES
MOST SENT STORIES ON ESPN.COM