Teams testing at Indy on Saturday
Updated:
April 1, 2004, 3:34 PM ET
By
John Oreovicz
| Special to ESPN.com
The race operations branch of the Indy Racing League is facing its toughest test since the arrival of Toyota and Honda to the IndyCar Series in 2003 brought an unprecedented level of technical development. Record speeds were seen at eight of the series' thirteen carryover tracks in 2003, and even higher speeds were being forecast for 2004.
The potential escalation in speed was particularly worrying at the Indianapolis Motor Speedway, where the pole speed topped 231 mph the last two years and likely would have been knocking on the door of 235 mph this year without modification to the cars. The danger of IndyCars running at those speeds was hammered home at IMS last October when rising star Tony Renna was killed in an accident during private testing.
In December, the IRL announced a reduction in engine capacity from 3.5 liters to 3.0 liters, which it expects to result in a reduction of about 90-95 horsepower. The 3-liter engines, as well as a revised Indy-only aerodynamic package, will make their on-track debut at the Speedway on Saturday as 13 cars are expected to take part in a private engine manufacturer test day.
IRL senior vice president of racing operations Brian Barnhart said that changes were already being discussed with the league's three engine manufacturers and chassis makers prior to Renna's accident, which came less than two weeks after another airborne crash involving an IndyCar left Kenny Brack critically injured. Brack hopes to return to the cockpit at Indianapolis this May.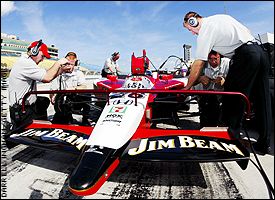 Dan Wheldon's crew will be working with a 3.0 liter Honda in its car.
"I think (those incidents) probably accelerated the program by about six months and we underestimated the amount of development that the manufacturers would bring to the table," Barnhart said. "We were looking in our original conversations with the manufacturers and within the league to make this step and this change beginning with the 2005 season. But it has been brought forward to May 2004."
IRL officials believe the engine changes will bring the pole speed down to the 223 mph range. Their biggest challenge has been to create an aerodynamic package that will keep the cars challenging to drive with a 10-12 percent reduction in horsepower. At the same time, the issue of IndyCars taking flight has been addressed with some small and nearly invisible aerodynamic devices.
Barnhart said that the IndyCar's large front and rear wings will be maintained, but that a rule has been drafted to prevent teams from running radical setups with negative wing angles. A ¼-inch centerline wicker running from the nose of the car to the base of the windshield and from the air intake to the back of the engine cover has been added. Barnhart said there is also a reverse ¼-inch wicker on the underside of the rear wing main plane along with a curved skid under the car.
The reduction in capacity does not require the engine manufacturers to design a new engine. But they still needed to invest substantial time and money into creating new heads, pistons and connecting rods for the existing block, all while attempting to remain competitive in the first three races of the 2004 season while using the existing 3.5-liter engine.
"There are two aspects to the project -- production and development," remarked Robert Clarke, general manager of Honda Performance Development. "Production has been a real challenge considering the short lead time we were given and the need to produce certain 3.5-liter and 3.0-liter parts concurrently. Development-wise the challenge has been to continue development of the 3.5-liter through Motegi -- one of our most important events -- and develop the 3.0-liter at the same time.
"We couldn't sacrifice one program for the other. You could argue that the 3.0-liter program is more important because it will last the rest of the season, or actually until 2006. However, (Honda) leaving anything on the table with regards to Motegi just would not be acceptable. We'll see at Motegi and Indy who focused on what. We have done our best to give both programs equal billing."
Clarke said he expected the displacement reduction to initially result in a drop of 100 horsepower. But he thinks that the deficit will be down to as little as 80 by the end of 2004.
"The rate of development has, honestly, been above my expectations," he said. "Competition is severe and the IRL rules do not provide the opportunity for any manufacturer/team to gain a significant advantage. As a result you work very hard for relatively small gains."
The Saturday forecast for Indianapolis calls for clear skies with temperatures around 60 degrees. Barnhart is hoping that all 13 cars are able to log significant track time, because with a new package in development, the league and its teams are heading into the month of May with an unknown quantity.
| | | |
| --- | --- | --- |
| | " | The rate of development has, honestly, been above my expectations. Competition is severe and the IRL rules do not provide the opportunity for any manufacturer/team to gain a significant advantage. As a result you work very hard for relatively small gains. " |
| | | — Robert Clarke |
"We want as much feedback in a short period of time as possible," Barnhart said. "We have seven Toyotas running along with four Hondas and two Chevys, and a good mix of G Force and Dallara chassis.
"It's going to be a little work in progress," he added. "You do all your computer work, then you validate it with wind tunnel work, and then you have to be on track and make sure that also validates and that's the stage where we're at. Saturday will be our first run with the changes we've made aerodynamically to balance the reduction in horsepower."
But for Barnhart and the IRL, the work isn't nearly over. They're currently researching a new aero package for the 3-liter cars for the high-banked intermediate ovals like Texas Motor Speedway, Kansas Speedway and Kentucky Speedway -- tracks where the IRL is known for its intense wheel-to-wheel action. Initial track testing for that package is set for early May.
"We have to cut the downforce and drag numbers back to coincide with the horsepower to a balance where it is more of a challenge to drive around a place like Texas," Barnhart said. "Our goal is to reduce the excess downforce to a point where we do create a little separation, but the key is we have to maintain the ability to pass and overtake. That's the spirit and essence of our sport."
That ability to pass, and not just to run side by side at high speeds, is key.
"We were in a situation (in the past) where we had to put some makeshift parameters on the cars to control the speeds at the high-bank tracks like Texas and Chicago," he added. "We actually artificially created pack racing where they couldn't get away from each other. You literally got side by side and couldn't go anywhere. As exciting as that may be at some point, that's really not in the best interest of anybody to get cars stuck side by side. You need to be able to pull out and pass, and the overall quality of the competition that we put on the racetrack at Homestead is a good indication we're heading in the right direction on the high banks."
John Oreovicz covers open wheel racing for National Speed Sport News and ESPN.com.
Autos, Open-Wheel
Motorsports Writer for ESPN.com
Covered Indy car racing for 20 years
Work published in 12 countries