Rock's demise should be bigger news
It doesn't seem fair. North Carolina Speedway, part of the foundation on which stock car racing was built, faces an inevitable death and few people outside NASCAR Nation care.
While the mere prospect of advertisements appearing on Major League Baseball's bases filled sports' talk show airwaves for a week, the actuality of NASCAR entirely losing one of its most storied tracks barely created a blip on the mainstream media radar screen.
While Spider-gate merely grazed baseball's tradition, Ferko-gate has scarred NASCAR's heritage for life. Yet, there was no Sports Illustrated cover story. No front page USA Today article. Heck, it was only a 75-second mention on SportsCenter.
As much as it hurts, there's no denying reality: Despite being the second highest rated television sport, and No. 1 spectator sport in the United States, NASCAR has not been completely accepted by all American sports fans.
Is it fair? No. Is it true? Yes.
Sometimes it appears there's still an invisible boundary between the gridiron and the starting grid. It's almost as if there's an impenetrable wall between the foul pole and the pole position. It often seems fast breaks and fast cars are incompatible.
Still, this story should transcend the racing community. After all, it's not just a racing story. It's a story about the changing face of sports under the influence of money.
NASCAR's lawyers would probably contest my simplified explanation of the settlement, but here's how I see what transpired:
International Speedway Corporation sold all the assets of North Carolina Speedway to rival entertainment group Speedway Motorsports Incorporated. However, the most valuable asset in the transaction wasn't acreage or infrastructure. It was the existing race itself -- which NASCAR has allowed SMI to move to Texas Motor Speedway.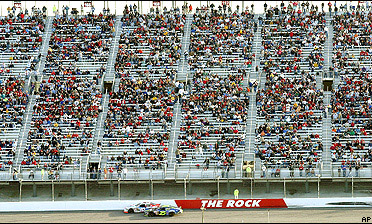 This sparse crowd last February at The Rock helped doom it.
To me, this is like allowing a businessman from Texas to buy the Detroit Tigers and MLB allowing him to move the team to Fort Worth. Now that would be a huge story, and that's pretty much what happened here.
The North Carolina Speedway -- which has played host to NASCAR Cup Series events since 1965 -- will vanish from the schedule next season. With it, 40 years of NASCAR Cup Series tradition will also disappear.
In the midst of NASCAR's boom, the Rockingham, N.C., track maintained the intimate feel of a Saturday night short track while playing host to the biggest stars in American motorsports. It was a place that many drivers, crews and fans likened to home.
Perhaps the only North Carolinians who didn't have an appreciation for the track were the country club types just a 20-minute drive north. It was always amusing to see the looks on the faces of some golf snobs after realizing they booked a golf weekend at Pinehurst that coincided with a race weekend.
The "Rock" was a sobering stop on the schedule. Since 1992, Rockingham has had the second race of the season. The relative tranquility in comparison to a chaotic stay in Daytona the week before was always a welcomed change.
Aside from character, the vintage one-mile, high-banked track produced tremendous racing. In the seven races since 2001, there have been three finishes where the margin of victory has been less than three-tenths of a second. That includes this spring's thriller where Matt Kenseth held off Kasey Kahne by one one-thousandth of a second, the closest finish in NASCAR history (since the adaptation of electronic scoring).
I will be sad to see Rockingham retired. However, there may be an upside.
Ironically, the very crux of the settlement may, in the long run, help NASCAR.
NASCAR already has more than 55 years of racing tradition. Now it must focus on building a broad reaching sports tradition. It must find a way to bridge the gap between motorsports fans and traditional sports fans. Relocating an event from the remote confines of North Carolina's sand hills region to the seventh largest media market in the country can only help them achieve that.
The addition of a second Texas race in 2005, coupled with NASCAR's other major decision -- allowing ISC to move one of Darlington's races to Phoenix -- will move them closer in line with the geographical alignment of other professional American sports.
Theoretically, this will make the sport more mainstream. With any luck it will help them achieve what they are currently missing -- universal acceptance.
Mike Massaro covers NASCAR for ESPN and ESPN.com.
Mike Massaro, host of ESPN2's daily NASCAR news and information program NASCAR Now, and a pit reporter for NASCAR race telecasts, has been with ESPN since 2001. An award-winning reporter for NASCAR and other sports for SportsCenter, Outside the Lines, ESPNEWS, ESPN Radio and other multi-platform programming, Massaro previously served as a reporter for ESPN's motorsports news program RPM2Night.
MOST SENT STORIES ON ESPN.COM