Fight for Long Beach roars along
Updated:
April 9, 2005, 12:41 AM ET
By
John Oreovicz
| Special to ESPN.com
LONG BEACH, Calif. -- No fanfare was necessary when the Champ Cars took to the streets Friday morning to begin practicing for the Toyota Grand Prix of Long Beach. Street racing is nothing new for the Champ Car World Series; nor is it a novelty for Long Beach, which has played host to the "Roar by the Shore" since 1975.
Champ Car racing and Long Beach have benefited from a productive partnership since 1984, and nothing appeared amiss under cloudless skies on Friday. Untold thousands of fans lined the 1.968-mile street course to take in the action, making the Friday crowd for last week's well-attended IndyCar Series street racing debut in St. Petersburg -- which generated a lot of positive attention -- look puny in comparison.
Many within the paddock Friday were talking about the St. Pete race, which is amusing because lots of people within the IRL have been talking about Long Beach. This is the final year of Champ Car's current five-year contract with LBGP promoter Dover Entertainment, and it's no secret that a behind-the-scenes battle for future control of Long Beach has been going on for more than a year.
The principles involved have made it clear that they will not say anything substantive on the record until after this weekend's race, so the media -- as well as Internet fan sites -- have resorted to wild speculation, with some claiming that Long Beach has already been signed and sealed by the IRL, while others insist Kevin Kalkhoven and Champ Car have the inside track for a fresh contract extension.
Tony George and the IRL bid for Long Beach during the CART bankruptcy hearing in Indianapolis in January, 2004, but Judge Frank J. Otte ruled in favor of Kalkhoven's Champ Car plan. Also, Kalkhoven was able to land engine builder Cosworth Racing when it went up for sale in late 2004.
Given a second crack at the valuable Long Beach contract, can George and the IndyCar Series turn the tables?
Champ Car is engaging in a bit of high-profile lobbying tonight when series stalwart Paul Newman makes an appearance on The Tonight Show with Jay Leno to promote the race (which will be broadcast by NBC). The pair will race go-karts before Memo Gidley is set to arrive in the Champ Car two-seat demo car as Newman's mythical ride back to Long Beach.
Before choppering off to Burbank, Newman watched from the pits as his drivers Bruno Junqueira and Sebastien Bourdais ran first and third in provisional qualifying. By leading Friday's action with a 1 minute, 8.342 second lap, Junqueira guaranteed himself a front row starting position for the race no matter what happens in Saturday's final qualifying session.
Junqueira has finished third and second at Long Beach, while remarkably, Newman/Haas Racing hasn't won at one of Champ Car's oldest venues since 1987.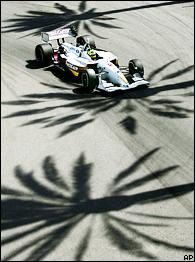 APBruno Junqueira won the provisional pole Friday at Long Beach.
"I know I have to do better than last year and the team has been working very hard to improve my car," Junqueira said after his 103.667-mph lap. "It's nice to see on the first day that our work is moving us forward. Newman/Haas has been fast on this track for the last three years, but it's a matter of bringing it home to win the race."
The Newman/Haas duo was split Friday by Paul Tracy, who is seeking his fifth Long Beach victory. The Canadian was encouraged by the offseason improvements made by Forsythe Championship Racing.
"From 2003 to 2004, we really didn't develop our car at Forsythe, and kind of went with the same routine," Tracy said. "We started out good here, but then as the year wore on, it became more difficult to qualify at the front and more difficult to have the type of race pace that it took to stay at the front."
RuSPORT's Justin Wilson gave new sponsor SanDisk a positive first impression by running fourth fastest, while Alex Tagliani's new association with Derrick Walker got off to a good start with the French-Canadian rounding out the top five.
Three Champ Car rookies impressed, led by Quebec's Andrew Ranger running seventh for Mi-Jack/Conquest Racing. Ronnie Bremer and Bjorn Wirdheim also ran in the top 10 for the HVM team.
Those less inclined to smile after Friday's session include PKV Racing's Cristiano da Matta and Jimmy Vasser (11th and 13th respectively). They were split by Rocketsports Racing rookie Timo Glock, who was fastest overall in the recent Sebring open test.
In short, it was business as usual at Long Beach on Friday. Will that be the case a year from now?
John Oreovicz covers open-wheel racing for National Speed Sport News and ESPN.com.
Autos, Open-Wheel
Motorsports Writer for ESPN.com
Covered Indy car racing for 20 years
Work published in 12 countries
SPONSORED HEADLINES
ESPN TOP HEADLINES
MOST SENT STORIES ON ESPN.COM