Burton yet to find Victory Lane with RCR
Updated:
February 25, 2006, 8:21 PM ET
By
Mark Ashenfelter
| Special to ESPN.com
One of these days, maybe Riki Rachtman will have to shave his head courtesy of Jeff Burton. Rachtman, who hosts the nationally syndicated radio program "Racing Rocks" is a big Burton fan, so much so that the original host of MTV's Headbanger's Ball has vowed to shave his head once Burton gets back to Victory Lane.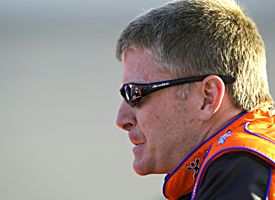 Todd Warshaw/Getty ImagesJeff Burton is hoping his hard work, which has helped turn RCR around, pays off with more trips to Victory Lane.
The amazing thing is that it's been since the fall of 2001 that Burton's been there following a Cup race. And if it happens Sunday at California Speedway, it'll mark not only a resurgence for Burton, but for Richard Childress Racing as well.
The team has struggled the past few years, with Kevin Harvick reaching Victory Lane on occasion, but not as regularly as one would expect. Burton, meanwhile, has yet to win since joining the operation in August 2004 and rookie Clint Bowyer is just starting to settle in at the sport's highest level.
But RCR's engine program has been greatly revamped over the last year and that may be the spark needed to push Burton over the hump. Of course, a week ago the hope was that winning the pole for the Daytona 500 would help turn the tide.
Instead, Burton's car never handled to his liking and that led him to try to make something out of nothing late in the event. Instead, Burton got into some people and ended up 32nd.
| | | |
| --- | --- | --- |
| | " | My confidence level is as high as it was in 1998 and 1999. … That is not just wanting to feel good, that is based on facts in regard to our test. We will see what happens, but I have very high hopes for our team. " |
| | | — Jeff Burton |
Wisely, Burton knew better than to predict Daytona success after winning the pole. That doesn't mean he's not excited about the rest of the season, especially after a strong test session last month at Las Vegas Motor Speedway.
"My confidence level is as high as it was in 1998 and 1999," Burton said. " … That is not just wanting to feel good, that is based on facts in regard to our test. We will see what happens, but I have very high hopes for our team. I hope [winning the pole at Daytona] isn't the only highlight of our season."
Childress, naturally, feels the same way, hoping this is the year he celebrates with Burton in Victory Lane.
"I feel like we've let Jeff Burton down over the last couple of years that he's been with us," Childress said. "We had high expectations. We had the equipment and everything, but we just didn't get it all put together. I think it is something we should have done a long time ago."
Childress said that Burton's been good for RCR, even if that hasn't translated into a win just yet.
"Jeff came in and fired me back up," Childress said. "Knowing some of the ideas and things he's brought to the table -- he's just good for the whole organization. He can look and say, 'Hey, I know we're off here or there in aero or wind tunnel or horsepower.' We've just made a lot of changes."
Many of those changes were based, in part, on suggestions made by Burton, who moved to RCR from Roush Racing. He's come up with ideas as to how the team could best utilize its aerodynamic experts and its engineers to build the best possible cars.
"We have enough tools at RCR to compete at a high level. We have to make sure we utilize those tools and use them to the best of our advantage," Burton said. "That is something that we were not doing and the results showed it. One of the reasons Richard wanted me to come to RCR was to help with that. And that is what I have tried to do.
"At the same time I have tried to be very focused on the Cingular team in particular. But for us to excel, we needed to have better equipment than we had last year. So part of my role is helping build the structure and format to go build better cars."
Burton said the nice thing about Childress is that he doesn't hold structured meetings all that often. The two can discuss things informally and Childress takes care of business from there.
"I have certainly been part of my fair share of formal, structured meetings, but my time with Richard is generally him calling me when I didn't know he was going to call or me calling him when he didn't know I was going to call," Burton said.
A win this weekend in the Auto Club 500 would be a big turnaround for Burton at California Speedway. He finished 19th there last February and was 35th there in September. Burton had three straight top-10 finishes at the 2-mile facility from 1998-2000, but hasn't finished better than 15th in his last seven races at the track.
Fresh off a visit to Disney World with his family before leaving Florida for California, Burton will be unveiling a new car for the race. The car was tested at Nashville and Las Vegas, but is untried in race conditions.
Still, crew chief Scott Miller's looking forward to the weekend; hoping it will show how far RCR has come at the intermediate tracks where it has struggled the past few years.
Miller said what the team learned at the Vegas test will carry over into California.
" … We use the same style of race car at both of the tracks," Miller said. "So, off of the results we had at the Vegas test, we expect to go into California looking for a strong run. Over the winter everyone at RCR has worked really hard to try to improve all areas of the race car. The chassis department made gains, the engineering department worked hard on some things, the aero department has come up with a better aero package and the engines have gotten better. Every little area has been improved and that's what it takes. There's not a lot of separation from running in the top-five to running in the top-25, so every little thing counts on getting you where you need to be."
Mired deep in the point standings, Miller knows the team needs to dig out of its hole quickly.
"The points at the end of the first five races are going to determine who is guaranteed a starting position," Miller said. "It's certainly important for Team Cingular to rebound at California. But, really and truly, we've got to go into every race thinking we have a chance to win. If we do that and have strong finishes, the points will take care of themselves."
Mark Ashenfelter is an associate editor at NASCAR Scene magazine, which has a Web site at www.scenedaily.com .
NASCAR
• Ashenfelter is an Event News Editor at ESPN.
• Worked at NASCAR Scene for eight years.
• Has covered NASCAR since 1999.