Charger teams still searching for right package
The Dodge dilemma should find itself on the back burner for at least the next two races. With the Nextel Cup Series making short-track stops at Bristol and Martinsville, Chargers will likely be the name of the game for all in the Dodge camp.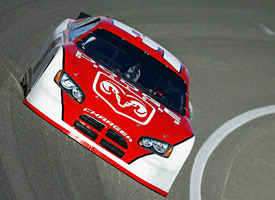 Rusty Jarrett/Getty ImagesKasey Kahne won last week in a Charger, but the car's aerodynamics have been hard to sort out.
The same, though, hadn't been true for the previous three races. All Dodge teams ran the 2005 Charger at Daytona, saying the car was superior to the 2004 Intrepid.
But at California, Las Vegas and Atlanta, the Dodge camp was split. Ryan Newman has been in an Intrepid each time out, while Penske Racing South teammate Kurt Busch has tried both models. Drivers from Evernham Motorsports and Chip Ganassi Racing and Kyle Petty have exclusively used Chargers, while Bobby Labonte, Petty's teammate, has used both cars.
Charging into Bristol
When Dodge reemerged on the NASCAR scene, with Bill Elliott putting the 2001 Intrepid on the pole for the Daytona 500, the group motto was "One for All, All for One." And that extended beyond drivers under the same team owner working together. That included Petty Enterprises working with Evernham Motorsports and the like.
This year, the group has started to see some splintering. With the new Charger, a group-attack on figuring out where to find downforce and other aerodynamic windfalls might have been nice. But almost every team seems to have a different approach. That doesn't come into play as much at Bristol this week.
"I think the Dodge Charger can be very competitive at Bristol," said Kasey Kahne, who won last week at Atlanta in a Charger. "There's just no comfort zone for 500 laps. You have to push your equipment to the limit. Track position is so important, you do everything you can to get it and keep it. Sometimes, you gamble. Sometimes you lose."
And Kahne's win might have convinced some converts.
"I hope that we're able to find success this weekend at Bristol with the Charger," Kurt Busch said. "It takes time for things to develop, whether it's a new team or whether it's this car. We're seeing it's starting to show its strength. There's no reason not to run that car."
With Busch's teammate Ryan Newman struggling and folks like Bobby Labonte and Jeremy Mayfield seeing some misfortunes early on, the Dodge camp as a whole is looking for answers. In the 2006 standings, there are just two Dodges in the top 15.
With Martinsville also favoring banging over aerodynamics, the Charger teams get another two weekends to try to figure things out.
-- Rupen Fofaria
Since last season it's been clear the Chargers have lacked a little something at downforce tracks like California, Vegas and Atlanta. But when Kasey Kahne put a Charger in Victory Lane at Atlanta, it seemed to indicate that the Charger was better.
A published report on nascar.com indicated teams will be using only Chargers following next month's race at Texas, but that doesn't necessarily mean all the problems with the Charger have been solved.
"[It] just seems like once we get the rear downforce scienced out a little bit better, then we can have a car that can run at any style of race track," Busch said. "If we just had a little bit more rear downforce, which I think we can find within our own organization, then that will make us a little bit better when we go to Texas in a couple weeks. Right now we have a couple short tracks on the plate in front of us."
Busch's Charger ran well at Atlanta until he was caught up in an incident on a restart and forced into the wall. That dashed any hopes of a good run and didn't give him an entire race to try to get the Charger dialed in even better, either.
That's time Busch admits his team still needs.
"Ever since I've jumped into it, it seems to run great on short runs," Busch said of the Charger, voicing a complaint of many Dodge drivers. "We've been polishing on it to make it a better car in the long run. It just seems from the Fords that I've driven in the past [the Dodge is lacking] a little bit of rear downforce. But we're working on that. We're showing strength each time we come back to the race track.
"Then to see Kasey Kahne win with it, it's that much more gratifying to know we've got a car capable of winning races. Now we've got to go out there and have some luck."
Kahne not only had luck, but a fast Charger at Atlanta. He made the call on a key chassis adjustment that made the car strong enough to get the win, but he knows one victory doesn't mean all the Dodge issues have been settled.
The car is still tough to get dialed in, as Busch said, and Kahne also realizes there's still more that can be done to make the Charger an even better car. The key is making the car more stable than it has been.
"The cars are better than they were last year, and just figuring out how to make them not move around as much has been the biggest thing," Kahne said.
There was talk before the season of Dodge asking NASCAR for a new nose for the Charger, but Ray Evernham said after Kahne's win that that may not happen. The one certainty at this point is that the Dodge teams still don't work together.
"I don't know why we can't seem to agree," Evernham said. "I really don't. I can't answer that, but in the end you've got your own responsibility in things that you believe in. We believe in going one way and some other teams believe in going another way. Right now, I don't think we're going to go to NASCAR. We've had to try to get the cars better ourselves and that's what we're doing.
"Right now it's on us. We've got equipment. We've got resources and we've just got to keep making the cars and motors better on our own."
Kenny Francis, who leads Kahne's team, obviously wants to give his driver the best car possible each time out. Making that happen with a Charger has certainly been a challenge.
"We've got a year under our belts with the Charger," Francis said. "We're finally starting to get somewhat comfortable with it. We're not totally comfortable with it. To try to validate aerodynamics, it's not easy to say something is better than something else. That's a very difficult task to figure out what's better.
"We tried the '04 car at Homestead [in last year's finale] and we felt it was about the same or worse than the 2005 car. Like Ray said, we've just got to do what's right for us. In the end, we've just got to work on our equipment and make it better."
When all the Dodge teams do just that, maybe the questions surrounding the Charger will finally be laid to rest.
Mark Ashenfelter is an associate editor at NASCAR Scene magazine, which has a Web site at www.scenedaily.com.
NASCAR
• Ashenfelter is an Event News Editor at ESPN.
• Worked at NASCAR Scene for eight years.
• Has covered NASCAR since 1999.
SPONSORED HEADLINES
ESPN TOP HEADLINES
MOST SENT STORIES ON ESPN.COM