Tour de France winner Armstrong to drive pace car
Updated:
May 28, 2006, 12:09 AM ET
Associated Press
INDIANAPOLIS -- Lance Armstrong says auto racing could be in his future.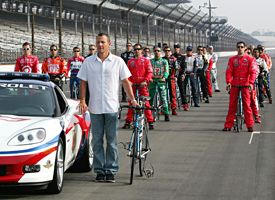 Robert Laberge/Getty ImagesAfter driving his first laps around the 2.5-mile track, Armstrong hinted that he might start racing cars one day.
The seven-time Tour de France winner drove his first laps around the 2½-mile Indianapolis Motor Speedway track under the tutelage of former winner Johnny Rutherford on Saturday and will be the pace car driver Sunday at the start of the Indianapolis 500.
Though the prospect of leading the 33 starters to the green flag at more than 100 mph is daunting, he hinted he might start racing cars one day.
"It's just a question of time," he said. "I've been invited to every race school, but I don't have the three or four days to go do that. But I will one of these days."
Armstrong said his first impression of the track was of its size.
"It's like a city," he said. "When you get in, it's a lot bigger, a lot grander than I thought. On the track, I was a lot more impressed and nervous than I thought I would be, too.
"I just hope I don't mess it up," Armstrong said.
Last year's pace car driver was former Secretary of State Colin Powell. Others in recent years included celebrities Morgan Freeman, Jim Caviezel, Anthony Edwards, Jay Leno and Elaine Irwin-Mellencamp, a model and wife of rock star John Mellencamp.
Armstrong said Rutherford, who won the race three times and now is in charge of special projects for the Indy Racing League, told him to keep the field of cars together at a steady pace on the final warmup lap before the green flag begins the race.
"They'll sometimes play games with each other, move forward and backward, try to get an advantage somehow. So he was telling me, 'Just make sure you keep looking in your rearview mirror. Don't let those guys drift back on you. You've got to drift back with them,'" he said.
Armstrong was in Monte Carlo on Thursday to watch practice for the Formula One Monaco Grand Prix and arrived in Indianapolis on Friday night. Saturday's pace car practice was his first time on the track, he said.
"As freaked out as I was today, it's going to be a whole other level," he said of driving in front of 250,000 or more people in the stands.
He doesn't have a favorite driver.
"I'm a race fan, so whoever has the best team, the fastest car, the most efficient stops, that's who deserves to win," Armstrong said.

Copyright 2006 by The Associated Press
Indianapolis 500
Related Stories
• Live leaders. Cockpit views. Get IRL RaceCast
• Results | Standings | Schedule
• SN Chat: Sam Hornish Jr., Mon., 1:15 ET

• Hornish on Mike & Mike

• Oreovicz: Hornish finds speed to nip Andretti
• Watch: Hornish wins
... Memorable 500

• Watch: Andrettis come close again

• Oreovicz: Contenders lament losing
• Davis: Patrick improved | Watch

• Notebook: Debris flies into crowd
• Rovell: Can Patrick avoid being Anna-ized?
• Rosewater: Fisher still making her way back
• Schwarb: Cunningham's daring pass wins
• Rusty Nails It: Marco Andretti real deal
• Marlo Klain's video blog: Marco Andretti

• Comparing an Indy car to a Cup car

• Helyar: Cost of open-wheel split is high
• Helyar: New role model? Meet P.J. Chesson
• SN Chat Wrap: Wade Cunningham

• SN Chat Wrap: Michael Andretti

• SN Chat Wrap: Pole-winner Sam Hornish Jr.

• SN Chat Wrap: Castroneves and Hornish

• SN Chat Wrap: Danica Patrick

• SN Chat Wrap: Buddy Rice
MOST SENT STORIES ON ESPN.COM