NASCAR may phase in Car of Tomorrow by 2008
Updated:
March 5, 2007, 1:59 AM ET
By
David Newton
| ESPN.com
BRISTOL, Tenn. -- Nextel Cup series director John Darby sounded like the minister of a church when told sentiment in the congregation -- in this case the garage -- is growing to cut a year off the phase-in plan for the Car of Tomorrow.
What we learned in Bristol

Here's what was learned during Wednesday's Car of Tomorrow test at Bristol Motor Speedway:

• Points leader Mark Martin still doesn't plan to be here when the COT debuts in the March 28 race.

• NASCAR might be encouraged to consider an appeal to have Michael Waltrip's crew chief and director of competition, both suspended indefinitely, reinstated sooner rather than later if somebody stepped forward to say how the foreign substance got into Waltrip's fuel system before qualifying for the Daytona 500.

• The strongest teams -- Joe Gibbs Racing, Hendrick Motorsports and Roush Fenway Racing -- with the current car are the strongest teams with the COT.

• There are a few kinks to be worked out, particularly in the COT inspection process where the Richard Childress Racing cars had trouble fitting the eight-point template.

• Jeff Burton and Clint Bowyer looked way too comfortable waiting in line for the women's bathroom at the infield media center.

• The inspection process that was so slow at California that several drivers missed practice time will be tweaked before the next race at Las Vegas.

• The force of David Reutimann's crash at California wasn't half the force of the crash that killed Dale Earnhardt at Daytona in 2001.

• If you missed the first round of hamburgers in the chow line you were out of luck.

• And oh, Martin still doesn't plan to compete for a championship in case you missed it the first time.

"It's all everybody is writing about and talking about," Martin said. "I'll let y'all have fun with it, but I haven't changed my mind. Part of the reason I'm loving life is the formula I've got and I wouldn't want to spoil that by tampering with the formula. I'm pretty happy right now.

"I'm ready for a weekend off already."

Reminded he has a history of changing his mind, Martin responded, "I had a lot of pressure behind me that you guys didn't know about. I don't have that pressure now."

Martin planned to make 2005 his last fulltime season in Cup. At the urging of then-team owner Jack Roush, he returned for the 2006 season. Now he's running a part-time schedule at Ginn Racing and leading the points.

"I have plans, and they don't include Bristol," Martin said. "I can't say that would never change. I'm going to be at a racetrack, but it isn't this one."

-- David Newton
"Hallelujah!" Darby said during Wednesday's COT test at Bristol Motor Speedway. "As time goes on the volume of those cries will get turned up louder and louder and louder. I don't think I have to tell this group we would accept that with arms wide open."
Darby said the governing body is leaning toward using the new car that will debut in the March 25 race at Bristol at all tracks by 2008.
The original phase-in plan called for 16 races this season and 26 of 36 races in 2008 with a full schedule in 2009.
"It's a pain in the butt for the teams to run two parallel programs with two different race cars," Darby said. "It's a pain for us to manipulate and work and apply two different rulebooks, two different inspection procedures.
"A lot of what's happening is it's settling in to all the competitors that this is the future, this is the car. Why are we going to wait three years? I don't think we will."
Nobody would be happier than Todd Berrier, the crew chief for Daytona 500 champion Kevin Harvick.
Berrier began campaigning last season for a faster phase-in plan, suggesting then that NASCAR use the new boxy car with a front-end splitter and rear wing at all races this season.
"From a company side of things, it would be smarter and cheaper to use the cars in all the races instead of mix and match," he said. "It's killing us the way things are now.
"It's the hardest winter I've ever worked in my life. I'm getting gray-headed by the minute and that's just a product of having to run two completely different race teams."
Darby said teams are realizing that they can build the COT easier and much faster than anticipated.
"And the fabrication process, they believe they can shorten that timeline, especially if they didn't have the other program still working over here," Darby said. "Whether we would expand the COT schedule for 2007 is probably not likely. But could we be all in for 2008? I think that is very possible."
Drivers in general were pleased with the performance of the COT during Wednesday's test in which 57 cars were within a second of each other after the morning session.
Denny Hamlin of Joe Gibbs Racing topped the morning charts with a fast lap of 15.978 seconds in race trim. The qualifying record set by Ryan Newman in 2003 is 14.908 seconds.
"To me it doesn't drive much different than a normal car," Hamlin said. "It's going to be tough to say what the difference is until we go to a bigger track like Michigan or Charlotte. "But I don't think it's going to change things that much."
The biggest complaint from drivers was the way the car at times bounced on the front end and was difficult to turn.
Dale Earnhardt Jr. said the car actually drove better than the current car.
"It has exceeded my expectations at this point and how the car is driving," he said. "I anticipated it to be a little more of a struggle to turn, to work, to get it up on the corner.
"Our lap times are comparable with the other chassis we have been running here in the past couple of years. I think we are ahead of the game a little bit."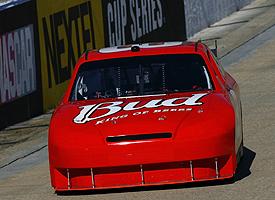 Rusty Jarrett/Getty Images for NASCARDale Earnhardt Jr. was more than pleased with his car during Wednesday's test at Bristol.
David Stremme said there's been a lot of negative overreaction to the COT over the past few months.
"People don't like change," he said. "Obviously a lot of the guys that were complaining are guys that have a real good notebook and are really competitive in the current cars we run.
"A lot of us are playing catch-up and the COT puts us on a level playing field."
Whether that will enhance racing and make events such as this past Sunday's 500-miler at California Speedway more exciting remains to be seen.
"Time will tell," Jeff Burton said. "I think you're exaggerating the effort of this car. There was a tremendous amount of effort put into the safety side of things, too. I don't think that should be left unsaid.
"The goal is to have better racing and safer vehicles."
Most agree the COT won't change the balance of the garage, that teams such as Joe Gibbs Racing, Hendrick Motorsports and Roush Fenway Racing will remain dominant.
The speed chart at Bristol suggested the same, with those teams heavily represented.
"It's not going to change anything at all," Berrier said. "There's a reason the drivers make 80 percent of the money."
Earnhardt's crew chief, Tony Eury Jr., agreed.
"The teams that are good and have the resources are going to be on top," he said. "The ones that are a little bit lacking are going to be a little behind."
As well as the test went, there were some problems -- most with inspection. Berrier said none of his cars completely conformed to the new template.
"That was something we were all scared to death of, knowing it took a year getting a chassis certified and all the trouble we had getting through that," Berrier said. "Right now, it doesn't look promising for nothing we own and we don't really know how to fix it because it fits everything we've got."
Darby said some teams were a little off because the final template package was approved only a few weeks ago. He doesn't anticipate a problem when teams return in four weeks.
And to ease everybody's mind, the track will open a day early at Bristol and Martinsville for inspection.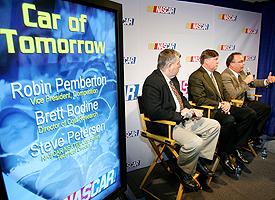 Streeter Lecka/Getty Images for NASCARNASCAR Nextel Cup Series technical director Steve Peterson, left, vice president of competition Robin Pemberton, center, and NASCAR director of cost research Brett Bodine extolled the virtues of the Car of Tomorrow last month.
Brett Bodine, who spent much of the past seven years developing the COT at NASCAR's Research and Development Center in Concord, N.C., said many of the complaints he's heard since the middle of last season have subsided.
"Today has gone well," he said. "No splitter has fallen off. The performance has been great. The field is as close as it's ever been here between first and last."
Darby added that 188 chassis have passed inspection and that the approval rate is above 80 percent, further signs that the COT is ready to run a full schedule next season.
"We've already had car owners who are comfortable with it approaching us and saying, 'Look, giddyup, let's go!' I believe as we go through the season that list will continue to grow.
"And once the car owners are all there, NASCAR won't have any problem with welcoming that in 2008."
The next question is what the car will be called once it is fully implemented.
"We would prefer that the car, once it races and is moving forward, would be called a Chevrolet, a Dodge, a Toyota and a Ford as opposed to [the COT]," said Jim Hunter, NASCAR's vice president for corporate communications. "It automatically today, getting on the racetrack, became the 'Car of Today.' "
David Newton covers NASCAR for ESPN.com. He can be reached at dnewtonespn@aol.com.
ESPN Carolina Panthers reporter
Covered Panthers, NFL for 11 years
More than 25 years experience covering NFL, college football and NASCAR
Joined ESPN in 2006
MOST SENT STORIES ON ESPN.COM