Hamilton first black driver to win F1 race
Updated:
June 10, 2007, 10:39 PM ET
Associated Press
MONTREAL -- Lewis Hamilton's learning curve just got shorter -- a lot shorter.
The 22-year-old Englishman, the first black driver in Formula One history, added his first F1 victory to an already remarkable career start by winning the crash-filled Canadian Grand Prix on Sunday.
And he made it look easy.
Hamilton started from the pole, also for the first time. Apart from losing the lead for three laps when he made his first of two pit stops, he led all the way and was never challenged.
The slim, soft-spoken youngster has six consecutive top-three finishes in six starts, something no other first-year F1 driver has accomplished.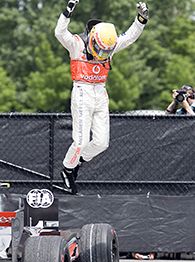 AP Photo/Ryan Remiorz,CPLewis Hamilton beat BMW Sauber's Nick Heidfeld by 4.3 seconds for his first win and sixth straight top-three finish.
"This is history," Hamilton said, grinning.
The only one to give the Mercedes McLaren driver any competition during the 70-lap race on Circuit Gilles Villeneuve's 2.71-mile road course was BMW Sauber's Nick Heidfeld. He chased Hamilton all day without catching him.
The only thing that kept the race close at all was accidents -- four full-course caution flags that wiped out the leads Hamilton built with seeming ease. He kept winning the restarts though and beat Heidfeld to the finish by 4.3 seconds.
"It was a fairly simple race, apart from the restarts," Hamilton said. "On those, I was just trying to keep the tires warm and not make a mistake. The last few laps I was just counting down.
"I'm the type of guy that will usually push right to the end, but it's a tricky circuit, and if you make one mistake you go into the marbles and into the wall. So I quieted down towards the end and just enjoyed it."
Once he had the race in hand, the youngster scrambled out of his cockpit. He thrust his arms in the air and jumped up and down. He then bounced to the ground, trotted to a barrier and jumped across to dive into the midst of his crew, hugging everyone in sight.
"It's been a fantastic season already," he said. "We've had six podiums and I've been ready for quite some time for the win -- it's just been a matter of when and where. The team gave me the best car and I had no problems during the race at all."
Heidfeld was almost as happy with his runner-up finish, matching his career best.
F1 standings after six races
Lewis Hamilton seized control of the Formula One standings with his Canadian GP win Sunday.
| | | |
| --- | --- | --- |
| Driver | Team | Points |
| 1. Lewis Hamilton | McLaren-Mercedes | 48 |
| 2. Fernando Alonso | McLaren-Mercedes | 40 |
| 3. Felipe Massa | Ferrari | 33 |
| 4. Kimi Raikkonen | Ferrari | 27 |
| 5. Nick Heidfeld | BMW-Sauber | 26 |
| 6. Giancarlo Fisichella | Renault | 13 |
| 7. Robert Kubica | BMW-Sauber | 12 |
| 8. Alexander Wurz | Williams | 8 |
| 8. Heikki Kovalainen | Renault | 8 |
| 10. Nico Rosberg | Williams | 5 |
"I think I had a very good chance to finish second even in normal race conditions, without so many safety cars [on the track] and without Fernando [Alonso] being penalized," Heidfeld said.
Alonso, the two-time and reigning F1 champion, started alongside his McLaren teammate on the front row. He made a mistake on the start when he drove off the course in the first turn and allowed Heidfeld to dive past into second.
That was just the beginning of a very bad day for Alonso, who was hit with a penalty for pitting too soon during one of the full-course cautions. That set the Spaniard back to 14th, but he got back as high as sixth before two more off-course excursions slowed him. Alonso was passed two laps from the finish by Super Aguri'a Takuma Sato and finished seventh.
Hamilton, who came into the race tied with Alonso at the top of the standings, will take an eight-point lead into next Sunday's U.S. Grand Prix in Indianapolis.
"The next dream is to win the Formula One championship," he said. "But, bear in mind, I'm still a rookie and there's bound to be some bad times, too."
Robert Kubica, a 22-year-old driver from Poland and Heidfeld's teammate, was involved in a frightening crash just before the halfway point. Team officials first said he broke his right leg and later said the driver was sore but had no apparent injuries.
Considered one of the rising stars of F1, Kubica was racing with the Toyota of Jarno Trulli and the Ferrari of Felipe Massa when he suddenly veered off course into the grass as they drove toward the hairpin turn.
Kubica's car slammed into the inside concrete wall, then somersaulted across the track in a shower of debris. He then hit the outside wall and came to rest with what was left of the car on its side. The Ferraris of Massa and Kimi Raikkonen were expected to pose a threat for the McLarens, but both had problems.
Massa was running fourth when he was disqualified, along with Renault's Giancarlo Fisichella, who was eighth at the time. Officials said they both ran a red light at the end of pit road during a caution.
Raikkonen ran through the grass several times and struggled to a fifth-place finish, coming in behind the Williams of Alexander Wurz and the Renault of Heikki Kovalainen. Ralf Schumacher, driving a Toyota, took the eighth and final points position.

Copyright 2007 by The Associated Press
SPONSORED HEADLINES
ESPN TOP HEADLINES
MOST SENT STORIES ON ESPN.COM