2007 to be Rudd's last season as full-time Cup driver
Updated:
August 19, 2007, 5:50 PM ET
By
Terry Blount
| ESPN.com
BROOKLYN, Mich. -- This time, Ricky Rudd really is calling it quits. Racing every event in Nextel Cup isn't an option for the veteran driver any longer.
Rudd, who drives the No. 88 Ford for Yates/Newman/Haas/Lanigan Racing, said Sunday that 2007 will be his last as a full-time driver in Nextel Cup.
He has no plans to race part time next season, but he's keeping his options open on that for now.
Rudd, who turns 51 on Sept. 12, said he told Robert Yates of his decision on the flight home from Waktins Glen, N.Y. last weekend.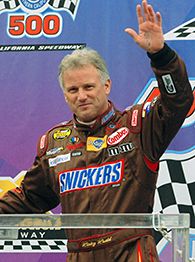 Mark J. Rebilas/US PresswireRicky Rudd has 23 career wins, and has finished in the top 10 in the standings 18 times.
"I just told him the time commitment was something I wasn't willing to put in," Rudd said. "He understood where I was coming from.
"I was contemplating it the last two or three weeks. I didn't want the team to work on sponsorships for next year by including my name when they make pitches."
Rudd began his NASCAR career at age 18 and raced in Cup full time until leaving the sport after the 2005 season.
He was coaxed into returning this year by Yates. Rudd replaced Dale Jarrett, who left to join Michael Waltrip's new Toyota team.
"I don't really know what the future holds," Rudd said. "My agreement with Robert was I would come on board for one year and do my best to get his team back to where it once was. I've done that and will continue to do that."
Rudd has 23 career victories and finished in the top 10 in the standings 18 times, including second in 1991. After driving for his own team for six years, Rudd drove three seasons for Yates from 2000 through 2002.
But this year has been a struggle while trying to help the organization move back into contention. Rudd ranks 29th in the Cup standings with only one top-10 finish.
"When I came back over here this team had sort of hit rock bottom," Rudd said. "It's a rebuilding process and it's coming along slowly.
"If I was in my 30s, this would be a great opportunity. It's still a great opportunity for [teammate] David Gilliland. He can wait it out and the team will eventually work its way back to where it used to be."
YNHL Racing has 57 Cup victories since its beginning in 1989. Yates won the Cup championship with Jarrett in 1999. But the Yates drivers haven't won a race in the last two seasons.
Rudd believes the team took a major step toward regaining its competitive status in the recent partnership agreement with Newman/Haas/Lanigan Racing of the Champ Car Series.
"Right now, this team is on the bottom rung of technology," Rudd said. "But they can quickly move up almost to the top rung with this merger.
"Robert doesn't ask for a lot of advice, but one thing I really like was his decision to merge with Carl Haas and Paul Newman. Those guys are on top of their game in engineering and technology. They were using seven-post shaker rigs in the 1990s."
It's good news for the team, but for Rudd, it was time to move on.
"I just know that 38 races [36 points races and two all-star events] are too much," he said. "There is absolutely zero home life and I'm not willing to make that sacrifice at this point of my life.
"When I started, there were 26 Cup races. On Monday through Thursday, you could do whatever you chose to do. Obviously, the sport isn't like that today."
Rudd said he is financially secure, so he doesn't need to continue driving. But he hasn't completely ruled out racing part time, as Mark Martin is doing this season.
"I'm not actively pursuing that," Rudd said. "If it was a really unique situation with a competitive ride, I would probably take a look at that. But I don't have my name in the hat looking for work."
Rudd said he has no interest is becoming a team owner again. He's considering work as a television commentator this year before signing with RYR, but decided against it.
"It also was more of a time commitment than I wanted to make," he said. "I guess I'm going to be a little bit lazy for a while."
He has earned it. Rudd has competed in 897 Cup events, including a record 788 consecutive starts from 1981 to 2005.
He listed his best memories as the Brickyard 400 victory at Indianapolis in 1997 and the International Race of Champions title in 1992.
"The IROC deal was neat for me was because we had to beat Dale Earnhardt to do it," Rudd said. "I passed him with two laps to go to win the championship."
And how would he like to be remembered?
"Just as a guy that always has given 120 percent, won a few races and came close to a championship once or twice," Rudd said. "I entered the sport with nothing when drivers weren't making anything. The financial rewards are there now, but it reaches a point where it isn't worth the time away from home."
Terry Blount covers motorsports for ESPN.com. He can be reached at terry@blountspeak.com.
ESPN Seattle Seahawks reporter
Covered the NFL at the Houston Post and Houston Chronicle, including eight Super Bowls
Received Citation for Writing Excellence from Hearst Newspapers
Also has covered NBA Finals, World Series, Finals Fours, Indy 500 and Daytona 500
MOST SENT STORIES ON ESPN.COM