Source: Joe Gibbs Racing to join Toyota Motorsports next season
Joe Gibbs Racing is expected to announce next week it will join Toyota beginning next season, sources told ESPN.com.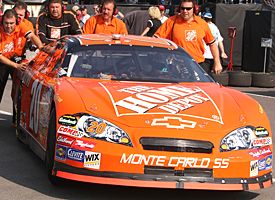 Al Bello/Getty ImagesTony Stewart's No. 20 ride on Joe Gibbs' team likely will be changing makers. Gibbs also is looking to extend his driver's contract.
A news conference has been scheduled for Wednesday morning at JGR headquarters. Expected to be in attendance are team drivers Tony Stewart and Denny Hamlin.
JGR, which boasts a three-car lineup that will include Stewart, Hamlin and Kyle Busch next season, is leaving General Motors after 16 years. The team earned three series championships, including two with Stewart, under the GM banner.
A GM official reached Thursday in Detroit said the manufacturer would not comment.
"We don't have anything to say when we're in negotiations with a team," the official said.
Toyota Motorsports officials were equally mum.
"There's nothing I can report to you," said Jim Aust, vice president of motorsports for Toyota and CEO of Toyota Racing Development. "Anything reported now is premature."
Hamlin, contacted Thursday in California, site of this weekend's Cup race, said he is unaware of what the announcement will be but said if Gibbs moves to Toyota, it could be a good move for the company.
"If we did it, it would be good for us," Hamlin said. "They've done a good job with the Truck series starting from the beginning and slowly working their way to being successful. Their approach to Cup is going to be the same. But if we stay with Chevrolet, we know they're going to win right now and obviously that's very important for me and the sponsors."
Hamlin is signed with JGR through 2010 and is working on an extension that will lock him up through 2013. Gibbs also is actively working on extending Stewart's contract. He currently is signed through 2009.
Other GM owners have been wary in the last month of Joe Gibbs Racing's move to Toyota, saying they did not want JGR representatives to participate in monthly meetings of the four main GM Nextel Cup partners.
Richie Gilmore, director of motorsports at DEI, said earlier this month at Watkins Glen, that this is a bad time to lose a team like JGR that has been integral in the development of the new R07 engine.
"We just developed a new engine, and all that technology is gone to another competitor," Gilmore said.
Toyota entered NASCAR Nextel Cup racing this year and has struggled. There have been few highlights, but Toyota driver Brian Vickers had a manufacturer-best finish of fifth at Lowe's Motor Speedway in May, and Dave Blaney earned the pole at New Hampshire in June. Toyota had two drivers finish in the top 10 at Michigan International Speedway in August.
Toyota made its first foray into NASCAR in 2004 with the NASCAR Craftsman Truck series. It won the manufacturer's title in 2006.
Angelique S. Chengelis is a contributor to ESPN's NASCAR coverage. David Newton covers NASCAR for ESPN.com. He can be reached at dnewtonespn@aol.com.
Angelique S. Chengelis is a contributor to ESPN's NASCAR coverage.
ESPN Carolina Panthers reporter
Covered Panthers, NFL for 11 years
More than 25 years experience covering NFL, college football and NASCAR
Joined ESPN in 2006
MOST SENT STORIES ON ESPN.COM