Burton passes Kyle Busch late to grab third Busch Series win of season
Updated:
September 2, 2007, 7:23 PM ET
Associated Press
FONTANA, Calif. -- Jeff Burton turned a late pit stop and fresh tires into a NASCAR Busch Series win Saturday night at California Speedway.
He passed Kyle Busch for the lead just eight laps from the end of the Camping World 300 and pulled away to win by 2.859 seconds -- about 12 car-lengths -- as Busch barely held off pole-winner Denny Hamlin for second place.
"You're never sure you can get around Kyle Busch," Burton said. "He's an incredible race car driver. We had a better car than he did at that point, but by no means did I think it was a gimme."
Burton, knowing he was going to come up about three laps short on gas without a stop, gave up the lead to Busch, who stayed on track when Burton pitted on Lap 127 during the fifth of six caution flags.
Burton fell to sixth for the restart on Lap 131 of 150 on the two-mile oval. But he quickly began to overtake Busch, whose last tire stop came on Lap 96. Burton was up to second when the final caution waved on Lap 132 for a four-car crash.
When the green came out for the final time on Lap 141, Burton began to pressure Busch. He managed to get his nose ahead to take the lead on Lap 143 and the two drove side-by-side for nearly half a lap before Burton's Chevrolet took control.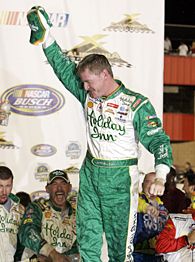 Mark J. Terrill/AP PhotoJeff Burton celebrates his 25th career Busch win and first at California Speedway.
Asked why he stayed on track during the last caution, Busch said, "I figured the tires were going to be a bigger deal than track position was. I knew I wasn't going to be able to hold him off, but I was kind of surprised I was able to hold him off as long as I did."
It was the third victory of the season and 25th of his Busch career for Burton, whose first win of 2007 came in Las Vegas when he spun out Busch just before the finish line.
Nextel Cup drivers, set to compete Sunday in the Sharp Aquos 500, took the top 11 spots in the Busch race, with Jimmie Johnson fourth, followed by Clint Bowyer, Kasey Kahne, Kevin Harvick, Jamie McMurray, Robby Gordon, rookie David Ragan and Reed Sorenson.
Both Hamlin and Kahne overcame spinouts during the race on the track made more treacherous than usual by temperatures still hovering in the 90s after the sun went down.
Runaway series points leader Carl Edwards, who went into the night leading David Reutimann by 690 points, was running in the top 10 until he was involved in a late crash. Edwards finished 25th and now leads new runner-up Harvick by 654 points.
A hard, fiery crash midway through the race sent rookie Brad Keselowski to a hospital for evaluation of an apparent leg injury.

Copyright 2007 by The Associated Press
SPONSORED HEADLINES
ESPN TOP HEADLINES
MOST SENT STORIES ON ESPN.COM