Wrap: Messy finish
Originally Published:
April 26, 2004
ESPN.com
ESPN.com takes a look at what went down in the racing world this past weekend.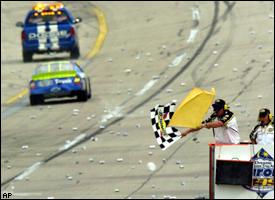 Not exactly a photo finish.
Biggest surprise: A DEI car not winning a restrictor plate race.
And Ricky Rudd and the Wood Brothers winning the pole at Talladega. That combination should be capable of performances like that.
Also, cars spinning in the middle of the pack at 'Dega and a huge wreck not ensuing. For once. For that moment, anyway. A little later on, however ...
Biggest non-surprise: A big wreck at Talladega actually happening, though it could have been worse.
Also, Michael Schumacher winning at Imola. Of course. Actually, it is somewhat fitting that Schumacher should win. After all, he won the Imola race in which Ayrton Senna, who was memorialized throughout the week, was killed in 1994. Schumacher went on to win the championship that year. Also, if the '04 race at Imola was the final San Marino Grand Prix, it's only appropriate for the Ferrari champion to win in his team's backyard.
Also, unfortunately for McLaren, Kimi Raikkonen experiencing more engine problems (along those lines, the shakeup at Ilmor wasn't exactly shocking). The good news is that it happened before race day, as Raikkonen was able to rebound from starting from the back to score his first point of the season. Of course, that point came courtesy of Takuma Sato's blown engine, a smudge on an otherwise great day for BAR.
And Dale Earnhardt Jr. and his protege finishing up front at 'Dega in Saturday's Busch race. Martin Truex Jr. scored his second win of the year ... with a little help from his friend.
Biggest disappointment: The end of Sunday's Cup race. It was shaping up to be a spectacular finish before Brian Vickers' spin brought on the yellow. Earnhardt Jr. and race winner Jeff Gordon both made outstanding moves late in the race and either could have won -- not to mention Kevin Harvick, Robby Gordon, Mark Martin and Jimmie Johnson also potentially being in the mix. It looks like NASCAR did make the right call in determining that Gordon was in front when the yellow dropped (shades of Tracy vs. Castroneves, eh?), but that race should not have ended under caution.
It was a tremendous race with a ho-hum ending. Would Gordon have won had a caution not come out? Impossible to say. Based on his position and performance throughout the day -- not to mention his move to take the lead -- was Gordon deserving of the win? Sure.
Also, everyone taken out when Kurt Busch's No. 97 spun. In a shocker, Tony Stewart played the key role in causing the wreck, though it didn't take much contact to turn Busch around. Stewart said he didn't mean to turn Busch and chalked it up to restrictor plate racing. Stewart also expressed no ill will toward Johnson, whose car made contact with Stewart and caused the No. 20 to spin late in the race.
Finally, Jason Leffler, who got loose late in Saturday's Busch race at 'Dega and slid back to a fifth-place finish. Still a good day, but he might have had a shot at winning the thing.
Gutsy move: A wild start at Imola, which saw Jenson Button blast away from the field while Schumacher and Juan Pablo Montoya mixed it up for second place.
Speaking of Schumacher and Button, give the BAR driver credit for his first career pole. Of course, Schumacher turned it on once Button hit the pits and blew away the rest of the field in staggeringly impressive fashion.
Button, meanwhile, now has three consecutive podium finishes after having never finished third or better before this year. That's impressive.
Boneheaded move: Fans at Talladega. They had every right to be displeased over the race finishing under caution (though they were probably just as upset that Gordon won), but to litter the track with, well, litter? That's infantile.
Also, Supercross points leader Chad Reed, who was penalized 25 points for using illegal fuel at Dallas on April 17. Reed's point lead over Kevin Windham was sliced further when Windham won at Salt Lake City this past weekend. Windham now trails Reed by 12 points with one event (Las Vegas) remaining.
And, according to some of his fellow drivers, Stewart.
"Sounds like Stewart started it all," Kasey Kahne said of the Talladega wreck. "He's started a lot of things this year."
But Stewart did do a nifty job of saving his car after contact with Johnson's No. 48 sent him spinning late in Sunday's race. Stewart ultimately finished 22nd. And then he ran into Terry Labonte after the race.
Redemption: Kerry Earnhardt. He lost his Busch ride and hadn't been able to find his way into many Cup fields (blame the rain for some of that). But Dale Jr.'s older brother mixed it up with the leaders in just his second Cup start and showed, with Richard Childress' help, that he has a little of that Earnhardt magic on superspeedways ... until spinning after being whacked by Michael Waltrip after Waltrip's No. 15 came down on and seemingly made contact with Jeff Gordon's No. 24. Still, Earnhardt showed some moxie -- and inadvertently saved Waltrip, too.
Also, Jeff Burton. It's been a horrible season for the No. 99 team, but Burton came through with a seventh-place finish on Sunday.
Instant karma: The racing gods conspired against Gordon last week by blasting holes in the Martinsville Speedway surface. This time around, Gordon was the beneficiary of some luck when teammate Brian Vickers' spin brought out the yellow flag and NASCAR took far too long to get its stuff together with Gordon out front. Let's call it even.
Random stat: 26. That's Eric McClure's finishing place in Sunday's race, his first career Cup start.
Random thought: Anyone who wasn't a Terry Labonte fan before Sunday ... watching him push Rusty Wallace's damaged No. 2 car out of the grass might have been enough to convert some to the No. 5 camp.
Also, Robbie Buhl decided to hang up his helmet and focus on IndyCar team ownership duties. One of the good guys in the garage, Buhl scored two wins in his IRL career. In a perfect world, we would have liked to see him make one more Indy run. But Buhl decided it was time to call it a day.
General amazement: An incident of some sort that doesn't take out Ken Schrader. Amazing.
Quote: "He just freaking wrecked him. It wasn't even close. ... That was pathetic." -- Jeff Burton on Stewart turning Kurt Busch and causing a multi-car wreck.
Photo: Check out the photo of the week. Honoring Senna.
Tell us what you think: Share your thoughts with us about the weekend's action.