Rookie Medeiros sweats out final spot in Indy 500
Updated:
May 21, 2006, 10:08 PM ET
By
John Schwarb
| Special to ESPN.com
INDIANAPOLIS -- It was "throwback day" at the Indianapolis Motor Speedway for Bump Day qualifying. Cokes, ham sandwiches and peanuts were on sale for a quarter, living statues of old-time racers performed for fans and vintage cars were on display on a trackside plaza.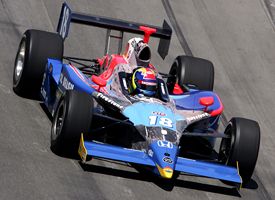 Gavin Lawrence/Getty ImagesThiago Medeiros' car might look like a patchwork quilt, but he got it into the Indy 500.
Then a true throwback car put itself in The Show.
Thiago Medeiros' PDM Racing machine, some 72 hours after a devastating Thursday accident left it in shambles, made a triumphant comeback in the final hour of Sunday's qualifying session to grab the 33rd and final spot for the May 28 Indianapolis 500 (ABC, noon).
"You never give up when an opportunity is thrown to you, let alone here at a chance to run in the world's greatest race," Medeiros said. "This is the most fun I have ever had in my whole life."
"Fun" wasn't a word thrown around much in the PDM Racing garage the last three days. The independent team is one of the smallest operations -- if not the smallest -- on Gasoline Alley, and overcoming an accident with its only car was almost impossible. But owner Paul Diatlovich, a fixture at the Speedway for some 30 years (many as a chief mechanic), begged, borrowed and bought parts from all over, and his staff completely rebuilt the car around a Panoz chassis tub from Fernandez Racing.
The finished product looked more suitable for a Saturday night undercard race at a local short track than open-wheel racing's greatest stage, with its unmatched multicolored body. And its rookie driver at times fit the part, making late-braking stops on pit road during Sunday practice and infuriating his boss, who had considered switching drivers earlier in the week but stuck with the 23-year-old Brazilian.
Yet by 5 p.m., the entire operation was a thing of beauty. Medeiros turned four laps at an average speed of 215.729 mph, landing on the starting grid. Then the team sweated out a hectic Bump Day final hour.
Marty Roth had his Roth Racing Dallara-Honda on the track practicing and preparing for a qualifying effort, and Ryan Briscoe was donning a uniform for A.J. Foyt and nearing a last-second run of his own.
Briscoe received a call from Foyt just after 2 p.m. at his Indianapolis home, where he was watching the Champ Car World Series race on television. He hustled to the track, passed his physical in the infield medical center just before 5 and was dressed and in the Foyt pit 20 minutes later. Diatlovich said it "put a chill down my back," seeing the experienced former Ganassi Racing driver and 2005 Indy 500 participant in uniform.
Then at 5:37, the day changed for all the principals involved. Roth's car slid into the Turn 1 wall just two laps after a 215.946 mph effort, ending his hopes as well as Briscoe's.
"We needed those minutes to shake down the car and shake down myself," said Briscoe, who didn't log a single lap. "I'm a little disappointed -- it was so late coming together, but there was time to get excited."
Instead, PDM Racing was able to relax.
"I hate to see anything like that happen, because we just went through it," said Diatlovich of Roth's accident. "Besides the money, it is a lot of work. It is a lot of effort. We have people in those vehicles. On the other end, we breathed a sigh of relief for us, because that was one of our concerns. The other was Foyt."
As it turned out, Medeiros made the lone qualification attempt of the entire day. And to the last invitees to the 90th Indianapolis 500, the 33rd position never looked so good.
"It's amazing, I never thought I'd get this opportunity," said PDM co-owner Jeff Matthews, who grew up just outside the speedway. "These guys that work on the car have spent three days putting in such hard work in what typically would take two weeks to build. Spirits were up, and we knew that we had something special."
It's almost a shame that they'll probably paint the car before the race.
John Schwarb is a freelance journalist covering motorsports and a contributor to ESPN.com
Indianapolis 500
Related Stories
• Live leaders. Cockpit views. Get IRL RaceCast
• Results | Standings | Schedule
• SN Chat: Sam Hornish Jr., Mon., 1:15 ET

• Hornish on Mike & Mike

• Oreovicz: Hornish finds speed to nip Andretti
• Watch: Hornish wins
... Memorable 500

• Watch: Andrettis come close again

• Oreovicz: Contenders lament losing
• Davis: Patrick improved | Watch

• Notebook: Debris flies into crowd
• Rovell: Can Patrick avoid being Anna-ized?
• Rosewater: Fisher still making her way back
• Schwarb: Cunningham's daring pass wins
• Rusty Nails It: Marco Andretti real deal
• Marlo Klain's video blog: Marco Andretti

• Comparing an Indy car to a Cup car

• Helyar: Cost of open-wheel split is high
• Helyar: New role model? Meet P.J. Chesson
• SN Chat Wrap: Wade Cunningham

• SN Chat Wrap: Michael Andretti

• SN Chat Wrap: Pole-winner Sam Hornish Jr.

• SN Chat Wrap: Castroneves and Hornish

• SN Chat Wrap: Danica Patrick

• SN Chat Wrap: Buddy Rice