Picks solid, but some potential bargains out there
Updated:
May 26, 2006, 5:23 PM ET
By
John Oreovicz
| Special to ESPN.com
INDIANAPOLIS -- In accordance with the family-friendly atmosphere that prevails at the Indianapolis Motor Speedway these days, it would be irresponsible for me to encourage anyone to bet on the 90th running of the Indianapolis 500 on Sunday (ABC, coverage begins noon ET).
However, as a close observer of the IndyCar scene with a forum to express my opinions, I also feel that I have a duty to assess the odds the nice folks in Las Vegas have assigned to the 33 contenders in the field. Do these stick-and-ball experts have a clue about what's going on in auto racing outside of NASCAR?
For the most part, yes. Here's what the oddsmakers say, followed by my comments on their predictions.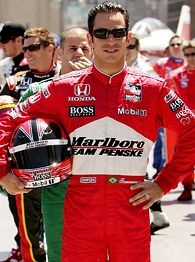 Nick Laham/Getty ImagesHelio Castroneves is the series leader and the top bet to win his third Indy 500.
Helio Castroneves at 7-2: The enthusiastic Brazilian is a two-time Indy winner for Penske Racing. That makes him a very safe bet, and the Vegas bookies know it.
Sam Hornish Jr. and Dan Wheldon at 4-1: Until 3:30 p.m. last Sunday, Hornish was the overwhelming favorite to drink the milk on race day. But his Bump Day accident showed he might still be spooked by Indy's sometimes overwhelming aura.
Wheldon, on the other hand, always seems to rise to the occasion, and by my reckoning he is the co-favorite (with Castroneves) to win on Sunday.
Tony Kanaan at 7-1: In the event that any of this year's "Big Four" with the Ganassi and Penske teams falter, they know in Vegas that Kanaan is the guy most likely to pick up the pieces.
Danica Patrick at 10-1: This high ranking proves that the hype of Danicamania has reached Nevada, but it also demonstrates that the oddsmakers haven't really been paying attention to how Ms. Patrick has been running on the track.
Michael Andretti, Scott Dixon and Dario Franchitti at 12-1: Here's one they got wrong. Based on Hornish's misfortune last week, I moved Dixon up to No. 3 on my depth chart behind Castroneves and Wheldon.
Mikey usually has the speed to run up front on race day, but his finish record at Indianapolis Motor Speedway (six DNFs in 14 starts) is abysmal, while Franchitti is only likely to contend through pit strategy or unusual attrition.
Bryan Herta at 18-1: This Californian is a smooth, steady and reliable racer who finished third at Indy last year, but it doesn't add up to victory in 2006.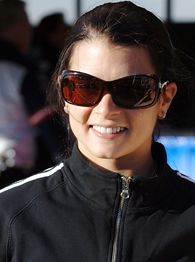 Jun Sato/WireImage.comDanica Patrick is a cool 10-1 to win the Indy 500.
Kosuke Matsuura, Vitor Meira, Buddy Rice and Tomas Scheckter at 20-1: Injured last year, Rice is still technically defending his 2004 Indy 500 win. He was quick on Carb Day and could surprise on Sunday.
Meira, last year's second-place finisher, is far more likely to see the checkered flag than Scheckter or Matsuura, but none of that trio has the goods to finish first.
Scott Sharp at 25-1: Was quick enough to win the Indy pole in 2001 and absentminded enough to spin out before getting through the first turn on the first lap. But solid Fernandez Racing team could shine on Sunday.
Al Unser Jr. at 35-1: Two-time Indy winner still has recognizable name in Vegas, but his skills (and the team behind him) are not at the level of his glory days a decade ago.
Marco Andretti at 40-1: A more solid bet than half a dozen drivers listed above, but an Indy victory at age 19 is too much to expect.
Buddy Lazier and Jeff Simmons at 60-1: One former 500 winner and IRL series champion, one rookie preparing for his fourth IndyCar Series start, same odds. Go figure.
Ed Carpenter at 100-1: Last driver to receive individual odds. Was it a nod to the fact that he's IRL founder Tony George's stepson? Or just the fact that he's an American with a pronounceable name?
Field (all other drivers) at 12-1: Could anyone from this group of 14 win? Yes. Will it happen? No.
John Oreovicz covers open-wheel racing for National Speed Sport News and ESPN.com.
Autos, Open-Wheel
Motorsports Writer for ESPN.com
Covered Indy car racing for 20 years
Work published in 12 countries
Indianapolis 500
Related Stories
• Live leaders. Cockpit views. Get IRL RaceCast
• Results | Standings | Schedule
• SN Chat: Sam Hornish Jr., Mon., 1:15 ET

• Hornish on Mike & Mike

• Oreovicz: Hornish finds speed to nip Andretti
• Watch: Hornish wins
... Memorable 500

• Watch: Andrettis come close again

• Oreovicz: Contenders lament losing
• Davis: Patrick improved | Watch

• Notebook: Debris flies into crowd
• Rovell: Can Patrick avoid being Anna-ized?
• Rosewater: Fisher still making her way back
• Schwarb: Cunningham's daring pass wins
• Rusty Nails It: Marco Andretti real deal
• Marlo Klain's video blog: Marco Andretti

• Comparing an Indy car to a Cup car

• Helyar: Cost of open-wheel split is high
• Helyar: New role model? Meet P.J. Chesson
• SN Chat Wrap: Wade Cunningham

• SN Chat Wrap: Michael Andretti

• SN Chat Wrap: Pole-winner Sam Hornish Jr.

• SN Chat Wrap: Castroneves and Hornish

• SN Chat Wrap: Danica Patrick

• SN Chat Wrap: Buddy Rice
MOST SENT STORIES ON ESPN.COM