Foyt bullish on future because he has to be
Updated:
July 31, 2006, 1:33 AM ET
By
K. Lee Davis
| ESPN.com
BROOKLYN, Mich. -- A.J. Foyt has long been one of the rainmakers in American open-wheel racing, so it was fitting storms delaying Sunday's race put his announcement of a new associate sponsor for the remainder of 2006 in the spotlight.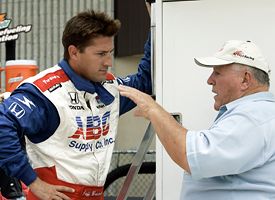 AP Photo/Carlos OsorioA.J. Foyt talks to his newest driver, Jeff Bucknum, at Michigan International Speedway on Saturday.
The 71-year-old Foyt, still hobbling noticeably from a career of broken bones and a left knee replacement earlier this month, spoke to the media about his new associate sponsor -- Investment Properties of America -- his health, his handle on operating the team, his new driver and the future of open-wheel racing.
And in typical Foyt fashion, he's bullish on all of it, at least publicly.
"I met [Ed Okun, CEO of Investment Properties of America] on the run at Richmond after another bad day at the races," Foyt said. " ... He said, 'Maybe I can help y'all turn it around.' So that's what I'm looking for, to turn this operation around.
"We're working hard at it and we're going to continue to make changes. That's all I can say. This isn't the way A.J. Foyt made his name. We're not going to continue to run that way. I know you've got to crawl before you can walk, but I'll tell you one thing -- we will be back on top, it's just a matter of when."
You can forgive the man for speaking of himself in the third person. He's a legend because he's been a winner as a driver in every kind of car he tried and he's been a winning owner in the past. But for a man who has seldom failed in his storied life, Foyt has to look on the upside of everything he's doing right now because what's left of his reputation -- as a winner and not a has-been -- is at stake.
Foyt won the Indy 500 four times, tied with Rick Mears and Al Unser for most all-time. He won 67 races in Indy-style cars. And he had early success as an owner in the fledgling Indy Racing League.
Scott Sharp won the 1996 IRL title and Kenny Brack followed it with one of his own for A.J. Foyt Enterprises in 1999. But Foyt cars have found Victory Lane just once since then, with Airton Dare winning at Kansas in 2002.
And 13 drivers have piloted a Foyt racing entry in the IRL since Brack's 1999 title, making the team a revolving door for talented -- and sometimes less-talented -- drivers looking for a break in open-wheel racing. Felipe Giaffone was the ABC Supply Company driver to begin the season but was let go after finishing 19th -- dead last -- at Kansas on July 2.
Jeff Bucknum, 40, is Foyt's latest driver and he knows the boss' reputation for firing drivers Foyt doesn't believe measure up. But making just his eighth IndyCar start at Michigan, Bucknum said he still has plenty to learn and that Foyt understands that.
"It seems like there's more pressure from the outside than inside," Bucknum said of racing for a legend. "The group internally, with A.J. and the rest of the guys, they don't put pressure on me. I think what makes A.J. so great is it takes time for a driver to be great. Nobody is great the first day they do anything. You can have all the talent in the world, but you have to start at the bottom.
"A.J. has given me a chance to build my skills, and hopefully be one of the top drivers."
Foyt backed up his driver, saying it's important to look at him like a "complete rookie," and pointing out the former sports car ace has a lot to learn about oval racing. Foyt said races like Michigan, one of 11 oval races on the 14-race IndyCar schedule, are critical to Bucknum's development.
As for the rest of the team, Foyt said he's looking for youth, his 40-year-old driver aside. He's bringing in his son -- 29-year-old Larry Foyt -- to help him with the day-to-day operations of the team.
With what he says he thinks is the right combination needed to revive his team, A.J. Foyt said he sees open-wheel racing on the rise, too.
"I really think you're going to see open-wheel racing grow in the next two to three years," he said. "You know, I hate to say this, I watched the Busch race last night and it got so boring that I turned the channel to the news.
"Nowadays, stock cars have so many guys that have to be in the race," he continued. "They've got provisionals, they've got this, they've got that. That's not the way A.J. Foyt was brought up racing. If you were good enough to make the race, you made the race. There were no provisionals protecting the top 35 cars. ... That's the one thing I think in time will hurt stock car racing."
Still using a golf cart to get around tracks and still getting over a bee attack on his Texas ranch last year that was much more serious than he let on, Foyt said he isn't getting younger but he feels good enough to continue running a race team.
"I can tell you one thing, I don't heal as quick as I used to," Foyt said.
K. Lee Davis is the motorsports editor at ESPN.com.
SPONSORED HEADLINES
ESPN TOP HEADLINES
MOST SENT STORIES ON ESPN.COM