All eyes on leader Hornish at tricky Sonoma
Updated:
August 24, 2006, 12:51 PM ET
By
John Oreovicz
| Special to ESPN.com
Just when Sam Hornish Jr. didn't need it, the Indy Racing League takes a hard right turn this weekend for the Indy Grand Prix of Sonoma at Infineon Raceway (ESPN, Sunday, 3:30 p.m. ET).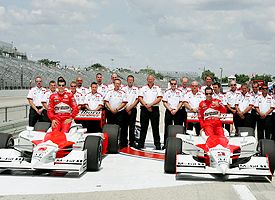 Sam Hornish Jr. (left) and Helio Castroneves are running 1-2 in the standings, but neither has fared well at Infineon Raceway in the past.
Hornish, who won the IRL IndyCar Series championship in 2001 and '02, has cemented a reputation as one of the top two or three open-wheel oval racers of his generation, but his allegiance to the IRL in the early 21st Century came at the expense of his road-racing chops. Now that the IRL is into the second year of featuring road racing, a lot of the rust has diminished, but Hornish still has not put together a fully error-free road or street race in five attempts.
The Ohioan arrives in the California wine country clinging to a seven-point lead in the IndyCar Series point standings over his Penske Racing teammate, Helio Castroneves, with Ganassi Racing's Dan Wheldon and Scott Dixon within 33 points. But the big question is whether Hornish can maintain that championship advantage through the weekend and take it to the more comfortable, concrete-lined confines of Chicagoland Speedway, where the IRL season wraps up on Sept. 10.
Hornish knows he'll be in damage-control mode this weekend, and perhaps more importantly, so do his championship rivals. All three have won an IndyCar Series road race, and Dixon is the only man to have done it twice.
Hornish's performances on twisty circuits haven't been bad; he's earned a place in the "Firestone Fast Six" qualifying runoff in four of the IRL's five road racing events. But several of his races have been marred by early spins, including last year's Infineon event.
"Obviously I want to win this race very badly, but I need to take a more realistic approach to it," Hornish said. "We were quick in qualifying at Infineon last year [starting sixth], so hopefully we'll be able to match that effort with a quality race result as well.
"We just need to bring the car home in the top five so we're set up well for a run at the championship in Chicago."
Earlier this year at St. Petersburg, Castroneves finally claimed an IRL road race win. The Brazilian started on the front row at all three road racing events in 2005 but never made the finish; at Infineon, he was taken out in a clumsy move by pole winner Ryan Briscoe and remarkably, his average finish in road races is worse than his teammate Hornish's.
"We feel we have some unfinished business in Sonoma," Castroneves stated. "Needless to say, we hope our luck changes this year and we can duplicate our earlier street course win in St. Petersburg.
"Marlboro Team Penske has been incredible all season and right now we're really enjoying the championship battle," he added. "Nothing would make this season more special than to earn my first national championship."
While Penske is certain to be a front-runner at Infineon, it's tougher to predict how competitive Ganassi will be. Although Ganassi switched to a Dallara chassis for the IRL's 11 oval races, it chose to campaign its trusted Panoz cars for the three road races. In fact, the entry list shows six Panoz chassis in the field this weekend, with Rahal Letterman Racing (Buddy Rice, Danica Patrick and Jeff Simmons) and Fernandez Racing (Scott Sharp) also running Panoz.
Of the two Ganassi drivers, Dixon is the bigger threat this weekend. He has won twice in the Panoz at Watkins Glen, admittedly a faster and more flowing circuit. With a 30 mph slower average speed, Infineon is downforce-dependent, more like a street course. But after struggling for pace at Infineon in 2005, when he qualified ninth and finished seventh, Dixon was quick at St. Petersburg earlier this year, starting and finishing second.
"It could be a good day for us to make a big gain on points because Sam has been struggling a bit on these road courses," Dixon said. "We have to go into these last two races trying to win at any cost to close that gap."
Wheldon won the IRL's first-ever street race at St. Petersburg in 2005, but he has struggled to match that road racing form since. He failed to finish both road races this year and qualified 13th at St. Petersburg.
"I think this is going to be the race that's going to mix it up and this is definitely a race where we can close the gap," Wheldon said. "I think to some degree the pressure is off Scott and me because we are third and fourth in the points. We just have to attack every weekend."
While most of the attention will be focused on the main championship battle, Vitor Meira (70 points back) and Tony Kanaan (79) are still mathematically in contention. Kanaan, who is the defending race champion at Infineon, along with his Andretti Green Racing teammates Dario Franchitti and Bryan Herta, should be vying for admission to the Fast Six qualifying shootout.
Rice posted his best finish of 2005 with a second place at Infineon, while defending pole winner Briscoe returns to drive the Dreyer & Reinbold Racing entry, hoping to match his third-place run earlier this year at Watkins Glen.
John Oreovicz covers open-wheel racing for National Speed Sport News and ESPN.com.
Autos, Open-Wheel
Motorsports Writer for ESPN.com
Covered Indy car racing for 20 years
Work published in 12 countries
SPONSORED HEADLINES
ESPN TOP HEADLINES
MOST SENT STORIES ON ESPN.COM