Commentary
Team Penske: Briscoe 'at the top of our list' to replace Hornish -- if he departs
If Sam Hornish Jr. leaves his Penske IndyCar ride for NASCAR in 2008, who'll fill the three-time champ's shoes? Penske boss Tim Cindric says Ryan Briscoe is "at the top of our list," writes Bruce Martin.
Updated:
September 3, 2007, 12:20 AM ET
By
Bruce Martin
| Special to ESPN.com
DETROIT -- When
Ryan Briscoe
was a rookie in the IndyCar Series in 2005, he crashed so many cars for Target/Chip Ganassi Racing that some called him the "IRL's Crash Test Dummy."If Briscoe becomes the driver to replace three-time IndyCar champion
Sam Hornish Jr
. in the No. 6 for Team Penske in 2008, that nickname should be changed to "The Comeback Kid.""They would be big shoes to fill, that's for sure," Briscoe said at the Detroit Belle Isle Grand Prix. "I'm sure I'd have all the right people around me to step up, be competitive and win races. I really look up to Sam Hornish, ever since I came to the United States."When I was at Target/Chip Ganassi Racing, I was always watching what he did because I thought he was the best guy out there."Penske Racing president Tim Cindric said Briscoe is "at the top of our list" to replace Hornish if the three-time IndyCar champion decides to join NASCAR Nextel Cup full time in 2008. Hornish is expected to make his Nextel Cup debut in two weeks at New Hampshire International Speedway in the first race in the chase for the championship.If a prime IndyCar seat does open up at Penske Racing, Briscoe could be the choice to move over from Penske's American Le Mans Porsche team to the IndyCar operation down the hall at the team's massive racing complex in Mooresville, N.C."I'm waiting to see how things evolve from now, and I really have no idea," said Briscoe, who grew up in Sydney, Australia. "It's between this again [ALMS], or if the possibility comes up to move back to the IRL [IndyCar Series]. We have to play it by ear a little bit."We'll see what we have on the table and play our cards."From listening to those in the IndyCar paddock, it's not a question of "if" Hornish leaves but rather of "when" he announces his decision."That would open up a seat at Penske, and if he goes to NASCAR, whether that becomes my seat or not, we'll have to wait and see," Briscoe said.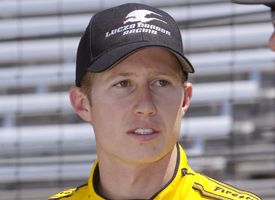 Michael Hickey/WireImage.com Ryan Briscoe on the possibility of replacing Sam Hornish Jr.: "They would be big shoes to fill, that's for sure."
Moving Briscoe into the No. 6 IndyCar would be the logical move. Briscoe made a triumphant return to the Indianapolis 500 in May for Luczo-Dragon Racing, a team co-owned by Steve Luczo and Jay Penske, Roger Penske's youngest son. With longtime Penske aide Jay Signore as team manager, and many members of Penske's ALMS team serving as his crew at Indy, Briscoe was impressive in the month of May and finished fifth in the Indy 500."Indy was an amazing month for me," Briscoe said. "I think I did a good job, but at the same time, I've got a lot to learn on ovals. I'm still quite inexperienced. Going into Indy, I had first-class people working with me and equipment. With Roger behind that happening, we weren't going to do it with anything less. It was a great month where I learned a lot."But it was just one race. There is nothing telling from that. I hope I made a good impression."Although the Indianapolis 500 has its share of "one-off" or "Indy-only" teams, Briscoe's operation at Indy could have contended for an IndyCar title. It picked up the nickname "Sputnik" because it was basically a satellite team for Team Penske.Briscoe said he'd like to be considered for Hornish's ride but remains patient for his chance to return to the car he loves the best, an open-cockpit, open-wheel race car."It's been a tough season for Penske in the IndyCar series this year, and next year will be important for results," Briscoe said. "I'd like to think if I was chosen, I'd be able to step it up and do a good job. The important thing for me is to stay within the family [Penske Racing]. Whether I get the opportunity next year or in a couple years, I don't mind. I'm in a great position now."It would definitely be nice to be considered, though."
Big Race Weekend
This race weekend is one of the biggest of the year, with every major series except for Fomula One on the track. Here's what to watch, all times Eastern.
Friday
1 p.m.
Busch Series practice -- SPEED
2:30 p.m.
Nextel Cup practice -- SPEED
6 p.m.
Nextel Cup qualifying -- SPEED
11 p.m.
Busch Series qualifying -- SPEED
Saturday
2 p.m.
NHRA qualifying -- ESPN2
5:30 p.m.
Craftsman Truck Series -- SPEED
8 p.m.
Nextel Cup practice -- SPEED
10 p.m.
Busch Series race -- ESPN2
Sunday
7 a.m.
Champ Car race -- ESPN Classic
2 p.m.
NHRA qualifying -- ESPN2
3:30 p.m.
IndyCar Series race -- ABC
8 p.m.
Nextel Cup race -- ESPN
Monday
7 p.m.
NHRA finals -- ESPN2
-- Staff and wire reports
According to Cindric, Briscoe is more than considered -- he's the "lead candidate."Cindric has been a key part of Hornish's NASCAR effort and wants to make the driver who replaces him in the IndyCar Series a good fit."At the point where we make that decision, if that seat is open, Ryan is certainly the lead candidate to do that," Cindric said. "That decision hasn't been made, and he is aware of that. I talk to Ryan on a weekly basis."What I like about Ryan, as well, is he said, 'Hey, I have a great opportunity where I am. You guys do what you think is the right thing moving forward.' There is no pressure on us making a decision."In Briscoe's world, the moon and the stars could be lining up quite well for him to take over a topflight ride in an IndyCar return.That would be much better than his departure from Target/Chip Ganassi Racing in 2005, when he crashed into
Alex Barron
and his car launched skyward like the space shuttle.It hit the wall, broke in two and burst into flames, earning him another nickname in Australia -- "Briscoe Inferno.""I'm certainly very lucky," Briscoe said. "I don't know how it is possible to get out of that crash and drive a race car six weeks after it happened."I'm certainly very lucky."He never drove another IndyCar race for the team that season, spent most of 2006 looking for a ride, and filled in for four races on the road courses for Dreyer & Reinbold Racing."I did a good job for them," Briscoe said. "The way things ended for me at Ganassi Racing is not the way it was supposed to end. Apart from the accident, to have my IndyCar experience end so abruptly, I thought I would have a lot more time to improve."That time ended early, and it might have taught Briscoe a valuable lesson. He continues to improve as a race driver, but looks back and admits he was overdriving the car."I look back as a more experienced driver now and ask, 'Why was I doing that?'" Briscoe admitted. "I remain very close to
Scott Dixon
and hope he wins the IndyCar title, and he went about it the right way by going out there and not winning races that were impossible to win. "I was out there trying to prove myself to be better than him. That was my mistake. I should have been watching closely what he was doing and try to follow in his footsteps."All of that has been taken into consideration for Briscoe's second chance."He was in a perfect storm not to be in," Cindric said of Briscoe's rookie season. "He was coming over in a situation where he had quite a bit less power and trying to overdrive the car. When you are a rookie, you need to be learning the track, but he was under pressure to perform as a team. He wasn't in the best situation there."We looked at that pretty hard to determine if he was the right fit for us, but so far so good."Briscoe asked Penske Racing for an opportunity to drive at Indy when he signed on with the Porsche ALMS program this year. They delivered, and Briscoe performed well."I know he is appreciative of having a chance to run at Indy in good equipment, and he did a great job," Cindric said. "We didn't let him get caught up in the qualifying game, and he did a steady race and took advantage of an opportunity there, for sure."Cindric said there is no set timetable to announce Hornish's decision involving NASCAR. Once that happens, Briscoe could take over the ride.Mike Hull, the managing director at Target/Chip Ganassi Racing, said he'd be very happy to see Briscoe become The Comeback Kid."Of any of the young guys coming along, he's at the top of the list in terms of drivers who deserve an opportunity to do that," Hull said. "He's a competitive guy, and he works at getting better. When he was with us, he was a testament to young, aggressive guys."With Penske Racing, he'll run at the front."
Bruce Martin is a freelance contributor to ESPN.com.
SPONSORED HEADLINES
ESPN TOP HEADLINES
MOST SENT STORIES ON ESPN.COM