Despite setback, Hall looks to Gibbs as model
Updated:
February 24, 2006, 3:22 PM ET
By
Rupen Fofaria
| Special to ESPN.com
New NASCAR team owners Troy Aikman and Roger Staubach spent the last couple of weeks at Daytona International Speedway taking cues from their crew chief, Phillipe Lopez.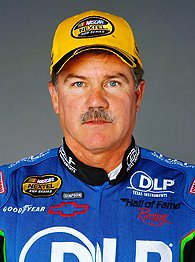 Rusty Jarrett/Getty ImagesTerry Labonte recently turned in a top-20 finish for the Hall of Fame team, but the expectations are higher, of course.
Don't be concerned with slow practice times, that's just a product of who you're racing with and what you're working on.
Don't panic over getting busted for an illegal engine and racing from the back, it's a superspeedway track so anything can happen.
And then driver Terry Labonte steered the No. 96 Hall of Fame Racing Chevrolet to a 17th-place finish, and the owners looked to Lopez again. After a career spent obsessing about winning, how do you stomach coming out the 16th loser?
Said Lopez: "Naturally, everybody wants to win, but for the first time out of the box -- new pit crew, new everything -- we got a top 20 and that's pretty respectable with this field and the caliber of competition we're up against. For a bunch of guys who have been together three months: Job well done.
Aikman and Staubach are far from the first former NFL stars to take a crack at owning a NASCAR team. Former Pittsburgh Steelers quarterback Terry Bradshaw is part-owner of a Busch Series team which has yet to notch its first victory. So is former Buffalo Bills quarterback Jim Kelly. Other NFL stars, such as QB Brett Favre, have tried their hands at NASCAR ownership without success.
But if Aikman and Staubach are to succeed, they'll have a former rival to thank for it. The only heavily involved NFL star to find serious success in NASCAR has been Joe Gibbs, who spent nine seasons hammering away at building a winner before finally claiming his first Cup title in 2000. Now a three-time championship owner, the Washington Redskins head coach provides the engines for the ex-Dallas Cowboys. More than that, he provides a role model for success.
"We'd love to emulate what he's done," Staubach said. "He has a history of doing it right, and we're fortunate to be associated with him."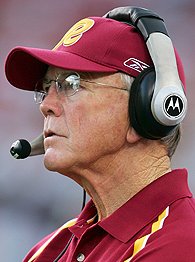 Andy Lyons/Getty ImagesJoe Gibbs has returned to the Redskins' sidelines after a successful NASCAR run.
But on the Sunday before last weekend's Daytona 500, NASCAR found an illegal carburetor in the Hall of Fame Racing rig. Although the infraction meant Labonte's qualifying time would be thrown out, the duo chose Labonte as the driver for the first five races because he gets a championship exemption which guarantees him an invitation to each race. So the Cowboys were lighthearted about the bust.
"There is a part of me that thinks we caught on to this sport pretty quickly," Aikman said jokingly. He spoke amid a cheating controversy that included questions surrounding 500 champion Jimmie Johnson's win after his crew chief was also busted during qualifying.
Labonte was penalized 25 driver points, Hall of Fame Racing was penalized 25 owner points and Lopez was penalized $25,000 for the infraction. But the two Cowboys were quick to point out that they didn't build the engine; their people just didn't recognize that it was illegal when they put it in the car.
"Joe, God love him, still doesn't like the Cowboys," Staubach joked.
Joe Gibbs Racing president J.D. Gibbs was less jocular, more remorseful, about the incident.
"Joe Gibbs Racing provides all of the engines and carburetors for Hall of Fame Racing," Gibbs said. "We are responsible for any issues having arisen from the unapproved carburetor that was taken by NASCAR in Daytona. It is never our intention to put any unapproved parts on any of our race cars or those of our partners. We will join Hall of Fame Racing in appealing the severity of the penalty."
The penalty dropped Labonte and Hall of Fame Racing from 17th in driver and owner points to 26th. Still, Aikman and Staubach are upbeat.
"We recognize that we are the new guys on the blocks and we have a lot to learn before we get to the level that a lot of these top teams are at," Aikman said. " ... By no means do we think it will be easy, but hopefully we will have some success that we are used to having in other endeavors. If we are able to do that, hopefully we will be able to attract some other fans.
"Does it make us a little nervous? Absolutely. But also it is that competitiveness that makes it very intriguing for us, and [we] want to be successful."
HOF Racing has two things which other NFL stars trying to crack into NASCAR ownership didn't: Gibbs on their side and a big-time sponsor that, at least for now, seems to believe in its NASCAR investment.
"I look at the pedigree and history of the two people sitting up here with me and you see a commitment to winning," Texas Instruments CEO Rich Templeton said. "They have performed all of their lives at this level."
Both Aikman and Staubach are hopeful that they can move beyond the penalty right out of the gates and build on a 17th-place finish. They're also hoping to attract more crossover fans from the NFL, though they acknowledge they've got some convincing to do.
Aikman said he's already had run-ins with some Cowboy fans, and can only imagine what Gibbs is hearing.
"They say, 'Gosh, how do you team up with a Redskin?' Or they're asking Joe Gibbs, 'How in the world do you team up with two Cowboys?'" Aikman said. "Whereas, I look at it like it makes great sense because we both have the NFL connection, and we both have this great interest in NASCAR. So this is a perfect marriage between the two organizations. ... Obviously, when we played each other, there was tremendous rivalry between us and the Redskins, and we had a lot of great battles with Joe Gibbs. But I have tremendous respect for Joe Gibbs and what he has done in both NASCAR and football."
Rupen Fofaria is a regular contributor to ESPN.com. He can be reached at rfofaria@yahoo.com.
MOST SENT STORIES ON ESPN.COM