Burton helping RCR return to glory days
Updated:
August 9, 2006, 6:20 PM ET
By
Rupen Fofaria
| Special to ESPN.com
There are spirits in men that are so strong they prove indestructible. This is a story about two men who, at the depths of their NASCAR careers, believed in each other and trusted the fates of their legacies to each other's hands.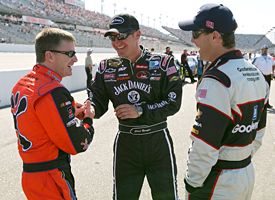 Andy Lyons/Getty ImagesJeff Burton, Clint Bowyer and Kevin Harvick (from left) are enjoying the good times of their team's resurgence.
Team owner Richard Childress and driver Jeff Burton were never in danger of being remembered as failures. But many years had passed since they were competitive, and before they joined forces, the constant question weighing on both of their minds was how many more years would pass before fortune smiled on them once again.
Spring 2002: Childress is sitting with his star racer, a budding young gun who has stepped into the ride that used to belong to an idol of his, Dale Earnhardt. Kevin Harvick has crashed hard from the high he was on the year before, when he won twice and finished in the top 10 amid the most grueling of circumstances after Earnhardt's fatal crash in the season-opening Daytona 500.
"We're spending the money," Childress said. "We're putting the things in place. It's hard now, but the payoff will come."
That was the promise Childress made. After 18 seasons of excellence with Earnhardt, 69 victories and six titles, the team was only in the beginnings of a slump that would last four seasons.
None of his teams had won a race yet in 2002. Harvick would change that with a victory at Chicagoland Speedway in July, but that would be RCR's lone victory of the year. The three-car stable, featuring Robby Gordon and Jeff Green alongside Harvick, failed to finish among the top 15 in points. In fact, over the next three seasons -- through 2005 -- RCR would struggle, winning just three more races and putting only one driver among the top 15 in that span: Harvick finished fifth in 2003.
March 16, 2003: Darlington Raceway. Burton's stint at the top of the sport is still so recent he can remember the thrill of title contention. The sensation is starting to fade, though. By then, after points finishes of fourth, fifth, fifth and third from 1997 to 2000, Burton no longer was considered a perennial contender. His was a much more inconsistent team, constantly keeping everyone guessing whether he'd finish in the top five or the bottom five.
"We're having way too many problems," he said, standing steps away from a race car with an engine that had died and sent Burton on his way to catch a flight home, his 42nd-place finish secured. "But it's not because we're not trying hard. Maybe we're having problems because we're trying too hard, I don't know. We're trying to do the right things, but things just aren't working out for us right now."
Burton was driving for Roush Racing and, while his teammates were flourishing, he was on a decline. He had finished 12th in points in 2002 while watching teammate Mark Martin fall just short of winning the title. Burton repeated his 12th-place points finish in 2003, that year watching teammate Matt Kenseth claim the championship. In 2004, he would drop to an 18th-place points finish. That year, teammate Kurt Busch won the title and Burton made a life-changing decision.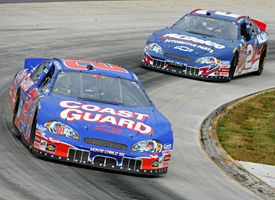 Streeter Lecka/Getty Images for NASCARKevin Harvick (front) leads Clint Bowyer in a Busch Series race. The two are helping Richard Childress Racing return to prominence as Cup teammates.
The halls of Roush Racing were growing too crowded for him. He felt blessed to have had the opportunity and grateful for the time spent with team owner Jack Roush. It was time to leave, though. Childress had visited Burton about a year after the owner had sat down with Harvick. He made some promises to Burton, too, and they were powerful ones. They were too tempting to be ignored, and Childress was too convincing to be doubted.
After a 2005 campaign in which Childress and Co. labored to implement his new plans, RCR -- with Burton leading the way -- is back near the top. Burton is ranked third in points, Harvick fourth. The third driver, rookie Clint Bowyer, has shown tremendous promise and has his sights on a top-15 points finish himself.
"It feels great," Childress said. "I feel good for everybody at RCR that's put in so much hard work over the winter and the summer and the communication between the drivers and crew chiefs and engineers. It's just a great group of guys and ladies at RCR that's putting out an effort that's showing now.
"The efforts, the hard work they put out is showing."
After years without a single team in championship contention, Childress is poised to send two drivers to the Chase for the Nextel Cup. Bowyer said he believes he can make it three teams next year, and he's very clear about why he thinks that.
"Teamwork," he said. "I think that's the biggest thing, teamwork across the board. Everybody at RCR, the three drivers are all getting together, we have a lot of fun with each other; we enjoy each other. We push each other to be harder, better racers.
"I think Jeff coming on board helped a lot. He brings a fresh attitude, a good attitude. That's what Jeff Burton has. He's always positive; he's always telling you, 'You're doing a good job.' If you feel you screwed up, he's the first one to come over and call you or whatever and tell you, 'Chin up, you've been doing a hell of a job, just keep doing what you're doing.' That goes a long way."
Burton said it's a product of the system Childress has put in place. It was that system that had sold Burton on making the move to RCR, a curious move at the time because Roush was at the crest of NASCAR competitiveness while Childress wasn't even on the radar. But after Childress approached him, Burton paid a visit to the RCR shop, and his mind instantly was made up.
"When I first walked into Richard Childress Racing, everything was there to succeed," he said. "We haven't changed one thing, we've changed everything. I mean, Richard has changed every department. I'm talking about even merchandising and marketing. Everything has been changed. Richard deserves a tremendous amount of credit; the things that were changed were changed correctly. It's easy to change stuff, damn hard to change it right. Richard has done a phenomenal job of taking what was a company last year that really couldn't put a team in the top 10 to having a shot for having two."
When Burton talks, his admiration for the car owner is apparent. His passion for the things RCR has done is equally clear. But there isn't even a hint of surprise. Burton knew many didn't understand his jump from Roush to RCR, and he knew it would take some time before folks would understand. But he insists that he knew all along that this day was coming.
"I didn't go join Richard Childress Racing because I was trying to wrap up my career," Burton said. "I went to Richard Childress Racing because I was trying to restart my career. When I looked at the opportunity that Richard was putting in front of us, when I looked at the resources that would be available to us, when Richard gave me the commitment that he would do whatever it took to build a world-class racing operation, that's why I left.
"Richard has done a hell of a job. He's done everything he told me he would do and more."
And Burton has responded in turn. He has brought an air of camaraderie to an organization that had gone through a standoffish period. After losing many of Earnhardt's longtime crewmen the year after Earnhardt died. Childress pieced together perhaps the oddest of drivers for his teams. Gordon and Harvick were drivers with reputations for hot tempers, and Green had had altercations with each.
Although Harvick is the RCR veteran of the new crew, there's no question Burton is the leader. And under his leadership, the atmosphere is much more supportive.
"I'm smarter today than I was five years ago," he said. "I think I'm a better driver than I was five years ago. I know I'm a smarter person. I know I'm more mature. I know that I know how to handle things better, and I'm much more calm. … The fact of the matter is, though, five years ago I was winning five races a year, and I'm not doing that right now. So until we can get doing that, then I'm not [a better racer than I was five years ago]. So I challenge myself every day to be better, and I know I need to be better."
Burton has not won a race this year, although he did capture the pole for the two biggest races of the year -- the Daytona 500 and the Allstate 400 at the Brickyard. But the consistency is there and he's constantly in position to win. With time, he said, he believes he'll be back in Victory Lane.
"When you win a lot, you continue to win a lot because you have put yourself in that position over and over and over and you know how to deal with things better," he said. "I went through a period where I couldn't put myself in position to win, so I got a little rusty at finishing things off. So I think some of us not being able to finish it off is my rustiness, to be quite honest."
Both Burton and Childress are at ease when the questions come regarding why they aren't winning more and whether they think they can win a title. It's easier to deal with things off the track when everything is headed in the right direction on it. Burton has won 17 times in his career, so he knows he can do it again. And Childress has won six titles as an owner in his career, so he, too, is confident that he can do it again.
Working together, this might just be the year.
"Richard's down time about matched my down time, if you look at it," Burton said. "And Richard, you don't fall into six championships. I'm sorry, you just don't do it. You don't fall into winning 17 races, you just don't do it. So the talent is there, we just got to put it together."
Rupen Fofaria is a regular contributor to ESPN.com. He can be reached at rupenisracin@yahoo.com.
MOST SENT STORIES ON ESPN.COM