Biffle eyes The Glen as a boost to his Chase hopes
It's largely been a season to forget for Greg Biffle, but he's not about to throw in the towel just yet.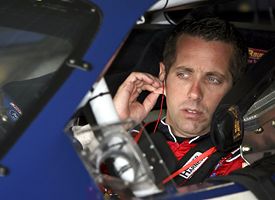 Doug Benc/Getty ImagesGreg Biffle said he's confident he can finish well this Sunday at Watkins Glen.
Still, late-race woes at Indianapolis that left him 33rd greatly diminished his chances of making NASCAR's Chase for the Nextel Cup.
With five races to go before the top 10 is locked in, Biffle only can hope things start turning around this weekend with the AMD at the Glen, the year's second road-course race.
"We had a good weekend until four laps to go, but I still feel that five races is a lot of time," Biffle said. "We saw drivers go from being in the top five in points to being out and then back in in a matter of four races or three, so you can move around a lot. But this is the time of the season where teams and drivers are being more consistent and are getting their stride, so to speak, and their consistency down. That makes it difficult as well."
Consistency has been one of the things Biffle's lacked this season, which is why he heads to Watkins Glen 12th in the points standings. He's 115 points behind Dale Earnhardt Jr., who currently holds down the 10th spot.
Biffle finds solace in the fact that teammate Matt Kenseth was facing a bigger deficit with five races left a year ago, only to use a string of solid runs to race his way into the Chase.
"We need to average top-five finishes and it depends on what the other guys do," Biffle said. "I feel like we have an opportunity to make it in. We're coming up on two good tracks for us -- California and Michigan we run very well at. We run very well at The Glen. We haven't had the finishes to show for that, and we also run very good at Bristol and Richmond, so these are good tracks for us."
Despite leading 23 laps there as a rookie in 2003, Biffle's finishes of 30th, 35th and 38th at the track seemingly would indicate there's not much to look forward to this weekend in New York.
The driver, though, is more optimistic than one might expect. He said circumstances played a role in those races and that he truly enjoys the track. He started second there as a rookie and third last season, so it's not like he can't turn quick laps there.
It's more a matter of keeping things together for an entire race.
"Our finishes at Watkins Glen don't really reflect our performance at the road course," he said. "Last year, I was running in the top 10 and had to start at the end of the longest line because of an improper fueling procedure. Then we were working our way back through the field when the transmission broke. In 2004, we were having a solid top-15 run when we had an engine failure and in 2003, we had a good run and ran out of fuel on the last lap. I enjoy racing at Watkins Glen and I'm looking forward to turning things around there this weekend."
Crew chief Doug Richert said the team is taking the same chassis to the track that it's used the past three years. He knows as well as anyone that it just needs to bring home a better finish this time out.
"We're in a tough position in the points but it's not impossible," Richert said. "We've got some good tracks coming up and if any team can turn things around, it's this one."
The team already has turned things around once this year, so doing it again might not be easy. And there are certainly easier tracks for a driver to get back into a groove than a road course.
"It's a lot harder on the driver. Certainly you're going both directions and you're shifting a lot," Biffle said. "There are lots more opportunities to make mistakes. We're shifting so many times a lap, getting on the brakes and downshifting, turning in at the right point. Normally, we're used to four corners and now we've got a whole bunch that are both directions, so there are certainly a lot more opportunities to make mistakes at a road course and a lot easier for things to happen."
Biffle said he thinks Roush Racing has fallen a bit behind to some of the competition. His Ford Fusion isn't handling quite as well as he'd like, making it even harder to secure a spot in the Chase.
So with NASCAR Chairman Brian France saying there likely will be tweaks to the Chase format next season, it would be no surprise if Biffle was in favor of a format that would include more than the top 10.
The thing is, he likes it at 10, but thinks a few changes could prove beneficial.
"They've talked about putting a wild-card driver in there, which I could agree with. That would be fine -- somebody that's won the most races and not in the top 10 or something to that effect," Biffle said. "They've talked about that and I wouldn't have a problem with that, but I really think that 10 is a good number for people to run for the championship.
"Let's face it, a playoff -- and that's what we're creating, a playoff -- is to eliminate teams. When you start a playoff in football, baseball, any other kind of sport or any other kind of anything, it eliminates the teams each week. There are less and less teams that compete for the magic prize and we don't. We run all 10 weeks -- all 10 drivers. In fact, the rest of the series still competes with us, so I really think by narrowing it to 10 is a good balanced number, I believe."
Biffle just hopes he's included in that group of 10 once the Chase begins.
Mark Ashenfelter is an associate editor at NASCAR Scene magazine, which has a Web site at www.scenedaily.com.
NASCAR
• Ashenfelter is an Event News Editor at ESPN.
• Worked at NASCAR Scene for eight years.
• Has covered NASCAR since 1999.
MOST SENT STORIES ON ESPN.COM