Prelude all-stars put on memorable show on Eldora dirt
They'll be racing at Pocono this weekend, but they'll be talking about Wednesday night's benefit race at Eldora Speedway. The Cup stars had that much fun, writes John Schwarb.
Updated:
June 7, 2007, 11:09 AM ET
By
John Schwarb
| Special to ESPN.com
ROSSBURG, Ohio -- After his first hot-laps session, Jeff Gordon emerged from his dirt late-model car and briefed his crew.
The car was giving him fits. It was too loose coming out of the corners, going there when he wanted it here, and so on as he showed with hands on an imaginary steering wheel, working like crazy.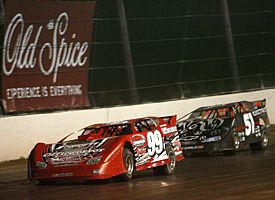 Rusty Jarrett/Getty Images for Eldora SpeedwayCarl Edwards (99) outdueled Kyle Busch to win the Nextel Prelude to the Dream at Eldora.
On an average Nextel Cup weekend, he would have been upset, concerned. But not Wednesday night at Eldora Speedway.
"That thing's fun," Gordon said, laughing. "It's the funkiest thing."
The four-time champion was in the same boat as two dozen other drivers, piloting unusual cars belonging mostly to small-time race teams. But being world-class drivers, they figured it out, turning the third annual Nextel Prelude to the Dream into a memorable show for 20,000 in attendance and thousands more watching on HBO pay-per-view.
Too memorable, actually. Good luck trying to watch 200 laps at Pocono this weekend if you tuned in for this.
Tony Stewart, the owner of the 53-year-old western Ohio track, has made the Prelude personal, inviting friends from NASCAR and other series (Wednesday included two NHRA stars and Red Farmer, a septuagenarian dirt late-model legend). Gone is the high pressure and stress of an average Cup weekend, replaced by a friendly atmosphere where drivers converse in an uncrowded infield and a unique teamwork setting.
His peers pay him back by clamoring for invitations, then coming on their own time and dime to help benefit the Victory Junction Gang Camp in Randleman, N.C.
"It's like going to Indianapolis for the first time," said Ray Evernham, who for one night transformed from car owner to driver. "You hear so much about the place and then to be able to be on the track with these great drivers was really a dream for me."
Evernham spun out in the fifth lap of the 30-lap Prelude feature race, but that hardly put a damper on his evening. Ditto for defending champion Stewart, who was caught in a crash on the 17th lap with Bobby Labonte. Though out of the race, Stewart had to keep watching to see who would win at his place.
It was Carl Edwards who prevailed in a terrific three-man dash to the finish. Edwards, an experienced dirt racer, first battled Jeff Gordon through Laps 10 through 12, with the two switching leads several times to the delight of the crowd. Edwards took the lead for good on Lap 12, but needed to fight off another rally from Gordon and a charging Kyle Busch. At the line, Edwards won by .305 seconds over Busch, with Busch nabbing Gordon by a nose.
"Watching them come off Turn 4 for the checkered flag three wide was pretty impressive," Stewart said. "My jaw was on the floor collecting dust."
Edwards celebrated with his trademark backflip, and the grin probably still hasn't left his face.
"That deal is just as good as winning a Nextel Cup race," Edwards said. "It doesn't matter what type of car you race in, it's the competition and the way you win the races that mean a lot."
The way drivers treated the entire evening spoke volumes.
See Juan Pablo Montoya, a first-time dirt starter, driving his No. 42 Havoline Herrod Farms Pontiac GTO (another part of the night's charm -- some of the late models didn't quite mirror their Cup brethren). His first laps were like a "dart with no feathers" according to Stewart, but by race time he was drifting his car through the turns like an Eldora regular.
See Ryan Newman, involved in the nastiest crash of the night. He and Bill Elliott raced hard to the line for fourth place in a heat race that meant little in the grand scheme of the evening (all drivers raced in the Prelude feature), then got together after the line with Elliott flipping over and Newman getting up on his side before coming down on his wheels.
Elliott was unhurt; in fact, he emerged from his car and played to the crowd by jumping on the hood before calling it a night. Newman joined his team's repair effort, working on the front end and attaching the left wheel assembly to get out in time for the Prelude, where he finished 18th.
And see Kyle Busch, who brought the usual Busch chip on his shoulder but turned that into a runner-up performance worthy of silencing the boos he got during prerace introductions.
"I felt like tonight I proved something to some of the people who might not have thought I was a dirt racer," Busch said. "I know everybody wasn't scared that I knew how to hang it out, but that's on pavement. Now it's on dirt."
When asked if he'd rather run 30 more laps at Eldora or 200 at Dover, Del., as he had two days earlier, Busch couldn't answer "Eldora" fast enough.
He vowed to return to the Prelude and try his hand at the late models again, which was no surprise to the event's host. In the middle of a grueling season, Eldora Speedway is turning into a field of dreams, a playground rising from the farmland to be savored for a moment.
"With 38 weeks of running on pavement, it's fun for one night for all of us to get together as a group and do something that we don't get a chance to do very often," Stewart said.
"I've got a feeling we'll probably talk more about Eldora than we'll talk about Pocono this weekend."
John Schwarb is a freelance journalist covering motorsports and a contributor to ESPN.com. He can be reached at johnschwarb@yahoo.com.
SPONSORED HEADLINES
ESPN TOP HEADLINES
MOST SENT STORIES ON ESPN.COM