Rice to serve as grand marshal at Infineon
Football legend Jerry Rice got prepared for his duties as grand marshal of the Toyota/Save Mart 350 by riding shotgun around the Infineon track for four laps.
Updated:
June 23, 2007, 3:03 AM ET
ESPN.com
Sonoma's wine and cheese crowd gets some Rice added to their plate at Infineon Raceway on June 24 when NFL legend Jerry Rice serves as grand marshal for the Toyota/Save Mart 350.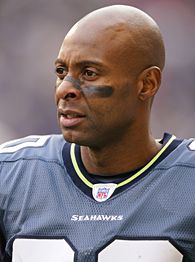 Otto Greule Jr/Getty ImagesJerry Rice, who retired after the 2004 season, caught more passes than any other receiver in NFL history.
Six days before the NASCAR Nextel Cup series race, Rice got prepared by riding along with driver Shane MacMillan for four laps around the 10-turn, 1.99-mile road course in Sonoma, Calif. the Richard Petty Driving Experience supplied the Nextel Cup stock car that featured 700 horsepower and reached speeds in excess of 100 mph.
"I had no idea it was going to be that fast," Rice said in a release. "My heart was pumping big-time. To feel the sheer power of these cars was just amazing, and it takes a pretty special athlete to go 110 laps around this place. I have so much respect for these NASCAR drivers and what they do."
Rice was a member of three Super Bowl champions and caught more passes than anyone in NFL history, but he'll be attending a NASCAR race for the first time.
Rice won three Super Bowls while playing for the San Francisco 49ers from 1985-2000. During his stellar 21-year career, which included stints with the Oakland Raiders and Seattle Seahawks, he basically rewrote the NFL record book for wide receivers.
In other celebrity news from Infineon, actress-singer Emmy Rossum will sing the national anthem before the Toyota/Save Mart 350. Rossum, 20, has appeared in 20 different operas and sung in five different languages. She is best-known for playing the role of Christine in the film "Phantom of the Opera."
SPONSORED HEADLINES
ESPN TOP HEADLINES
MOST SENT STORIES ON ESPN.COM