Substitute crew chiefs on the hot seat
Although Hendrick Motorsports is a deep outfit that will find good substitutes for its suspended crew chiefs, the new guys in charge have to make sure they're communicating clearly with the driver about the car and what adjustments need to be made.
Updated:
July 6, 2007, 2:16 AM ET
By
Andy Petree
| ESPN
Following NASCAR's six-race suspensions for Hendrick Motorsports crew chiefs Steve Letarte and Chad Knaus, installing their substitutes into new roles could have a big impact on the track for their respective drivers, Jeff Gordon and Jimmie Johnson.
About Andy Petree
ESPN race analyst Andy Petree is a two-time NASCAR champion crew chief for the late Dale Earnhardt.

Petree joined Richard Childress Racing as the crew chief for the famous No. 3 Goodwrench Chevrolet and won back-to-back NASCAR championships in 1993 and '94.

Petree was also a driver, from 1988 to 2004, and a car owner.
As a car owner, Petree worked with Kenny Wallace, Joe Nemecheck, Bobby Hamilton and Greg Biffle.
It takes sometimes months and even years for these guys to get really good at communicating with each other on what the car is doing, what they need and how they're adjustments are being made. So when they lose a crew chief who they've really gotten comfortable with at the track, it can really alter the communications process because they're putting a new guy in that spot.
And while Letarte and Knaus are going to have some communication with their team, it won't be right there at the racetrack during the practice sessions. After they get finished practicing, the substitute will probably communicate by cell phone with the suspended crew chief.
But it's still up to that guy in charge and acting as crew chief to communicate with the driver on an ongoing basis on the track while trying to make these changes during a practice session. These practice sessions are relatively short and there's a lot of things you're trying to learn in a short amount of time.
Sometimes the regular crew chiefs have really great guys fill in. When Chad Knaus got suspended a little more than a year ago, Darian Grubb stepped up and did a great job. Temporarily elevated from lead engineer, Grubb helped Johnson win two of the four races during Knaus' suspension at the start of the 2006 season.
It turned out he proved himself and he is now crew chief for the No. 25 car, also owned by Hendrick and driven by Casey Mears. So this may be an opportunity for one of the underlings on these teams to step up and show what he can do.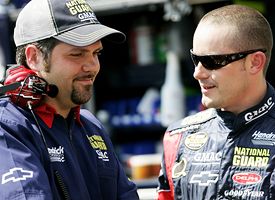 Jason Smith/Getty ImagesDarian Grubb proved himself as a substitute last year and parlayed it into a job as crew chief for Casey Mears, right.
These great teams, such as Hendrick, with so much depth can usually overcome it. But it will be interesting to see how this plays out with both of these top teams at Hendrick. It doesn't have to be a negative although it will alter the communications somewhat.
We should see more of an impact in the first couple of races, but these cars are very well prepared when they get to the track. As long the cars are ready and there are good notes, there's probably not going to be too much of a hiccup.
But if we're going to some of these Car of Tomorrow races (New Hampshire being one of them) where there are not a lot of notes and these new guys are going to have to start developing some setups, it could pose a little bit of a problem for them
SPONSORED HEADLINES
ESPN TOP HEADLINES
MOST SENT STORIES ON ESPN.COM