After quiet start, Roush Fenway drivers making noise
Hendrick Motorsports could do little wrong the first third of the Nextel Cup season. Now it's Jack Roush's turn, writes Rupen Fofaria.
Updated:
July 14, 2007, 5:02 PM ET
By
Rupen Fofaria
| Special to ESPN.com
The turning of the tides came just in time, says
Carl Edwards
. He doesn't shy away from admitting that he left the track hurting on more than one occasion throughout the first third of the season. The pain emanated on many levels because Edwards, like his three Roush Fenway Racing teammates, hates to lose.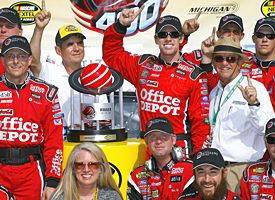 Rusty Jarrett/Getty Images Carl Edwards put Jack Roush in Victory Lane at Michigan International Speedway.
But it wasn't just the losing that hurt. It wasn't even that the Roush stable, as a whole, was struggling. It was watching Chevrolet, the rival manufacturer to Roush's Fords, win 13 of the season's first 14 races. And it was watching Hendrick Motorsports, a rival to Roush Fenway, win 10 of those first 14 races while Roush collected just one victory. "It was really difficult," Edwards said. "... Up to this point I feel like the Hendrick cars have obviously been dominant." And then came Michigan International Speedway, the racetrack situated in the backyard of America's auto manufacturers. Edwards collected the second win of the year for Roush Fenway and for Ford, and the relief was evident on the faces of both team owner Jack Roush and Edsell Ford II. The past wouldn't matter much if the rest of the season could go like this. "Jack said over and over that If we compete during the Chase and make sure those last 10 races work," Edwards said, "it'll be an awesome season." Thing appear headed in just that direction. After Michigan, Roush almost collected its second straight checkered flag until
Jamie McMurray
ran out of gas at the end of the race. The next week, Roush was again contending for the win until Edwards had mechanical issues. Then, last weekend at Daytona International Speedway, in a powerful display of team-wide strength, all four Roush cars got in a line with each other and pushed McMurray into Victory Lane. "For the last month we've been strong and a contender to win," McMurray said. "And that's all you can ask for. If it's your day, then it is, and if it's not, then there's not anything you can do about it. Roush Racing, as a whole, has been really strong the last month." The reasons for the turnaround are numerous. There was a lot of new personnel, especially in the higher ranks of the teams, at the start of the season. It takes time for teams to gel. The adjustment to the Car of Tomorrow also contributed to the slow start, but those issues appear resolved now. And then there was the emotional lift the No. 17 team provided. As the remaining three Roush cars struggled,
Matt Kenseth
and his crew maintained a steady pace and has ranked second or third in the points standings for most of the year. At a recent team meeting, the crew chief for the 17 car vowed to help the others catch up. "Whatever I can do," Robbie Reiser said, raising his hand and promising assistance. "Whatever our team can do to help." "That's made all of us stronger," Edwards said. "And I'm really happy about that." There's a lot to smile about these days at Roush Fenway Racing, where all four cars are making a strong bid to qualify for the 12-team Chase for the Nextel Cup. Kenseth is still ranked third, not far ahead of Edwards, who moved all the way up to sixth. McMurray is on the cusp of the transfer spot in 13th and
Greg Biffle
trails him by three spots. "It's getting better," Edwards said. "That was really a banner weekend [last week]. I could see the satisfaction in Jack's eyes after the race. That's cool. That's the type of reward you can get when you work really hard. We just have to keep working that hard."
Rupen Fofaria has covered NASCAR for ESPN.com since 2002. He can be reached at rupenisracin@yahoo.com.
SPONSORED HEADLINES
ESPN TOP HEADLINES
MOST SENT STORIES ON ESPN.COM