Johnson's repeat hopes go up in flames at the Brickyard
Jimmie Johnson was red-hot after winning the 2006 Allstate 400. He was red-hot again Sunday at Indy after a cut tire sent his No. 48 into the wall and caught fire, writes John Schwarb.
Updated:
July 29, 2007, 9:52 PM ET
By
John Schwarb
| Special to ESPN.com
INDIANAPOLIS -- A year ago,
Jimmie Johnson
left here on fire.He did so again Sunday, but under completely different circumstances.The defending Nextel Cup Series champion failed to defend his Allstate 400 at the Brickyard title or even finish the race, climbing out of the burning No. 48 Chevrolet in 39th place after a blown tire on Lap 62 sent him into the Turn 3 wall and started a fire. Johnson was unhurt, but he was bruised by another poor finish in what has become a midseason slump. Last week at Chicagoland, a cut tire late sent him hard into the wall and ended his day in 38th, and he had only one finish higher than 10th in the six races before that."It's been a steady roll of bad races for us," Johnson said. "We've had lots of speed. Chicago, we were in position to win. Here, we had a top-five car but we don't have the results to show for it."Johnson ran fourth at Indianapolis Motor Speedway 40 laps into the 160-lap event, but he collided with
Jamie McMurray
on Lap 45 and suffered left-front damage in what became an eight-car melee. After the wreck, the Hendrick Motorsports driver came into the pits for some 50 seconds' worth of repair work, putting him one lap down. Ten laps later, he needed more repairs, taking 90 seconds. Still, he returned to the track with hopes of eventually climbing back to the lead lap."We were just trying to get the car straightened back out and trying to get back on the lead lap; I had just got by the 88 [
Ricky Rudd
] to be in position for the Lucky Dog, and the tire blew again going into Turn 3," Johnson said.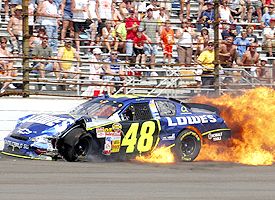 AP Photo/Jeff BarrieDefending Cup champion Jimmie Johnson's run of bad luck continued Sunday, with impressive flames adding to the spectacle.
"Everybody's trying hard because track position's so important, but everybody's forgetting how aero-sensitive these cars are side-by-side on corner entry, and I got caught up in a wreck, then I saw my teammate [
Casey Mears
] and a group of cars make the same mistake going into Turn 3 [on Lap 55]. It's just really tough running side by side and being aggressive at this track."Johnson had no such problems at Indianapolis a year ago, winning the Allstate 400 to continue a fantastic season. He won the Daytona 500 and at Las Vegas and Talladega, even winning the All-Star race. When he left the Brickyard, he was red-hot, tops in points and cruising toward the Chase. He ultimately entered it second in points, then rolled to the title by virtue of a dominant five-race stretch from Charlotte to Phoenix, never finishing worse than second, and a victory at Martinsville.Johnson gave no indication through the first dozen races of this season that he would relinquish the Nextel Cup, winning four times and posting four other top-four finishes. But since finishing a career-worst 42nd at Pocono on June 10, Johnson has run in the top 10 only twice.That's hardly a disastrous stretch -- and he's still a near shoo-in for the Chase, even at ninth in points -- but for someone accustomed to running at the front every week and contending for Chase bonus points, it has been a tough pill to take."We need to make sure we don't lose our focus, which is building fast race cars. And we continue to do that, but we can't control these outside elements," Johnson said. "We'll sit down with the guys next week and get everybody pumped up. We've got to keep fighting and make sure we stay in this Chase."
John Schwarb is a freelance journalist covering motorsports and a contributor to ESPN.com. He can be reached at johnschwarb@yahoo.com.
ALLSTATE 400 AT THE BRICKYARD
Related Content

Cup Surround | Standings | Schedule
Stories
•
Newton: Kyle Busch growing up?
•
Blount: Dodge poised to make move?
•
Monday Rundown: Chevy still on top
•
Crucial Crew Call: 42 crew good, 20's better
•
Blount: Stewart starting another summer roll?
•
Newton: More Montoya magic
•
Recap: Stewart tames the Brickyard
•
Schwarb: Junior's trouble a break for bubble boys
•
Schwarb: Johnson's hopes go up in smoke
•
Notebook: Harvick won't be penalized for love tap
•
Sorenson, Montoya on front row
•
Newton: Small-town boy, big-time dreams
•
Blount: Should Johnson be worried?
•
Schwarb: Solving the Brickyard puzzle
•
Notebook: Competition yellow will fly
•
ESPN.com's Allstate 400 at the Brickyard picks
•
Five drivers to watch at the Brickyard
•
Five things to watch at the Brickyard
•
Blount: Brickyard launched the new NASCAR
•
Inside The Hauler: Get big or get out?
•
Chase Tales: A special race at special place
•
The Eliminator: You have to love Jeff Gordon
•
Newton: Will Martin make a DEI dream team?
•
Door-To-Door: Siegel comes full circle
•
Blount's Blitz: That good ol' Indy magic
•
Power Rankings: Is Stewart ready to roar?
Video
•
Draft Track: Introduction
•
Draft Track: Jeff Gordon and Denny Hamlin
•
Draft Track: Matt Kenseth and Jimmie Johnson
•
Tony Stewart wins at the Brickyard
•
Stewart celebrates second Brickyard win
•
Rusty Wallace's take on this year's Brickyard
•
Dale Jarrett breaks down the Brickyard
•
Sorenson scores first career pole
•
Who'll kiss the bricks?
•
Brickyard brings out the best in drivers
•
Tech Center with Tim Brewer
•
State of Evernham Motorsports
•
Crew chief suspensions
•
Dale Jr.'s ready to roll with Mark Martin
•
Mark Martin's ready to go
•
The history of NASCAR at Indy
•
Is NASCAR welcomed at Indy?
•
NASCAR Driver Pick'em
•
Fantasy NASCAR: Brickyard Preview
•
Kissing the Bricks at Indy
•
Which are the biggest NASCAR races?
•
Racing at the Brickyard
•
NASCAR's 2007 First Half Images
PodCasts

•
RaceDay: Stewart masters the Brickyard
•
RaceDay: Stewart, Johnson talk Brickyard
•
RaceDay: Burton, Gordon and Mears get ready
MOST SENT STORIES ON ESPN.COM