Blues, rock collide on stage in Michigan
Blues musician Jimmie Vaughan and rock band Smash Mouth will be featured peformers at Michigan International Speedway.
Updated:
August 15, 2007, 12:37 AM ET
ESPN.com
Blues musician Jimmie Vaughan will be doing double duty this weekend at Michigan International Speedway, playing a concert Saturday before performing the national anthem before Sunday's 3M Performance 400 Nextel Cup race.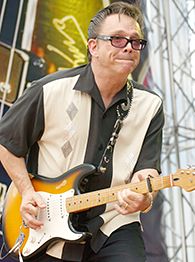 Kevin Mazur/WireImage.comCars and guitars are two of Jimmie Vaughan's greatest passions.
"Performing the National Anthem at the 3M Performance 400 and 3M Car Care Auto Fair is a privilege for me," Vaughan said in a release. "People know me for my passion of music, but another true love of mine is cars. Just attending this event would be cool for me but to have the opportunity to play at an event like this, in front of thousands of NASCAR fans and surrounded by incredible cars, is really exciting."
Smash Mouth, another music act with a passion for cars, will also be entertaining fans Saturday with a post-race concert after the Carfax 250 Busch series race.
"I'm a huge race fanatic," Smash Mouth lead singer Steve Harwell told NASCAR.com in 2005. "If I wasn't doing music, I'd be driving a race car or working with a race team. I've always been a gearhead."
Smash Mouth is known for their songs "Walkin' on the Sun" (1997), "All-Star" (1999) and a cover of the Monkees' "I'm a Believer" from the "Shrek" soundtrack.
Vaughan is also known as a designer of classic and custom cars. His first restoration was a 1951 Chevrolet Fleetwood. Since then he has added several classic hot rods to his collection, including a 1963 Buick Riviera and a 1961 Cadillac Coup DeVille.
"I don't play golf. Cars are my hobby," Vaughan, whose cars have been featured in Rod & Custom, Rodder's Journal and Custom Rodder, said in a release. "I was into cars as soon as I was old enough to walk. It's not just transportation, it's art you can drive."
In addition to his four solo albums since 1990, the native of Austin, Texas, has recorded and performed with Eric Clapton, Bob Dylan, Carlos Santana, B.B. King, Willie Nelson, Don Henley and countless others.
Vaughan, who is currently on tour opening for Bob Dylan, has an album with Omar Kent Dykes, titled "On The Jimmy Reed Highway," due out Aug. 21.
Smash Mouth, which had its last album "Summer Girl" released in 2006, has performed at the 2003 NASCAR Busch series awards ceremony, was an active participant in the 2005 NASCAR Day celebration, was featured on the soundtrack for "NASCAR 3D: The IMAX Experience," and has visited and performed at many tracks on the NASCAR circuit.
"Having a huge act like Smash Mouth perform for our loyal race fans is a great opportunity for us to say 'thank-you' for their support throughout the 2007 race season," said Michigan International Speedway president Roger Curtis. "The weekend will be an once-in-a-lifetime opportunity for our fans, giving fans an affordable way to see great racing and an awesome concert makes all the hard work worth it."
SPONSORED HEADLINES
ESPN TOP HEADLINES
MOST SENT STORIES ON ESPN.COM