Commentary
Kansas helps youngsters close gap on experienced drivers
Drivers, you're not in Daytona anymore. As one of the newer tracks on the Nextel Cup series, Kansas Speedway presents an opportunity for younger drivers to close the gap on veterans with more experience and data at their disposal.
Updated:
October 12, 2007, 2:25 PM ET
By
Brett Borden
| Special to ESPN.com
In the "Wizard of Oz," Dorothy clicked her heels three times to get back home to Kansas. In real life, NASCAR drivers short on experience but long on talent would drive over Dorothy just to race at Kansas Motor Speedway.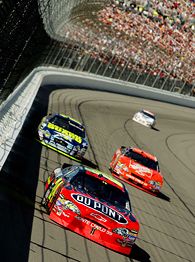 Matthew Stockman/Getty ImagesJeff Gordon leads Greg Biffle, Tony Stewart and Scott Riggs during the 2006 race at Kansas Speedway.
Why? Well, unlike every other track on the circuit except one (Chicago), Kansas Speedway was not on the schedule before our current president was in office. This means a young driver can still get the 'W' at Kansas because he's not racing Jeff Gordon
and
15 years of data that Gordon's team has at its disposal. His veteran competitors are just starting to understand the nuances of the track, rather than unloading off the truck with a few miles per hour head start on him.
While drivers such as Jeff Gordon, Mark Martin and Tony Stewart have made it to the winner's circle along with Joe Nemechek and Ryan Newman since Kansas opened in 2001, many of the younger drivers have been methodically climbing up the finishing ladder with each passing race. When you review the top 10 finishers in the 2006 Banquet 400 you see that Stewart and Martin finished first and third, respectively, but you also see that Casey Mears finished second between them, tying his best finish of the season. Down the list you will find Carl Edwards in sixth, Kyle Busch in seventh, Brian Vickers in eighth and Clint Bowyer ninth. All are among the best finishes these these young drivers had in 2006.
Teams that have raced at Daytona International Speedway for 30 years know just about every variable the old girl has in her. If they wake up and the temperature is 60 degrees that day, they use the setups that in the past have worked best for them when it's 60 degrees. If it's 90 degrees, they adjust. New teams, meanwhile, have to guess if the thermometer reads something they haven't seen at Daytona before.
Teams today have what's called track mapping. This is data derived from computers that give them just about every factor that can vary on a track, be it degree of banking, temperature of the track and adhesiveness of its surface, surface smoothness, or downforce in the corners. For those of you who play NASCAR video games, the intricate details of what you see came from track mapping.
Of course the newer tracks will not be the only equalizers in the mix in the 2008 season. When the teams return to most of the tracks in 2008 they will be driving the new Car of Tomorrow for the first time so the tables will be reversed. Instead of trying to figure out a new track, they will be trying to figure out a totally new car on the track. All of those reams of data that have been gathered for all those many years by the veteran teams will be rendered virtually worthless because the COT is a totally different animal with different aerodynamics and different handling characteristics so the teams will be somewhat shooting in the dark at the onset. The veteran drivers and teams will no doubt be able to get a handle on the COT relatively quickly, but they won't nearly have the same advantage that they have held in the past.
One thing is for sure, the driver/team that figures it out first will surely win a bunch of races until the others figure it out as well and catch up. Look at how Hendrick Motor Sports dominated the first few COT races this year because it had done a considerable amount of track testing and shop testing with the seven-post shaker prior to the COT's introduction. But as more races are run with the COT and more test sessions with it are completed, the database will grow exponentially, thus leveling the playing field again.
The COT drives and reacts much more like the cars did 10 to 15 years ago, so the older drivers ... Martin, Jarrett, Labonte, Schrader, etc. ... should have somewhat of an advantage because of their previous experience. But that gap should close very rapidly considering the talent the younger drivers have demonstrated to get them to the top in the first place.
Many younger drivers such as Denny Hamlin play the NASCAR video games. So in some cases, not only do they have an even chance against the veterans, they may even have an advantage. There is no substitute for track time, but virtual track time comes close.
Greg Biffle joined NASCAR's premier circuit just one year after Kansas made its debut. Coming off great success in the Craftsman truck series and then the Busch series, he said Kansas was one of the tracks he looked forward to competing on the most.
"I always enjoy going to the new tracks because it's kind of a level playing field for everybody," he said. "Granted, the veterans have a lot more experience and know what they're looking for from the car, so they may be a little better than us early in the weekend, but without having 10 races under their belts at that particular track, I think it helps us a little bit."
In racing, every little bit means a lot.
Dorothy was relieved to get back to Kansas, but some of the teams fielding talented young drivers at Kansas feel even better with solid finishes there. One of them might even be in the winner's circle spraying champagne this Sunday. The flat lands of Kansas do a great job of leveling the playing field.
SPONSORED HEADLINES
ESPN TOP HEADLINES
MOST SENT STORIES ON ESPN.COM