Commentary
Busch hoping to overtake Bowyer for a 1-2-3 Hendrick finish
Kyle Busch's parting gift for Rick Hendrick? How about a 1-2-3 HMS sweep in the final Chase standings?
Kyle Busch
isn't going to leave Hendrick Motorsports with a Nextel Cup Series championship to his credit, but he might just leave Phoenix International Raceway on Sunday with a couple of trophies. At this point, that would suit the driver just fine.Busch is pulling triple duty at PIR, running in the Craftsman Truck Series race on Friday for Billy Ballew Motorsports, and then driving his Hendrick Motorsports entries in Saturday's Busch Series race and Sunday's Cup showdown. And just in case that isn't enough, he'll also be flying to Las Vegas to compete in a Super Late Model event at his hometown track.The pace won't be too hectic, said Busch, who's looking forward to closing out his season on a high note. At this point, that would be passing
Clint Bowyer
for third place in the standings, giving HMS a hat trick of sorts, assuming
Jimmie Johnson
and
Jeff Gordon
remain atop the standings."We want to get Hendrick Motorsports in the top three. It's a great goal and we've had great runs in the Chase," Busch said. "Last year we struggled and couldn't do anything right [in the Chase], and this year, it seems as though we can really hit it strong and run well if something doesn't happen. "We got wrecked at Kansas and we got wrecked at Talladega, and then again at Atlanta we got caught there with the pit stop problem, and got mired back in traffic and had a bad finish there. If it wasn't for some of those things, we would be right there contending for this thing, too. "We've led laps in almost all of the races here so far and we have been running up front in all the races. So it's been good to see that, so kind of gives me a better basis going into these last two.
[+] Enlarge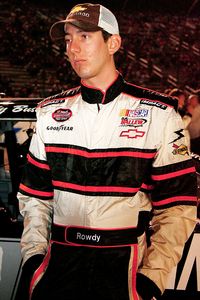 Rusty Jarrett/Getty ImagesKyle Busch hopes to erase the 158-point gap between himself and third-place Clint Bowyer.
Busch has heard plenty of talk about how he's "changed" since it was announced he'd be leaving HMS to make way for
Dale Earnhardt Jr.
Signed to drive Joe Gibbs Racing's No. 18 entry in 2008, Busch said he's not yet looking to the future.And he's not sure he's really all that different than the driver many considered immature just months earlier. "I guess I've seen the change and heard the change, but to me, I'm still the same old dude," Busch said. "So I just try to go out there, and know, do what I know how to do, and that's to race cars. "And again I've just been a little bit calm, a little bit more cool and collected and a little bit more relaxed, per se, and just being able to enjoy what's going on -- and hopefully being able to win a championship, which we got a little bit behind [on]. So, you know, if we can finish out the year third in points, then that's going to be pretty respectable, and I'll be happy with that."While all the attention will be focused on the battle between teammates Johnson and Gordon, Busch has won at the flat, 1-mile oval himself, so it would hardly be surprising for him to steal the win while Johnson tries to maintain his 30-point lead over Gordon.While Busch made it clear back in March that he's not a fan of the Car of Tomorrow, he has won in it, as have Gordon and Johnson. He won't be surprised if he's battling with his teammates Sunday afternoon."Jimmie is always going to run well at Phoenix, and it's a COT race, so it's going to be a pretty good deal for us because Hendrick Motorsports has done really, really well and Gibbs has done well, too," Busch said, referring to future teammates
Tony Stewart
and
Denny Hamlin
. "Jeff, he's finally got a win at Phoenix I believe earlier this year, and you know, was able to achieve that. So I think you're going to see Phoenix be a good race for us, for all of the Hendrick cars, and Jeff and Jimmie especially. Of course, Homestead, I think besides Jimmie's bad luck at Homestead, they do have -- when they do finish well, they do finish in the top five. I don't foresee those guys finishing outside of the top five there these next two weeks."
Mark Ashenfelter is an associate editor at ESPN.
NASCAR
• Ashenfelter is an Event News Editor at ESPN.
• Worked at NASCAR Scene for eight years.
• Has covered NASCAR since 1999.
SPONSORED HEADLINES
ESPN TOP HEADLINES
MOST SENT STORIES ON ESPN.COM