Commentary
Life definitely not slowing down for new daddy Hornish
With Vegas on the horizon, Sam Hornish Jr. reflects on soggy Southern Cal, being a daddy and the long-awaited open-wheel unification.
Updated:
February 27, 2008, 2:53 PM ET
By
Sam Hornish Jr.
| Special to ESPN.com
It was a long weekend with all the rain and not a whole lot of track time at Auto Club Speedway. Obviously they were trying to get the race in and do the best they could. The cars running around dried the track quicker than anything else. As far as my accident, I was in the wrong place at the wrong time, for sure. From replays I saw, Casey Mears got in the water and spun. It was tough for us, because we took a big hit in the points, so it was not a good day for us.
[+] Enlarge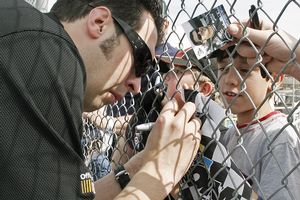 AP Photo/Glenn SmithA new father himself, Sam Hornish Jr. finds time to sign autographs for some young fans.
I'm looking forward to this weekend, doing double duty in Las Vegas. I'm doing at least five or six Nationwide races, probably up to 10. I'm trying to go to places I haven't raced at before, like Kansas City, Chicago and Mexico City, to make sure I get some good track time. It's nice to do both races during a weekend, because you've got all this time and don't feel like you're wasting time. You get out of one car and run to another. It can be exhausting, but I think it's a great thing.My wife, Crystal, is staying home in Ohio and getting used to being the mom and knowing the baby. Bristol is the first race they'll come to. I've been trying to get stuff done with the house in North Carolina while Crystal has been home. I want it to be the best it can be for her and the baby. Her mom and dad are coming down, and they're bringing their motor home, so Crystal will ride with them to the races.Crystal and I have always wanted a lake house. We knew that's what we wanted. For at least the first few years, drivers need to live in North Carolina near the shop. It's a necessary thing when you're getting to know the team and the cars. You don't need to be here all the time, though, because there's not enough for you to do. I'll probably spend three weeks during the month here in North Carolina and one there in Ohio. We're going to have both residences. Crystal has stuff to do with my business and she's going to try to take care of that in Ohio.As far as the baby, I'm not winning any father-of-the-year trophies this year, because I haven't had a chance to be home nearly as much as I'd like to be. But we know that's a part of the life. I make the most of the time I have at home. I've enjoyed fatherhood; it's been great. I basically get the diaper duty.Open-wheel racing is unifying, and I'm happy it's happening. It's something open wheel has needed to have happen for a long time, but even if it would have happened last year, it wouldn't have changed what I did this year. I don't feel any reason that would have changed my decision-making at all. I'm happy with my decision to drive in the Sprint Cup series. It has proved to be the challenge I was hoping it would be.
Sam Hornish Jr., 28, drives the No. 77 Mobil 1 Dodge Charger. He will take ESPN.com readers inside his life on and off the track each week with the help of writer Angelique S. Chengelis.
SPONSORED HEADLINES
ESPN TOP HEADLINES
MOST SENT STORIES ON ESPN.COM