Pit crew training, conditioning pays big dividends
Seconds lost by pit stop blunders can cost a race, or worse a chance to get into the Chase for the Nextel Cup, so practice and conditioning has become more important than ever for the pit crew.
Updated:
July 27, 2007, 3:30 PM ET
By
Ellen Siska
| Special to ESPN.com
Denny Hamlin was livid.
Pit crew who's who
NASCAR pit crews are made up of seven members who go over the wall during pit stops and seven additional members who work behind the wall. The importance of those on the "support crew" is frequently overlooked, but Andy Papathanassiou stressed the importance of their contributions to the team.

"They really help with tires and hoses and getting everything where it's supposed to be and set up," he said. "They're as vital to the success of the crew as anyone."

With a full 12-gallon gas can weighing about 80 pounds, and a tire with inner liner weighing nearly 70 pounds, strength is obviously a basic requirement of all pit crew members.

A NASCAR official is assigned to each team's pit stall during the entire race to enforce pit road rules and help maintain pit lane safety.

The over the wall team consists of the following positions:

Tire changers -- As the names suggest, the front tire changer is responsible for both front tires while the rear tire changer is responsible for both rear tires. On a four-tire stop, they remove and replace the right side tires first; then they do the same on the left side. Tires that are removed are rolled to the pit wall, where a member of the support crew picks them up and pulls them behind the wall. Papathanassiou compared tire changers athletically to shortstops or second basemen, requiring quickness and excellent hand-eye coordination.

Tire carriers -- Like tire changers, each crew has a front tire carrier and a rear tire carrier. Working closely with the tire changers, each carrier begins the stop by jumping over the wall with a tire, which he holds in position until the changer has removed the old tire. Then he catches a new tire that is rolled to him by a support crew member for the other side, which he again holds in position until the tire changer is ready. According to Papathanassiou, the best carriers are bigger versions of the tire changers.

Jackman -- Using a 20-pound hydraulic jack, the jackman lifts the car on the right side for tire changes and then repeats the process on the left side. Comparable to a linebacker, he needs to be strong and have some weight to him, but quickness in getting around the car is also important.

Gas man -- The gas man dumps two cans of fuel into the car, handing off the first empty can to one of the support crew members. Height and strength are important traits for the gas man because they allow him to hold the can tall and straight, which increases the pressure of the gas flowing into the tank, thus making it fill faster.

Catch can man -- He collects the overflow from the fuel cell in a can as it is being filled and signals to the rest of the team when the cell is full by raising his hand over his head.
Despite leading a race-high 179 laps at Darlington on May 13, Hamlin's efforts were foiled when dropped lug nuts on a late pit stop toppled him from second place to 16th. Although the driver of the No. 11 Chevy rallied to a second place finish, he was not happy with his pit crew, and he spoke out in anger after the race.
"If we lose by 20-30 points when it comes down to the championship, we know exactly where we lost it, and that's on pit road," Hamlin said. "I gave away Phoenix, that's my fault. But there's two to three other races that we had the best car most all day, and even at the end, and just gave it away on pit road."
Days later, Hamlin's pit crew lineup was shuffled, with several team members losing their jobs. While Hamlin may not have been very diplomatic in his criticism, his message was dead on: with margins of victory as small as hundredths of a second, NASCAR races can be won or lost on pit road.
Andy Papathanassiou, training and development director at Hendrick Motorsports, knows how important a well-trained pit crew is to a NASCAR team. Papathanassiou is widely credited in the garage as the man responsible for the current training and fitness regimen practiced by virtually all pit crews.
It began in 1991, when the former Stanford offensive lineman snuck into a race at Sonoma, Calif.
"I could see that there was more to the sport than the driver and the mechanics," he said. After seeing an opportunity to help a short-handed team, Papathanassiou volunteered to do odd jobs, which eventually led to a paid position.
"They ended up hiring me full time at just a modest salary, enough to pay my expenses, but I was thrilled with that," he said. After relocating to Charlotte, Papathanassiou landed a stint with Alan Kulwicki racing in 1992. Although he had left by the time Kulwicki celebrated his championship, he would celebrate multiple championships in his new job -- as pit coach for Hendrick Motorsports.
"I was looking for a team that wanted someone to do that full time," Papathanassiou said. "At the same time, Ray Evernham was looking for someone to head up his pit crews because he felt it was as important an area as any of the others. So we found each other and that's what I was hired to do."
Although developing pit crew members' athleticism was part of what Papathanassiou taught, it wasn't everything.
"There were some teams that might have done some work in the weight room, but this was different," he said. "This wasn't, 'hey, get your guys working out and you'll have a better pit crew.' It was really a multifaceted approach."
That approach went well beyond traditional weight training.
"We were practicing pit stops, developing drills, using video for feedback and trying to get the procedures for pit stops better," Papathanassiou said. "So the weight room was a part of that, but just a part. Motivation and all that -- heck, your guys need to be self-motivated. It was really just as you would see any other professional team prepare for their event, that's what we did with the pit crew. There's practice, there's injury and rehab, there's training involved, there's finding the right people -- all of it."
Under Papathanassiou's pit crew tutelage, the No. 24 DuPont team went on a tear, racking up championships in 1995, 1997 and 1998. And another Hendrick team, the No. 5 car piloted by Terry Labonte, took the title in 1996. Other teams took notice, and soon, it was standard procedure for all pit crews to train and practice under highly structured conditions.
"The seven guys that go over the wall are required to be in a workout program Monday through Friday," said Robbie Reiser, crew chief for the No. 17 driven by Matt Kenseth. "Some of it is more stressful than others. Wednesday is usually the hard workday here when you take them out back and really run them through their paces."
"They are required to work out every day," he added. "Then they have a pit stop practice three times a week, and there's one day that's set aside for just looking at films from the previous race so we can pick out things that we want to work on."
But it doesn't end there.
"We also have a full-team practice where the guys behind the wall work with that same group so that everybody is pretty coordinated when we show up at the racetrack," Reiser said.
Reiser said that all of the members of the Roush pit crews also have jobs in the shop.
"Everybody that goes over the wall on the 17 team is also a mechanic on this team, and I think that's pretty hard to find in this sport today," he said. "These guys have a part of the car, plus what they do over the wall, and maybe that's what brings them success. We are required to use mechanics to go over the wall here at Roush."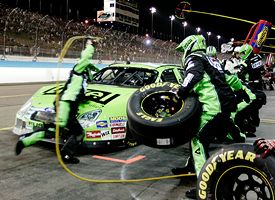 Jason Smith/Getty Images "Everybody that goes over the wall on the 17 team is also a mechanic," says Robbie Reiser, crew chief for Matt Kenseth.
It's a similar routine at Dale Earnhardt, Inc., said Kevin "Bono" Manion, crew chief of the No. 1 car driven by Martin Truex.
"Two to three days a week in the mornings, our team will work out for an hour-and-a-half doing cardio, hand-eye coordination skills," he said. "Two or three days a week in the afternoon, they will actually work on a live pit stop car with a driver, pit sign, a pit wall, basically everything you go through. It's about on an average, three to four hours, three to four days a week for training."
Since Papathanassiou entered the sport, typical pit times have been cut dramatically from around 19 seconds to just under 12 seconds. Despite the best training, however, mistakes still happen.
"We're all human," Manion said. "We're all going to make mistakes. The best thing to do is to pat the guy on the back, look over the tapes, find out where the problem was, and just take it easy and show them their problems -- work it out and shake it off."
Papathanassiou agrees.
"The good and the bad of racing is that there's always something coming up. So if it's a bad pit stop, there's another one coming up; with a bad race, there's another one that's coming up. It's the same for all of us -- drivers, pit crew, whoever. You've got to stay focused and work on your next assignment."