Race for top 12, and then the Chase
Tweaks to the points system by NASCAR puts more importance on winning in 2007 as drivers scramble to become eligible for the Chase for the Nextel Cup in the final 10 races.
Updated:
September 11, 2007, 6:28 PM ET
ESPN.com
NASCAR's points system continues to evolve with various changes over the years, including 2007 when driver victories were given added value.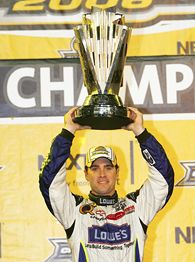 Rusty Jarrett/Getty ImagesJimmie Johnson won the 2006 Nextel Cup with 6,475 points.
Winning drivers get 185 points for a victory, but bonus points help raise that total.
Drivers can earn five bonus points for leading any lap and the driver leading the most laps also earns five bonus points.
So the most a driver can earn is 195 points per race and he'll get at least 190 because he at least won the last lap.
Second-place drivers earn 170 points and can take home a maximum of 180 points after a race, leaving just a 10-point difference between first and second.
Victories hold greater strength after the first 26 races, when NASCAR separates the top 12 drivers to compete for the Chase for the Nextel Cup over the final 10 races of the season.
The top-12 drivers start the Chase with 5,000 points apiece, plus 10 bonus points for every victory up through the first 26 races. From that point, the drivers in the Chase earn the usual amount of points per race.
Here are the points available to drivers at each race:
1st -- 185 points
2nd -- 170 points
3rd -- 165 points
4th -- 160 points
5th -- 155 points
6th -- 150 points
7th -- 146 points
8th -- 142 points
9th -- 138 points
10th -- 134 points
11th -- 130 points
12th -- 127 points
13th -- 124 points
14th -- 121 points
15th -- 118 points
16th -- 115 points
17th -- 112 points
18th -- 109 points
19th -- 106 points
20th -- 103 points
21st -- 100 points
22nd -- 97 points
23rd -- 94 points
24th -- 91 points
25th -- 88 points
26th -- 85 points
27th -- 82 points
28th -- 79 points
29th -- 76 points
30th -- 73 points
31st -- 70 points
32nd -- 67 points
33rd -- 64 points
34th -- 61 points
35th -- 58 points
36th -- 55 points
37th -- 52 points
38th -- 49 points
39th -- 46 points
40th -- 43 points
41st -- 40 points
42nd -- 37 points
43rd -- 34 points
SPONSORED HEADLINES
ESPN TOP HEADLINES
MOST SENT STORIES ON ESPN.COM