Voice on the radio serves as valuable insurance
The spotter's No. 1 responsibility of looking out for the safety of his driver sounds pretty simple, but as one long-time spotter puts it, "There's a right way and a wrong way to do it."
Updated:
June 29, 2007, 2:12 AM ET
By
Ellen Siska
| Special to ESPN.com
While invisible to the public eye, NASCAR spotters are very much in the public "ear" because thousands of race fans listen in on scanner traffic both at the track and online at home. They work high above the racetrack, far from the fast-paced action on pit road. But a spotter is as important to a driver as any other member of the team because of the spotter's primary role as a safety device for the driver.
According to NASCAR historians, two-way radios were used in racing as far back as the 1950s as a way for drivers to relay car information. It wasn't until 1990, when Dave Marcis T-boned Darrell Waltrip in a practice crash at Daytona, that NASCAR mandated at least one spotter per driver using a two-way radio any time cars were on the track.
In those days, spotters typically stood on top of the team transporters in the infield. That changed after a fatality in October 2002 during practice for an ARCA race at Charlotte, N.C. Eric Martin, who was uninjured after bouncing off the wall, died after being hit by Deborah Renshaw's car on the driver side at full speed several seconds later. As a result, each car's spotter is now required to be in the NASCAR-designated spotter stand before the car is permitted on the track. The only exception is qualifying, when only one car at a time is on the track.
"There is a NASCAR official on the spotting stand and you have to be there an hour before check-in," said Shannon McGlamery, spotter for Jeff Gordon. "They check us off and determine where you stand, which is by where you qualify."
"At some tracks, it matters where you stand, so it's an advantage to pick first," said Joey Meier, who spots for Martin Truex Jr. "But for some tracks, it doesn't matter. Michigan has the best spotter stand built so far because it's so big.
"The very basic job is being the eyes around the immediate area of the car. It's not as easy as it looks, but you don't have to be a brain surgeon. There's a right way and a wrong way to do it, and the guys that are good keep doing it for a long time. The guys who don't do it very well get weeded out pretty quickly."
While he's not a brain surgeon, Meier, like most spotters, has another job. He's been a pilot for Dale Earnhardt Inc. since 1997 and has spotted at least once for every DEI driver since. Meier has been Truex's only regular spotter, riding with him to his two Busch series titles and into the Nextel Cup series.
McGlamery has spotted since the late '80s for various drivers including Kevin Harvick, Robby Gordon, Kenny Wallace, Jason Keller, Jeff Green, and Steve Park prior to his current job. He also works at the shop of the No. 24 and No. 48 teams, installing all of the wiring, brakes and everything on the interior of the car.
McGlamery and Meier said their favorite racetracks are Bristol, Talladega, and Daytona, places you wouldn't expect for a spotter because of the close racing.
"Everybody says it must be stressful, but actually it's very rewarding," Meier said. "My flying and spotting kind of go hand in hand. The last thing that you want is your pilot white knuckling with sweat rolling off of his forehead. It doesn't give you an easy feeling. So when I spot, it's the same mentality. I'm the calming voice and I don't get stressed out about it."
McGlamery agreed. "I don't feel any stress," he said. "I love it. I'd rather be there than in the pits. I'm just real comfortable spotting."
Because McGlamery and Meier have other positions with their respective teams, their spotting pay is part of their overall compensation package. But for spotters who do only that for teams, the pay for a weekend ranges from about $600 to $1,400.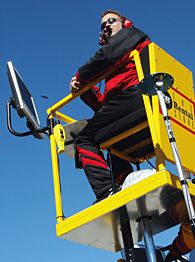 Rusty Jarrett/Getty ImagesSpotters who don't have other team duties make between $600 and $1,400 per race weekend -- plus prime viewing for free.
"The reliance on spotters has greatly increased over the years," Meier said. "You figure a car is anywhere from $50,000 to $70,000. That's how much in man-hours it takes to get that car back. If we can save one car a year -- like if I can help avoid one wreck a year -- we pay for ourselves. It's like insurance. And we're a safety device -- that's the premise behind our job. There are even some spotters who are paid by the team and extra from the driver because of the bond they have."
The bond is important because different drivers have different preferences on what they want to hear -- or don't want to hear -- during a race.
"Most of them like to be talked to every lap, but Jeff is totally different," McGlamery said. "He doesn't like to be talked to unless it's necessary. Every other lap I let him know where the car behind him is, how many car lengths, and he might ask me where a car's running and I'll tell him. But that's all he wants to know. When I first met with him, he said, 'You don't need to pump me up. I'm giving you 110 percent every lap.' So I don't have to pump him up at all."
"As long as the driver's happy, that's the person you're trying to make happy as the spotter," Meier said. "Your priority isn't making the crew chief happy. If the driver wanted you to say the ABCs every lap, you'd say the ABCs, even if the crew chief said, 'Joey, why are you saying the ABCs?' Well, because Martin asked me to say it.
"The driver has two people that he can talk to -- the crew chief and the spotter. One of those guys is trying to work on his car, so it's like you're not going to yell at your wife when she's cooking your dinner. You'd rather yell at the dog because you're mad instead of the person cooking your meal. So he's going to yell at you and you can't take it personally.
"You have to be very thick skinned. We have a saying at the racetrack: 'You check your feelings at the door.' You just can't take what they say personally or you'll be mad all year. Those guys are going to yell, and then after the race is over, they're happy as heck and they'll take you to lunch."
Despite modern technology, McGlamery uses an old-fashioned method of keeping his notes in front of him. "I put a piece of tape on the fence rail where we stand and I put marks on it like what lap I think we should pit, how many laps are in the race, pit road speed, who's pitting five in front of us and five behind us, all kinds of stuff.
"I try to keep up with who we're racing so when we come down to pit and there's a car down in front of us that's down a lap, I can tell Stevie [Letarte, Gordon's crew chief] that he doesn't have to worry about him coming in. We used to carry a monitor up there, but NASCAR disallowed that because they said it was a distraction."
It's tough enough to juggle all of the equipment used by a typical spotter.
"I wear four radios listening to different things as well as using one of those Nextel FanViews to keep up with timing and scoring," Meier said. "I have a radio dedicated to NASCAR, I have a radio that's dedicated to the radio race broadcast, I have a radio that I actually talk on, and I have another radio to listen to myself. That helps me maintain a constant volume so I'm not screaming when I don't want to scream and I'm not talking low when I want to be assertive."
Add in sunglasses, wide-angle binoculars, a headset, and a push/talk switch, and you get the picture. In addition, spotters each carry a bag with spare batteries, radios, and headsets, just in case.
As important as it is that the spotter never forgets his gear bag, there's one other thing Meier said he always remembers.
"I never want to get into a situation where Martin feels like I'm trying to drive the car," he said. "Some spotters who used to be drivers have that issue. They want to be driving the car. I heard a couple of rookie drivers early this year mention that, 'My spotter told me to drive in deeper and hold it wide open in the corner, and it just didn't work.' That's not our job.
"If the driver behind the wheel doesn't know how to drive, the spotter shouldn't be telling him that. Our job isn't to teach these guys how to drive a race car. If a driver wants to know where he's getting beat, then I can say, 'The guy behind you is killing you getting into three, but you're quicker off of two.' That's the kind of information he needs from the spotter, not 'You need to try driving in deeper.' That's the fine line between being a good spotter and trying to drive the race car."
SPONSORED HEADLINES
ESPN TOP HEADLINES
MOST SENT STORIES ON ESPN.COM