Race tire vs. street tire
NASCAR crews have many considerations in determining the type of tire to use at each race.
Updated:
June 21, 2007, 1:31 PM ET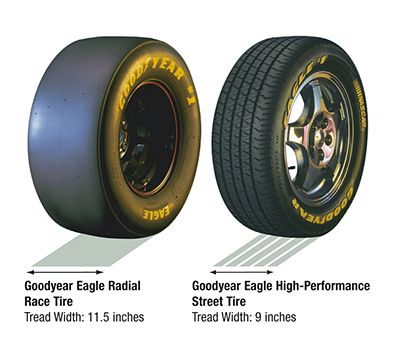 NASCAR
On a typical race weekend, a NASCAR Nextel Cup series team will use between nine and 14 sets of tires depending upon the length of the race and type of track -- short track, speedway, superspeedway or road course. By comparison, an average set of street tires gets replaced approximately every three years.
NASCAR nextel Cup series racing tire specifications also differ from race to race depending upon the degree of track banking and type of racing surface (asphalt, concrete or mixture of both). Goodyear uses about 18 different tire codes to cover the needs of the NASCAR Nextel Cup series during the course of a racing season.
TIRE COMPARISONS

Goodyear Eagle radial race tire
Goodyear Eagle high-performance street tire
Estimated cost
$389 each
$150 to $200 each
Average life
150 miles
50,000 miles
Air pressure (cold psi)
30 psi, left and 45 psi, right
35 psi for all
Inflated with
Dry air or nitrogen
Air
Weight
24 pounds
30 pounds
Tread thickness
1/8 of an inch
3/8 of an inch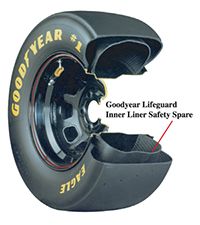 NASCAR
Race tire safety
Introduced in 1966, the Goodyear Lifeguard Inner Liner Safety Spare allows the car to return to the pits in the event of an air loss. Based on a tire-within-a-tire concept, it features a separate valve system that eliminates air equalization and prevents the tire and wheel assembly from becoming unbalanced.
As a rule, the Goodyear Lifeguard Inner Liner Safety Spare is used on oval tracks one mile or more in length. It's also used on the right-side tires at Bristol Motor Speedway. The inner liner can be reused up to a dozen times if not damaged. It weighs 10 pounds and is generally inflated 12 to 25 pounds higher than the outer Goodyear Eagle race tire. The original version of this tire was first tested by drivers Richard Petty and Darel Dieringer, and was used until 1992 before it was replaced by the current tubeless model.
Source: NASCAR
SPONSORED HEADLINES
ESPN TOP HEADLINES
MOST SENT STORIES ON ESPN.COM