Memory of brothers honored at Mexico track
What's in the name of the racetrack hosting the Busch Series in Mexico City this weekend? Two beloved brothers who helped blaze the trail for Mexicans in world-class racing.
Updated:
March 3, 2007, 9:43 PM ET
By
Martha Guerra
| ESPNdeportes.com
MEXICO CITY -- The Hermanos Rodriguez racetrack could not have any other name: it pays respect to the pioneers of Mexican motorsports, two brothers who lost their lives while racing toward glory.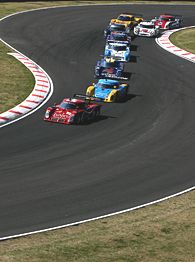 Jonathan Ferrey/Getty ImagesAutodromo Hermanos Rodriguez hosts many forms of racing. Saturday it was a Grand-Am Rolex Sports Car Series event.
Those two brothers, Ricardo and Pedro, were only starting to race when the circuit became part of a bigger project, which today is the Ciudad Deportiva -- literally translated to mean a "sports city," which includes a baseball stadium and several soccer fields.
The idea to have such a racetrack originated from one of many of Ricardo Rodriguez's outstanding performances. He was only 19 years old when he took part in the Italian Grand Prix with Ferrari, which made him the youngest Formula One driver to ever race.
His talent was the inspiration other Mexican drivers needed, among them his brother Pedro. The result was that a new racetrack was built in 1962 so that F1 would come to Mexico and Ricardo and Pedro would be able to drive in front of their people.
But in 1962, while practicing for the first Mexican Grand Prix -- a race that would be unofficial -- Ricardo died in an accident.
One year later, the circuit, known as Magdalena Mixhuca, was host to the first-ever official Formula One race in the country.
It would only be with Pedro's death in 1980 that the racetrack would become known as Autodromo Hermanos Rodriguez.
In 1970, the International Automobile Federation (FIA) decided to remove Mexico from the F1 calendar, arguing that the track was not safe enough for the thousands of fans that attended every race. At the same time, economic support for the race was dwindling and it was difficult for local organizers to fulfill all of the FIA requisites to keep the race.
There were only local competitions for a while, until promoter Gustavo Hellmund started bringing several international categories. Among them, the IMSA series, highly popular in the United States and Canada at the time, and competitions sanctioned by IMSA, as the Mexico City Six Hours and the 1,000 Kilometers.
In 1980, it was Champ Car's turn to visit Mexico, with top-class drivers Bobby Unser, Al Unser, Johnny Rutherford, Danny Ongais, Rick Mears, Gordon Johncock and Tom Sneva racing around the Hermanos Rodriguez.
Rick Mears won the event, in which three Mexican drivers took part: Juan Carlos Bolanos, Michel Jourdain and Daniel Muniz, who was the best local with a 15th-place finish.
In 1985, Formula One returned to Mexico. Lots of work was done on the track to improve it and a new pit zone was built in order to accommodate the needs of the ever-growing teams.
Safety issues were also dealt with, although the 4.421-kilometer (2.5-mile) race course has always been a difficult one. First, it presents undulations because of the land on which it was built, an area affected by earthquakes. The altitude of Mexico City (7,400 feet above sea level) also means the contidions for cars and drivers are more demanding.
The most difficult area in the track was the place locals knew as the "Peraltada," an oval-like turn that sent drivers dive-bombing into the long front straightaway.
But the area was the scene of way too many accidents -- including the one that caused Ricardo Rodríguez's death -- and was remodelled several times to make it safer.
The last one to complain about it was Ayrton Senna, who crashed there in 1991. Senna, together with Nigel Mansell and Gerhard Berger, among other F1 greats, graced the Mexico podium before F1 left the city again in 1992.
It was only 10 years later that a major series would come back to Mexico, with a Champ Car race that featured several local drivers, among them Adrian Fernandez.
In 2005, NASCAR crossed the border with its first-ever Busch series race in Mexico. Martin Truex Jr. won the competition on his way to securing the series title. And last year, it was Denny Hamlin's turn.
Martha Guerra is a Mexico-based reporter for ESPNdeportes.com.
Telcel-Motorola 200
Related Stories
English
Post-race
•
Zoom Gallery
|
Surround
•
Blount: Vintage -- and spectacular -- Montoya
•
Newton: Win doesn't win over peers
•
Montoya wins in Mexico City
Video
• Montoya makes history


• Could Montoya have avoided Pruett?


• An emotional win for Montoya


• Pruett displeased with move

Race preview
• Newton: Montoya feeling at home | Blog

• Pruett on the pole
• Blount: Pick 'em | Blog

• Agulla: Montoya rising to challenge
• Vega: A nice show, but only that
• Guerra: What's in track's name?
• Newton: No more chicanery
• Blount: Biggest stars absent
• Hangin' with Hamlin
• Rusty Nails It
• Fofaria: It's better in Mexico

Video
• Scott Pruett takes pole


• Rusty Wallace: Mexico preview


• Who will win?


• Busch Series gearing up for Mexico

Español
Noticias y análisis
• Montoya se queda con la victoria
• Posiciones finales de la carrera
• Vega: La NASCAR salió ganando
• Montoya se disculpa con Pruett
• Mexicanos no tuvieron suerte
• NASCAR confirma México 2008

Entendiendo el deporte
• ¿Qué es NASCAR?
• El sistema de puntaje
• Las mejores carreras y circuitos

Video
• Montoya festejó en México


• Análisis de Agulla/Pombo


• Adrián Fernández, conforme


• Goeters el mejor mexicano


• Jourdain agradece apoyo

MOST SENT STORIES ON ESPN.COM