Bowyer 'having a great time' in Busch Series
A $1 million payday at Charlotte would make Clint Bowyer a happy man. But what's been putting a smile on Bowyer's face these days is the fun he's been having in the Busch Series, writes Rupen Fofaria.
Updated:
May 16, 2007, 12:41 PM ET
By
Rupen Fofaria
| Special to ESPN.com
Clint Bowyer is having fun in the Busch Series, and it definitely shows.
Bowyer has finished in the top 10 in all but two of his Busch races this season. That's why, despite racing in only two-thirds of the races this season, Bowyer is ranked 12th.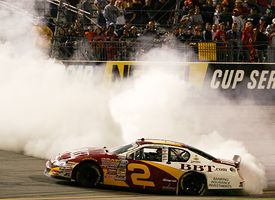 Chris McGrath/Getty Images)Clint Bowyer celebrates one of his two Busch Series victories in '07.
This weekend, as the Busch Series takes a breather and the Nextel Cup drivers head to Charlotte for the All-Star Challenge, Bowyer will be gunning for a $1 million payday at Lowe's Motor Speedway. But money can't buy the time he's having in his Busch car.
"It's always a lot of fun," he said. "We're having a great time."
Not so much in Nextel Cup. Bowyer hasn't been the biggest fan of the Car of Tomorrow run in some races -- and the joy he gets from racing his Busch car only underscores why.
"At Bristol, I didn't want to get out of the Busch car," he said. "It felt like a Cadillac. It's just really hard to race side-by-side with someone in the new car. I'm still trying to get comfortable with it. The Busch cars put on such a good show for the fans and they are a ball to drive. You can drive the Busch car with so much confidence because you know it's going to stick."
It helps that Bowyer knows he's going to get a good performance out of the pits, too. His Cup pit crew goes over the wall for him in the Busch Series.
"I have the same crew on both the [Busch] Chevrolet and the [Cup] Chevrolet … so there are no more excuses in the pits or on the racetrack," he said. "My guys have been on top of their game with both cars."
Edwards stays fast
Carl Edwards
, already nursing a 433-point lead in the Busch Series standings, posted the fastest laps during testing at Lowe's Motor Speedway this week. His laps of 180.505 mph and 182.648 mph were fastest in the afternoon and evening testing sessions, respectively.
Ambrose cooling
Marcos Ambrose
, the rookie from Australia who once led the rookie points race, has posted just one top-20 in his last five races -- and even that was only a 19th-place finish. Ambrose has slipped to third in the rookie race and 11th in the series standings.
"We need to keep finishing races and working at our program," he said. "While we didn't run as well as we would have liked last week, we still learned a lot and came away with a positive attitude."
Martin shines in Hendrick debut
Mark Martin
scored a top 10 in his first race with Hendrick Motorsports, finishing ninth behind the wheel of the HMS No. 5 Chevy at Darlington. Martin will race twice more for Hendrick, hoping to pad his all-time Busch Series wins record.
Rupen Fofaria has covered NASCAR for ESPN.com since 2002. He can be reached at rupenisracin@yahoo.com.
SPONSORED HEADLINES
ESPN TOP HEADLINES
MOST SENT STORIES ON ESPN.COM