Commentary
Fellows just another road star in loaded Watkins Glen field
The Busch Series field at Watkins Glen is loaded. Ron Fellows is among the road-course ringers dotting the field for Saturday's Zippo 200, writes Mark Ashenfelter.
WATKINS GLEN, N.Y. -- Will Ron Fellows rekindle the magic that's made him such a sensation at Watkins Glen over the years? With three Busch Series wins and a pair of Craftsman Truck Series victories at the track, you've got to figure he'll be in contention during Saturday's Zippo 200 (ESPN2, 3 p.m. ET).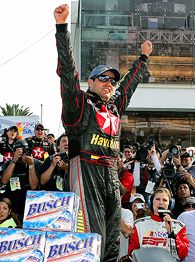 Luis Acosta/AFP/Getty ImagesJuan Pablo Montoya would like to add a Watkins Glen Busch Series victory to the one he earned in Mexico City.
If not Fellows, will
Juan Pablo Montoya
win his third road-course race of the year, adding to his Busch win in Mexico City and his Nextel Cup win at Infineon Raceway?What about
Robby Gordon
and
Marcos Ambrose
? Will either claim a race a week after a black-flagged Gordon made sure Ambrose couldn't win because of late-race contact?At this point, the only certainty is that the field will be loaded toward the front of the pack.
Kurt Busch
held off Gordon for the win last year, and Busch nearly completed the weekend sweep a day later, but Nextel Cup series honors went to
Kevin Harvick
.Both Busch and Harvick will be in Saturday's Busch field. Fellows, though, may arguably be the master of all the drivers in the field based on his track record here and the fact that
Tony Stewart
isn't racing.Fellows has his share of memories from The Glen."It's always nice to win, and your first-time wins are really nice. The Truck Series win in 1997 with [owner] Billy Hess -- boy, we had a low-budget deal that day, but Billy did a great job," Fellows said. "Obviously, the first Busch win with [Joe] Nemechek's team back in '98."For Cup, the '99 Cup race -- it was really a last-minute deal where we built a car and tested it, and Brian Pattie and
Joe Nemechek
-- we essentially had about a month-and-a-half to put it all together, and we just about won the race. That one seems like it wasn't that long ago. Unfortunately, it was. I remember catching
Jeff Gordon
and getting within about three-quarters of a second [from him], and I think he was in cruise mode because I couldn't get any closer. The fallout from that was sort of, 'Who is this guy?' It was then that I really realized the popularity and notoriety that is NASCAR racing."Crew chief Dan Stillman knows what it means to have a driver like Fellows behind the wheel."Ron is a great road racer, and his Watkins Glen record shows that," Stillman said of a driver who also has five poles here between the Busch and Truck series. "Having a great run last weekend at Circuit Gilles Villeneuve and the extra seat time he will get this weekend [while running the No. 96 Cup car instead of regular driver
Tony Raines
] can only help our chances at The Glen. It's fun to work with him, and the guys on this team really like working with him." Harvick, though, should also be strong. The winner at Montreal, thanks to Robby Gordon's booting of Ambrose, Harvick has started six road-course races in the Busch Series. In addition to the Montreal win, he has five top-5s and was seventh in this race a year ago.

You have to try and hook your car up the best you can. It's kind of like trying to find a balance between taking care of your stuff and driving the heck out of it. It's definitely different from our normal routine.
Kevin Harvick
Harvick has completed all 482 laps on road courses and has an average finish of 3.1. Still, each race presents its own challenges, and this weekend Harvick will be going from the Busch car to the "Car of Tomorrow" that he'll be racing in Cup. "It's going to take a lot of concentration on my part to be successful in both the Busch and Cup car," Harvick said. "Canada was pretty wild, but we put ourselves in contention to win at the end."We weren't as fast as Marcos, but we were faster than everyone else. We just happened to be in the right spot at the right time. If we can do the same this week and just stick to the plan, we could bring home another win."Next week it'll be back to basics at Michigan, but Harvick doesn't mind a little diversity in his regimen."You have to try and hook your car up the best you can. It's kind of like trying to find a balance between taking care of your stuff and driving the heck out of it. It's definitely different from our normal routine."
Mark Ashenfelter is an associate editor at ESPN.
NASCAR
• Ashenfelter is an Event News Editor at ESPN.
• Worked at NASCAR Scene for eight years.
• Has covered NASCAR since 1999.
MOST SENT STORIES ON ESPN.COM