Commentary
No reservations required when your vacation sidekick is Dale Jr.
Marcos Ambrose caused quite a stir when he showed up in his home country of Australia with Dale Earnhardt Jr. in tow. Ambrose is hoping to cause just as much excitement in next year's Nationwide Series.
For most in NASCAR, a trip to Australia would be among the excursion of a lifetime. For
Marcos Ambrose
, it's simply a jaunt back home to see family and friends. But on his current trip home, he got to mix a little racing with his relaxation.When
Dale Earnhardt Jr.
decided to go to Australia to get away from it all, he turned to Ambrose for some tips. Quite naturally, Ambrose told Earnhardt to stop by the V8 Super School on the Gold Coast that he co-owns with fellow driver Paul Morris.
[+] Enlarge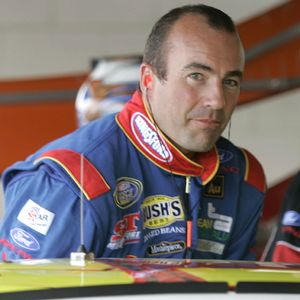 AP Photo/Mary Ann ChastainMarcos Ambrose on his eighth-place finish in the Busch standings: "It's really tough for a rookie with all these Cup guys in here, but we're trying our best and holding our own."
"I always make a point of visiting everyone here at the V8 Super School when I am back in Australia, and this time around they were very impressed with the friend I brought along for a drive," said Ambrose, who was recently named Australian Driver of the Year by the Aussie magazine Auto Action. "It's been a great year for me in the United States and it's nice to come home to the Australian summer for a break. Sonja [his wife] and I are busy catching up with some friends and family and showing off our new daughter, Adelaide, along with Tabitha, who is already 2 years old. "I've had the chance to speak with Junior a couple of times this year, and late in the year he came up and asked me about Australia because he intended on coming down here for a holiday. From that point on I have kind of been his travel consultant. We made sure he saw the V8 Supercar final at Phillip Island, stayed in Melbourne, Sydney and now the Gold Coast."The two drove 450-horsepower cars around the track's road course, and Ambrose said he's looking forward to the day when hopefully he can be racing side-by-side with Earnhardt in America. Ambrose knows that day isn't at hand just yet and probably won't be this season, at least not at the Cup level. Ambrose is slated to run 12 Sprint Cup races for Wood Brothers JTG Racing, while focusing on the entire Nationwide Series schedule.Coming off an eighth-place finish in the Busch Series standings this past year, he's laid a solid foundation at that level. And he has one backer in Earnhardt. It's a backing that goes beyond Ambrose's ability as a travel planner, too."It's been great to experience Australia and see how racing is down here. Our group has all had a blast and Marcos' advice on where to go and everything he has set up for us has been awesome," Earnhardt said. "He's a great guy and I think he is doing very well in NASCAR and has the potential to go a long way."That potential was on display throughout the 2007 season; he posted six top-10s in his first season in the series. He won the pole and finished fourth at Memphis in October and could have won at Montreal if not for being spun by Robby Gordon at the end of the race.His eighth-place finish in points was bolstered greatly by the fact that a number of the Cup drivers who dominated the series didn't run the full schedule, but the improvement he felt he made over the course of the year bodes well for the future."It's been a great year for us. Performance-wise, probably a 'B,' but I think considering where we've started the season to where we are now, we've made huge progress," Ambrose said at Homestead. "I'm really excited about 2008. And results on the racetrack aside, it's been an A-plus year [with sponsor] Kingsford putting a rookie in the car and somehow we've survived this series."It's really tough for a rookie with all these Cup guys in here, but we're trying our best and holding our own."Ambrose thought running 22 of the 25 Craftsman Truck Series races in 2006 was tough, but he quickly realized the Busch Series was a lot harder than he'd expected it to be."You knew if you got [the truck] about half close that you were going to have a top-10 day," Ambrose said. "In the Busch Series, that's not a guarantee at all."Ambrose said his team got stronger as the year went on, and crew chief Greg Connor feels the driver has improved along with the team. The biggest improvement has been in the driver's confidence level, which grew a great deal over the course of the season."I think he's really learned a lot [about] how to race week in and week out, what to expect, what not to expect," Connor said. "His feedback's gotten a lot better. And we've improved the team at the same time his experience level has gone up, so I think it's helping him all around."Before heading home to Australia, Ambrose contemplated everything he experienced during his first year in the Busch Series."I've learned more than I ever wanted to," he said with a laugh. "I've been around this [learning] cycle two or three times in my career from open-wheels to sports car racing to touring car racing now to NASCAR racing. This feels like the fourth time I've been on this roller coaster of trying to suck up as much information as you can."I feel like I've come to a point where I feel like I know what I'm doing to some degree and now I can really focus on results and performance on the racetrack. We can be great next year -- and we want to be."
Mark Ashenfelter is an associate editor at ESPN.
NASCAR
• Ashenfelter is an Event News Editor at ESPN.
• Worked at NASCAR Scene for eight years.
• Has covered NASCAR since 1999.