Commentary
Part-time ride for Leicht better than no ride at all
A part-time ride in the Nationwide Series is better than no ride at all if you're rising star Stephen Leicht, writes Mark Ashenfelter.
Stephen Leicht
hopes a little bit now goes a long way in the future. Richard Childress is feeling the same way.As of now, Leicht -- out of a Nationwide Series ride since Robert Yates Racing transformed into Yates Racing and opted to concentrate on its Sprint Cup program -- is signed up to run just a pair of events for Richard Childress Racing this season. That could change, contingent upon finding additional sponsorship for the No. 21 Chevrolet that will feature
Bobby Labonte
in 15 races this year.
[+] Enlarge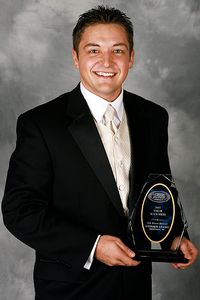 Doug Benc/Getty ImagesStephen Leicht collected a seventh-place trophy after getting one win and six other top-10s in 2007.
Being guaranteed just two races after running the entire schedule isn't much, but it beats some of the alternatives that were presented to the Asheville, N.C., native. Just 21, Leicht is looking for long-term success and figures there's a better chance of that happening by aligning with RCR now instead of joining an underfunded Nationwide Series team for the entire schedule."I'm feeling relieved," Leicht said. "Obviously, anyone going from a full-time season to a part-time is going to feel [disappointed] about that, but to where I was to where I am now, and the team I'm with, I can't even compare it."Robert Yates Racing was a good team, had good cars, and everybody saw that. Richard Childress [Racing] is obviously one of the best teams out there right now, and I think the 21 car speaks for itself."RCR won the owners' championship last year as the combination of
Jeff Burton
and
Scott Wimmer
earned more points in the No. 29 than did
Carl Edwards
, who ran the entire schedule on the way to the championship.Burton and Wimmer return in the 29 this year, and
Clint Bowyer
has to be considered a championship threat running the full schedule in the team's No. 2 entry. At this point, it's unlikely the No. 21 will run the full schedule unless sponsorship for the remaining 18 races materializes in a hurry.Leicht, though, will do plenty of testing for the team, so he'll get plenty of track time even if he's not racing all that often. So for now, he'll continue to be asked how the hunt for sponsorship is going."If I had a dollar for every time I was asked that question every day, I'd probably have enough money to sponsor the car," he said with a laugh. "People ask because they care. I would be worried when they didn't ask. The fact that they are asking, it means a lot to me."The fact that I am here with Richard now and the fact that he's given me a chance to drive one of his cars is a good deal. Whether it's two races or 10 races this year, that's a good deal."With speculation that NASCAR could rule that full-time Cup drivers can't earn points in the Nationwide Series in 2009, Childress sees Leicht as his ace in the hole if that comes to pass. There's no guarantee it'll happen, but having Leicht in RCR's stable is a good thing in Childress' eyes."If they fix it where the Cup drivers can't get points, then Stephen Leicht's a guy that we can take and win a championship with," said Childress, who conceivably might know more about NASCAR's long-term thinking than he was willing to admit.Leicht finished seventh in points last season, with the highlight being a win at Kentucky Speedway in June. He posted three top-5s and seven top-10s with a team that ran better than either of Robert Yates Racing's Cup cars.With Robert Yates in the process of retiring and selling the team to son Doug, last year was a struggle for RYR, and that was felt with the Nationwide program, as well. There was a report late last season that Leicht was a candidate for a job with RCR, but he said talks only intensified in the past two weeks.That made for some anxious moments in the interim."It was like, 'What do we have to do?'" he said of trying to find a ride. "It comes down to, nowadays, sponsors want Cup drivers in [Nationwide] cars. Fortunately, I think that's gonna change soon, with what they're doing with [the potential minimum-age rule for Cup] and the way Cup drivers aren't going to be able to run for championships anymore, I think you'll see that change."Unfortunately, with where I'm at in my career and my age, I'm caught in the middle. I'm kind of in the waiting stage of how the process is turning over."There's been no announcement that Cup drivers won't be eligible for the Nationwide championship in the future, so Leicht may yet have to battle them if this opportunity with RCR leads to a full-time ride.For now, though, he's just happy to have a ride at all.
Mark Ashenfelter is an associate editor at ESPN.
NASCAR
Mark Ashenfelter is an associate editor at ESPN.
SPONSORED HEADLINES
ESPN TOP HEADLINES
MOST SENT STORIES ON ESPN.COM