Almirola's sights set on big things with Gibbs Racing
Updated:
October 19, 2006, 1:24 PM ET
By
John Schwarb
| Special to ESPN.com
Aric Almirola thought he had blown his chance. Not even two hours into his first NASCAR Craftsman Truck race, he was going to be one-and-done with Joe Gibbs Racing and the opportunity of a lifetime.
"He has what all the good guys have: He's got dedication and passion for it. He's not doing it for money or prestige, he just wants to go out and win, whether it was running late models for us, running the truck or the Busch car, he just wants to perform."
-- J.D. Gibbs on Aric Almirola
The event under the lights at Memphis Motorsports Park had gone well for a while for Almirola in his FedEx Chevrolet; his truck was decent and capable of a top-15 finish. But when he got together with Mike Skinner in a late accident, his night was over -- in 30th place. He was left dejected and begging for redemption.
"I promise I can do this, just give me another shot," he remembered saying to Joe Gibbs Racing president J.D. Gibbs in late July 2005.
Almirola didn't realize it at the moment, but Gibbs already had another shot lined up the very next week at Indianapolis. Given that second chance, Almirola showed his true ability, grinding out a 10th-place finish after starting dead last in the 36-truck field.
"That was truly a big race for my career right there," he said.
As it turned out, it was just another moment on a continuing learning curve. Today, the 22-year-old driver has earned job security with one of the sport's top teams and is making the most of a unique offer in racing. The driver with a Cuban heritage -- Almirola's father is Cuban and arrived in Florida on one of the Freedom Flights of the 1960s -- came to Joe Gibbs Racing under a diversity initiative started by the team in conjunction with late NFL star Reggie White.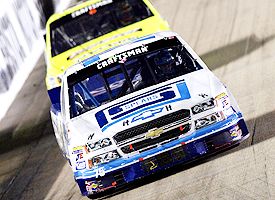 Chris Graythen/Getty Images for NASCARAric Almirola has racing in his blood. The Craftsman Truck rookie is still looking for his first win.
After two years of toiling mostly around small-town tracks in a NASCAR Weekly Late Model Series car, Gibbs promoted Almirola this year to a full-time truck ride, farmed out to Spears Motorsports (Gibbs doesn't field its own truck team). Almirola is 17th in series points, with his last start a respectable 10th-place effort in September at Las Vegas, his highest finish since May.
Almirola has also raced part-time in the Busch Series, making seven starts with a top finish of fifth in August at Indianapolis' O'Reilly Raceway Park.
"He fits well into our future plans," J.D. Gibbs said. "He has what all the good guys have: He's got dedication and passion for it. He's not doing it for money or prestige, he just wants to go out and win, whether it was running late models for us, running the truck or the Busch car, he just wants to perform."
The love of the racetrack was embedded in Almirola at an early age, as he followed his grandfather to sprint car races around Tampa, Fla. Sam Rodriguez was a standout local racer, a family man who repaired cars for a living during the week and raced them as a hobby on the weekend.
"I'd wake up on a Saturday morning and that's all I thought about, all I cared about -- 'I get to go to the racetrack today,'" Almirola said. "I can't tell you how many baseball coaches I made mad at me. I'd miss a game or have to leave early to make it to the racetrack. But it was just something I preferred; my family was involved in it."
Rodriguez put Almirola in a go-kart on a whim when he was 8 years old and soon found it impossible to get him out. Almirola raced on national karting circuits at 14, and at 16 moved up to open-wheel modifieds. In 2000 he won rookie of the year on two modified circuits and picked up his first modified win in Orlando, beating many drivers twice his age.
Soon he progressed to late model racing, compiling an attractive résumé that would eventually catch the attention of Gibbs and White. Almirola's mother found an advertisement for the team's diversity program in a newspaper, and sent an application.
Almirola got a call from Gibbs and a tryout in Hickory, N.C., in late 2003. The then-19-year-old showed his stuff with a track-record lap. Just as importantly, Reggie White liked him.
"Reggie White was truly an exceptional person. I'll never forget the day I met him," Almirola said. "I shook his hand, and my whole hand fit in his palm. It was something else. He had a dream, a vision with this whole deal, and I'm blessed and fortunate enough to live it out.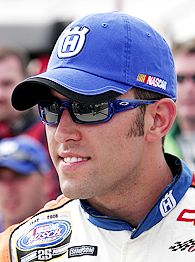 Lee Coleman/WireImage.comAric Almirola has three top-10 finishes this season and is 17th in the Craftsman Truck standings.
"He told me one thing that always stuck with me: 'I loved football, but what I loved more about football was winning; that's why I kept coming back to play.' He's 100 percent right."
After winning at every division of racing from karts to late models, Almirola has not yet tasted that success in NASCAR's top series. His rookie season in trucks has been more of a feeling-out process, getting used to new, larger tracks and the equipment, and his average finish is 21.2. His Busch efforts have been more notable to Gibbs, with a top-five finish and a pole qualifying run in Denny Hamlin's car in June at the Milwaukee Mile.
"When he goes against a bunch of [Nextel] Cup guys, it's real exciting for us to watch that," Gibbs said. "Next year in the truck series, I think you'll see a whole lot better performances out of him and that team. On the Busch side we'll continue to run him in as many races as we can, and he'll continue to grow and impress people."
Almirola hopes to follow in teammate Hamlin's footsteps, as the Nextel Cup rookie went from racing's minor leagues through a few truck races to a full-time Busch ride; Hamlin now drives a championship-contending Cup car. Almirola's ultimate goal is also to compete in Nextel Cup, the same vision Gibbs and White had when they started their diversity program.
Diversity got Almirola into the seat, and he's hoping his ability will take him the rest of the way.
"I got an opportunity because I'm of Cuban heritage, but I've taken that opportunity and I feel like I've run with it. If everybody just looks at that, more so than they look at the fact that I'm a diversity race-car driver, I would rather it be viewed that way," he said. "I feel like I belong here."
John Schwarb is a freelance journalist covering motorsports and a contributor to espn.com. He can be reached at johnschwarb@yahoo.com.
SPONSORED HEADLINES
ESPN TOP HEADLINES
MOST SENT STORIES ON ESPN.COM
Hispanic Heritage Month
ESPN.com celebrates Hispanic Heritage Month with a series of stories that reflects on the contributions to the world of sports by Latino athletes and executives.
• Schwarb: Montoya brings star power to NASCAR
• Drehs: Ohio State's Gonzalez cooks up Cuban culture
• Schwarb: Almirola's rise through Craftsman Truck ranks
• Drehs: Melting pot strength of Iowa high schools
• Harig: The face of golf in Mexico
• Avila paved the way for Dominican baseball talent.
• Puerto Rican fans adore Arroyo in Orlando
• Roberto Duran doesn't pull punches, even at 55
• Rojas: Forgotten history of a Dominican pioneer
• Baxter: The pitch, and the pitchers, from Venezuela
• Lapchick: Latin participation good for business
• The 'other' A-Rod is kickin' it at USC
• Neyer: A Latin American dream team

• Baxter: Breaking down barriers
• Fish: Latinos are reinvigorating the game
• Crasnick: Agents of change