Commentary
Fender Banging 101: Villeneuve, Lazier make truck debuts
The most important discovery Jacques Villeneuve and Buddy Lazier made in their truck debuts Saturday night? Fenders can move mountains, writes John Schwarb.
Updated:
September 23, 2007, 2:10 PM ET
By
John Schwarb
| Special to ESPN.com
LAS VEGAS -- Just 47 laps into his NASCAR debut,
Jacques Villeneuve
discovered his new front fender.The former Formula One and CART champion got into the back of fellow rookie
Brian Scott
early in the Smith's Las Vegas 350, an incident that sent Scott spinning off the track and Villeneuve to the pits for repairs to his
Bill Davis
Racing Toyota.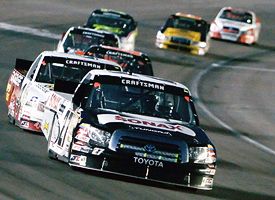 Jeff Gross/Getty ImagesJacques Villeneuve started seventh but finished 21st in his Craftsman Truck Series debut.
Had this happened in his previous motorsports life in often delicate open-wheel cars, Villeneuve's night would have been over. But in the Craftsman Truck Series, the newbie learned that you pit, patch up and try to move on."I wasn't used to that," Villeneuve said. "I'm surprised because it wasn't a big hit at all, but it did a fair bit of damage. I didn't expect it to be so much damage, but that's something to learn as well." It was that kind of night for Villeneuve and
Buddy Lazier
, two former Indianapolis 500 champions looking to resurrect their racing careers in NASCAR. The point of their debut truck race at Las Vegas Motor Speedway was to turn laps and gain experience, and to that end it was a successful mission, only not quite how they would have preferred.Villeneuve finished 21st, the first truck one lap down. Lazier finished three spots behind him in 24th, three laps down in a Chevrolet that was never the same after a qualifying accident."It was good enough to learn, but it wasn't good enough to do anything," said Lazier, driving for Billy Ballew Motorsports. "I got to watch what everyone was doing, I couldn't play with them. I was a wreck waiting to happen, just checking it up all the way up the racetrack until catching it. Having said that, it was still fun. It's not the way to run a race though."Lazier, 39, had the more eventful day of the two veterans. He spun in the morning practice with no ill effects, but his second slide on the 1.5-mile oval was costly. His first qualifying lap of 171.521 mph put him 21st in the 36-car field, but while trying to better the mark on his second lap he got loose and couldn't save the rear of his truck from dinging the outside wall.The damage was just enough to give him trouble come race time."It wasn't the same. We just chased it all night. I was loose from the first lap to the last lap," said Lazier, who had to start the race from the rear after repairing under impound. "You can go out there and lay it on the line, but you're going to wind up in the wall. The only thing that would have been worse than not running good right now would have been [ending up] in the wall, which is what would have happened."Lazier and Villeneuve instead spent the majority of the race avoiding winner
Travis Kvapil
and other contenders, plus being mindful of championship contenders
Ron Hornaday
and
Mike Skinner
.Skinner, Villeneuve's teammate at BDR, finished 13th, but he left Las Vegas back on top in points because Hornaday blew a tire 12 laps from the finish and fell to 22nd.That made it a successful night all around for Bill Davis. When Villeneuve climbed out of his No. 27 outside the Neon Garage at LVMS, Davis gave his new driver a tap on the back."It was success for him," Davis said. "All he needs to do is run laps and learn NASCAR and the procedures and how things go, and he'll be just fine. He's obviously got a lot of driving talent and a lot of speed, it's just learning how these vehicles react to certain situations."The 36-year-old Montreal native showed off his speed in qualifying, landing seventh on the grid after a second lap of 173.790 mph, a full 2 mph faster than his first lap."I told my guys I was pretty happy with the first lap, then he ran that second one," Davis said. Villeneuve couldn't hold the good starting position, dropping to 17th in short order after the green flag fell. ("That won't happen again," he said.) The opening restart was a new phenomenon, as was running three-wide and working with a spotter to yield to faster traffic.It's all part of the learning process, which for Villeneuve will continue in two weeks at Talladega, Ala., and for the remainder of the truck season, with the ultimate plan of jumping to Sprint Cup next year."We saw the checkered flag, which was good," Villeneuve said. "It was a great learning experience, the team was very helpful today and it was a lot of fun."
John Schwarb is a freelance journalist covering motorsports and a contributor to ESPN.com. He can be reached at johnschwarb@yahoo.com.
SPONSORED HEADLINES
ESPN TOP HEADLINES
MOST SENT STORIES ON ESPN.COM