Silly season in F1 heating up with Montoya out
Updated:
July 18, 2006, 4:11 PM ET
By
Michael Kelley
| Special to ESPN.com
Formula One's "silly season," the sport's unofficial period of driver changes and new signings, is already living up to its name this year after Juan Pablo Montoya's departure for the NASCAR circuit set the table for what looks like a very active transfer period in the months ahead.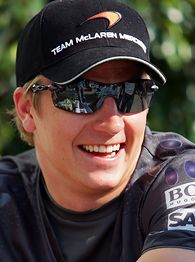 Mark Thompson/Getty Images)Kimi Raikkonen is one of the hottest commodities available in F1.
Montoya is joining the Chip Ganassi organization, which employed him during a successful stint in the CART (now Champ Car) open-wheel series, and has been replaced by McLaren test driver Pedro de la Rosa, at least for now.
His F1 exit means there's at least one seat is available at each of the top three teams for next year and the jockeying to obtain them, as well as openings at the lesser squads, promises to be fierce.
Renault and McLaren will need partners for Giancarlo Fisichella and Fernando Alonso respectively, while Ferrari may require two fresh faces for 2007 should seven-time driving champion Michael Schumacher opt for retirement and the team choose not to renew Felipe Massa's contract.
Driving talent, always at a premium in F1, may be harder to come by and more expensive than ever as Montoya's defection leaves one fewer option to draw upon.
Still, Montoya's departure shouldn't be a complete surprise. His options for a top 2007 drive were limited as it was unlikely he'd be either retained by McLaren or signed by Ferrari or Renault and his pride would likely have prevented him from going back to previous employer Williams, which might not have welcomed his return at any rate.
With no other top-line seats available, perhaps NASCAR and the Ganassi organization were his best bet.
That doesn't mean he left McLaren in a flourish of trumpets. Team principal Ron Dennis, who released a statement wishing Montoya well, was still sufficiently miffed to hint Montoya might have to serve out the remainder of his contract, which runs through this season, The Associated Press reported Friday.
That restriction would prevent the driver from gaining much-needed experience in NASCAR's lower formulas and might prevent his taking part in the 2007 version of the top-flight Nextel Cup's premier event, the season-opening Daytona 500.
If that seems like a bit too much pique on Dennis' part, it's not completely undeserved. Montoya was expected to challenge for the drivers title at McLaren but his judgment behind the wheel was often rash and his mistakes plentiful, as his collision with teammate Kimi Raikkonen at this year's U.S. Grand Prix illustrated. He was apparently also less than enthusiastic about maintaining the physical conditioning regimen required of F1 drivers.
Montoya, reportedly known as "Fat Boy" at Williams because of his distaste for workouts and his love of fast food, apparently took those traits with him to McLaren; some rivals joked on his departure that he should have a McDonald's sponsorship on his new NASCAR ride.
In a sport where weight distribution in the car is crucial and every ounce is scrutinized, an overweight pilot can affect setup and handling on race day because the team has less available ballast to move about the chassis. Compared to whip-thin teammate Kimi Raikkonen, Montoya looked like the Michelin man.
While his exit is in the spotlight for now, it also sets the stage for a feverish round of signings once Schumacher makes his 2007 plans known, most probably at Monza in September.
Schumacher would seem a safe bet to return to Ferrari as he seeks the 100-win plateau and the record for most F1 starts, currently held by Ricardo Patrese at 256 and one of the sport's few performance benchmarks that Schumacher doesn't hold.
Massa, Schumacher's current teammate, is driving under a contract that expires after this season and speculation about his possible replacement is centered on Raikkonen, who might choose to remain at McLaren but could be excused for wanting to leave considering his appalling racing luck there.
Raikkonen is also rumored to be in Renault's plans for next season and could probably write his own ticket wherever he wants to go. Should he depart for greener (redder? bluer?) pastures, de la Rosa would probably have the inside track with regard to taking McLaren's second seat for 2007.
Still, de la Rosa, very experienced as a test driver, shouldn't feel too much at ease in his current role. He might not have it for long. At 35, his age is against him and younger talents such as Gary Paffett, defending champion for Mercedes-Benz in the German touring-car series, and Lewis Hamilton, also under contract to Mercedes and presently lighting up F1's GP2 feeder series, may have a chance to take his place.
McLaren would prefer to select someone within "the family" to partner Alonso next year, Reuters has cited team managing director Martin Whitmarsh as saying, which might also open the door for Alexander Wurz's return after a stint as test driver for Williams.
Once the driver furor has died down at the top three teams, the rest of the grid can pick through the remaining names. Massa would be an attractive prospect to any prospective suitor should Raikkonen usurp his place at Ferrari, as he's shown well recently after early-season problems; perhaps a return to BMW-Sauber might be a logical result after his experience with the former Sauber-Petronas team, which might cut Jacques Villeneuve loose.
Williams will probably retain at least one of its current drivers, probably Mark Webber amid reports that Renault is enamored of his current partner, promising rookie Nico Rosberg.
Big spenders such as Honda and Toyota are likely to be on the lookout for new blood after disappointing seasons to date and Jenson Button and Jarno Trulli would appear to be odd men out; Toyota has been said to be negotiating with Trulli but no announcement has been made.
Independents such as Red Bull Racing might be on the hunt as David Coulthard is getting long of tooth and Christian Klien hasn't lived up to expectations; Klien might swap places with Toro Rosso's Vitantonio Liuzzi. Villeneuve, a former world champion, might also fit well as an experienced hand at Red Bull to help guide development.
The smaller outfits will be left with the scraps the big boys cast aside or stick with what they've got. Midland, said to be on the sale block, might wind up with two Dutch drivers should reported suitor Lost Boys BV buy the team. That would leave the consistent Tiago Montiero without a drive and with few prospects of landing a new one unless he wanted to move to either Toro Rosso or Super Aguri, which needs all the help it can get.
Current Super Aguri driver Franck Montagny, who replaced the hopeless Yuji Ide earlier this year, will himself be giving way to Sakon Yamamoto at the next race in Germany and has a decent racing pedigree; his name could be in the mix at Red Bull or Toro Rosso.
Michael Kelley is a freelance journalist and a contributor to ESPN.com.