Kubica off to strong start as Turkish GP looms
Updated:
August 24, 2006, 6:27 PM ET
By
Dan Knutson
| Special to ESPN.com
ISTANBUL, Turkey -- Robert Kubica made history recently when he became the first driver from Poland to start in a Formula One World Championship Grand Prix.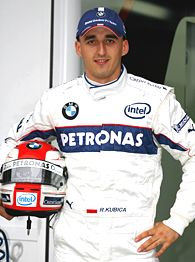 XPB.CC/WireImage.comRobert Kubica went from test driver to 2007 audition in a hurry with BMW Sauber.
He then made history when he became the first driver from Poland to earn F1 championship points. And then he made history as the first F1 driver from Poland to be disqualified for an illegal car.
"It would be nicer to have two points already in the pocket," he said, "but mistakes can happen. It's gone; it's past, and we have to think about the coming races."
All this, of course, happened in the Hungarian Grand Prix three weeks ago when the lanky 21-year-old had a very impressive F1 debut substituting for Jacques Villeneuve in the BMW Sauber.
Kubica (pronounced "KOO-beet-sah") finished seventh but was later disqualified because his car was 4.4 pounds underweight.
F1 teams always run their cars as close to the weight minimum (1,331 pounds) as possible, but BMW cut things too fine. In the damp but drying conditions, Kubica ran the last 51 of the race's 70 laps on intermediate wet-weather tires. The tires literally shed over five pounds of rubber as the grooved tread wore down.
On the Monday after the race in Hungary, BMW Sauber team boss Dr. Mario Theissen telephoned Kubica to tell him he had the race seat for the final five races of the season, including this weekend's Turkish Grand Prix, because the team had parted company with Villeneuve.
"I was as impressed as I had hoped and expected to be," Theissen told ESPN.com when asked for his thoughts of Kubica's first Grand Prix. "He did a really good job. He made two mistakes in the early phase of the race.
"The best thing for me is that after the race he was totally pissed off about his race. He said, 'The result is OK but my performance was not OK.' After these two mistakes, he did very well. He was really getting the most of his worn intermediate tires. It was a great first race."
Great enough for BMW to give Kubica five more races to prove they should hire him as a full-time racer in 2007. What does he have to do to prove just that?
"Drive like that every time," Theissen said. "We will make a decision by the end of the season."
Kubica began his racing career in go-karts in 1995 and won six Polish championships before going on to win go-kart titles in Italy and Germany as well as finishing well in the European championship.
He drove his first car races in 2001 in the Italian Formula Renault series, and he won four races and finished second in that championship the following year. He had mixed results in Formula 3 in 2003 and 2004 before winning the World Series by Renault series with four victories in 2005.
His biggest problem came off the track. At the beginning of 2003 he was a passenger in a car accident.
"My [right] arm was pretty destroyed," he said. "I don't know how many [breaks], for me too many: I had 18 screws and a plate. I think my arm probably came out of the window. The worst for me was that I lost a nerve, not completely, but the nerve was broke. So I could not completely move my fingers and hand."
He made a comeback and sufficiently impressed BMW to hire him as its third/reserve driver in 2006. In addition to many laps of private testing, Kubica also drove the third BMW Sauber in the Friday practice sessions on Grand Prix weekends.
Kubica was quick on those Fridays, but how quick? It's difficult to make comparisons because the Friday testers do not have to limit the number of tires they use like the drivers who will qualify on Saturday and race on Sunday. Nor are they constrained by the rule that says a driver must use the same engine for two complete race weekends.
"When you are a Friday driver and when you are quick, everybody says you are running low fuel," Kubica said, "and when you are slow they say you are not any good. It is not right."
In race conditions in Hungary, Kubica showed he was on the pace. He also had to get used to a whole new way of working … or more specifically, hardly turning a lap on Friday to conserve the engine.
"It was strange in Budapest," he explained. "I was normally driving 60 laps in those two hours and now I did five laps. That is not easy for me, especially on the new tracks like this one [in Turkey] that I don't know."
F1 was not all that popular a sport in Poland, but that is all changing rapidly, although not all for the good -- the tabloid newspapers are already making things up about the country's new hero.
"Suddenly people are experts on F1 and everybody knows everything about F1," Kubica said. "Generally in Poland there are a lot of newspapers which want to only write about something sensational, and they just write bull.
"Of course, there were some newspapers that wrote proper interviews and reports, which I appreciated."
Some of his fans in Poland did not understand the nuances of the quick lap times the Friday drivers turn.
"After my result on Friday they were thinking maybe I will finish on the podium," he said.
Theissen's face breaks into a smile when he talks about his young driver.
There's no doubt that Kubica is at the top of BMW Sauber's list of drivers to be teammates with Nick Heidfeld next year.
But Poland's first F1 driver knows he cannot take anything for granted.
"I really don't know about next season," he said. "There is no decision; there is nothing. I will try to drive as well as I can for the rest of the season, and then we see if it is enough."
Dan Knutson covers Formula One for National Speed Sport News and ESPN.com.
MOST SENT STORIES ON ESPN.COM