Commentary
2008 F1 title chase likely a two-team battle between Ferrari, McLaren
Raikkonen or Hamilton? Ferrari or McLaren? Which drivers and teams have the inside track to 2008 Formula One bragging rights? Dan Knutson breaks down the players and the poseurs, one team at a time.
Updated:
March 8, 2008, 10:48 PM ET
By
Dan Knutson
| Special to ESPN.com
[+] Enlarge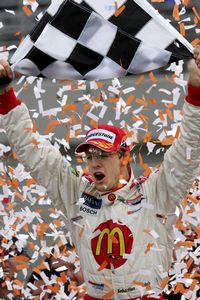 AP Photo/Rick BowmerFour-time Champ Car titlist Sebastien Bourdais hopes to be celebrating on F1 podiums in 2008.
Seven-time world champion
Michael Schumacher
believes the battle for the 2008 Formula One world championship is shaping up to be another fierce duel between Ferrari and McLaren Mercedes.
"It will be very interesting," said Schumacher, who retired at the end of the 2006 season. "You have [the same] two contenders as last year. You have some questions marks about what they can or they cannot do, so it should be very exciting."The two teams have indeed proved to be faster than the rest of the field in winter testing, and it is difficult to predict who will come out on top at the end of the 18-race season that kicks off in Australia on March 16 and ends in Brazil on Nov. 2.It's also difficult to predict who will be best of the rest as the battle for third place is going to be very tight between BMW Sauber, Williams Toyota, Red Bull Renault, Toyota and Renault.Read on for a team-by-team analysis of the upcoming season:
Scuderia Ferrari Marlboro
Chassis: Ferrari F2008
Engine: Ferrari 056
Team principal: Stefano Domenicali
Car number/driver/country
1 --
Kimi Raikkonen
, Finland
2 --
Felipe Massa
, Brazil
Last year, Ferrari proved it could win races and championships without the mighty Schumacher. Raikkonen, who won six races in his first season with Ferrari, is back for a second year alongside Massa, who begins his third season with the famous prancing horse team.In 2007, Raikkonen and Massa were pretty evenly matched until August, when the momentum shifted to Raikkonen. In preseason testing, however, Raikkonen seems to have the edge heading into 2008. Raikkonen is much happier at Ferrari than he was at McLaren, and now that he is fully settled, he is only going to get faster and stronger.As for the new car, Schumacher -- now a Ferrari consultant -- tested the F2008 and is optimistic about its potential."The progress is very clear," he said. "In all areas, it never changes, so why it should change now? It is not one thing you have to improve to go quicker, it is just everywhere."I feel we are ready and prepared to fight for victory."Ferrari underwent a personnel shuffle over the winter, and Domenicali takes over as team boss from Jean Todt. It remains to be seen just how involved Todt will be in running the team.Like last year, Ferrari will not have a clear No. 1 driver, so Massa and Raikkonen will get equal equipment and treatment.
BMW Sauber F1 Team
Chassis: BMW Sauber F1.08
Engine: BMW P86/8
Team principal: Dr. Mario Theissen
Car number/driver/country
3 --
Nick Heidfeld
, Germany
4 --
Robert Kubica
, Poland
BMW Sauber was in a solid third place last year. The car wasn't quick enough to challenge McLaren and Ferrari, but it was almost always faster than the rest of the pack.
The goal this year, of course, is to mix it up with the top two teams. The results of winter testing, however, proved that a number of teams have closed the gap on BMW Sauber. Kubica remains optimistic, however.
"The engineers took a certain amount of risk and have entered new territory in some areas with the F1.08," he said. "One of the consequences of this is that we were not quite where we hoped to be at the start of winter testing. But since the rollout, everybody in the team -- and that means both the testing crew and the guys back at the plants -- has been working at full steam, seven days a week. These efforts have paid off. We have made great steps forward and registered improvements in all areas. And I'm sure we are still far from exhausting the full potential of the F1.08."Kubica, starting his second full-time season with BMW Sauber and in F1, is hoping to be a bit more consistent in 2008 than he was in 2007. And he and veteran teammate Heidfeld are both seeking their first F1 victory.
ING Renault F1 Team
Chassis: Renault R28
Engine: RS27-2008
Team principal: Flavio Briatore
Car number/driver/country
5 --
Fernando Alonso
, Spain
6 -- Nelson Piquet, Brazil
Renault didn't realize how much it would miss Alonso until after he left to join McLaren for the 2007 season. Alonso's up-and-down relationship with McLaren was one of the top stories of last year, and he left the team after just one season of a three-year deal.Although Alonso won the championship for Renault in 2005 and 2006, the team admits he would have struggled with last year's unpredictable R27 chassis. Having traced and cured fundamental wind tunnel and aerodynamic problems, the team is confident that this year's R28 will be much more competitive. But so far, the new car is not fast enough to challenge for wins, never mind the championship."Thinking about the podium would be too optimistic right now," Alonso said in an interview with Spanish newspaper AS. "But then you arrive in the first Grand Prix, you start warming up in practice, your morale starts going up and you think you can be on the podium. But right now, thinking coldly, reaching the podium is a dream."One of Alonso's complaints at McLaren was that the team treated both drivers equally instead of putting its efforts behind him. Indeed, had McLaren given priority treatment to either Alonso or
Lewis Hamilton
, one of them would have won the championship.Alonso's new teammate, rookie Piquet, has a full season of F1 testing under his belt. Piquet says there isn't a No. 1 driver at Renault this season, but team boss Briatore says both drivers are employees and will do what they are told.
AT&T Williams
Chassis: Williams FW30
Engine: Toyota RVX-08
Team principal: Sir Frank Williams
Car number/driver/country
7 --
Nico Rosberg
, Germany
8 -- Kazuki Nakajima, Japan
This year marks the 30th anniversary for the F1 team Frank Williams and Patrick Head founded in 1978. Williams, the third-oldest team behind Ferrari and McLaren, will compete in its 600th championship Grand Prix and complete its 50,000th racing lap.After a miserable 2006 season, Williams bounced back in 2007. And that upward trend continues in 2008 as the FW30 has been very quick in winter testing. It could well take the honors of the best of the rest behind McLaren and Ferrari.Rosberg and rookie Nakajima, both sons of F1 drivers, are Williams' drivers in 2008."Although Nico will be starting his third season in F1, Kazuki will be starting his first, so the driver lineup will not be as experienced as might be expected for a team competing for a championship," said Head, who is director of engineering. "However, we intend to be regular podium visitors in 2008. The reliability of current F1 cars means that this can only be achieved with a car that is close to front-running performance."Williams takes a more cautious view, saying: "Our competitors around us, of which there are many, are just as competitive. F1 is never easy -- it's not supposed to be easy -- so to think that we're going to sail in to third place in the first few races is pie in the sky. If we do, it'll be a tight fit."
Red Bull Racing
Chassis: Red Bull RB4
Engine: RS27-2008
Team principal: Christian Horner
Car number/driver/country
9 --
David Coulthard
, Great Britain
10 --
Mark Webber
, Australia
Red Bull is another team on the rise. The former Jaguar/Stewart team is looking as though it will have its most competitive season in its four years under the ownership of Red Bull magnate Dietrich Mateschitz.One of the team's aces in the hole is technical guru Adrian Newey, who created many a championship winning car at Williams and McLaren. Last year, Newey's RB3 proved to be fast but fragile as the cars suffered far too many breakdowns, mostly centered in the gearbox and hydraulics areas.By hiring technical director Geoff Willis midway through 2007, Red Bull made a major step in improving reliability. Pragmatic Willis hones Newey's brilliant concepts into the ideal blend of speed and practicality. This year's RB4 has been far more reliable in preseason testing.Veteran Coulthard is back for a fourth season with Red Bull, and Webber begins his second."We've made a big improvement," Coulthard said. "But I think McLaren and Ferrari are at the front, and then there's a group of uncertainty with BMW, Williams, Renault and ourselves -- a lot of guys fighting over four places [in the points behind the top four]."
Panasonic Toyota Racing
Chassis: Toyota TF108
Engine: Toyota RVX-08
Team principal: Tadashi Yamashina
Car number/driver/country
11 --
Jarno Trulli
, Italy
12 --
Timo Glock
, Germany
Toyota is entering its seventh season in F1, and the team hasn't yet had the success it hoped to achieve. The exception was in 2005 when it scored five podium places and finished fourth in the world constructors' championship.Understandably, the team based the designs of its 2006 and 2007 cars on an evolution of the successful 2005 model, but the plan backfired.Thus, the design of the 2008 TF108 goes in a different direction from last year's car."The aerodynamic concept of this car has changed," explained chassis technical director Pascal Vasselon. "The TF107 was an evolution of the TF106, but this time the new package is a departure from recent Toyotas."The primary aerodynamic design philosophy for the TF108 is geared towards optimizing the entire package to minimize balance and downforce changes throughout a lap, thereby producing a more drivable, aerodynamically robust car."Initially, the TF108 didn't set the F1 world on fire in winter testing, but in recent weeks, the team improved the car considerably. Trulli is far more optimistic now than he was at this time last year, and he thinks Toyota can mix it up with the likes of Renault and Red Bull. Trulli's new teammate is 2007 GP2 champion Glock.
Scuderia Toro Rosso
Chassis: STR2B
Engine: Ferrari 056
Team principal: Franz Tost
Car number/driver/country
14 --
Sebastien Bourdais
, France
15 --
Sebastian Vettel
, Germany
The bad news for American F1 fans is that
Scott Speed
is no longer competing in F1. The Californian parted company with Scuderia Toro Rosso halfway through the 2007 season and headed for the ARCA series.The good news is that fans in the U.S. will have a well-known "home" driver to cheer for as four-time Champ Car title winner Bourdais finally gets a shot at F1.The Frenchman has settled in well at Toro Rosso but says he still needs to work on his qualifying performance."You need to qualify well, and I think that's my weakness right now," he told reporters. "On long runs, I'm quite competitive. On first-lap performance, it's a bit harder."Bourdais' teammate is Vettel, who at age 19 last year became the youngest driver ever to score a F1 point when he finished eighth in his F1 debut in the U.S. Grand Prix at Indianapolis Motor Speedway. After that race with BMW Sauber, Vettel took over Speed's ride and drove the final seven races with Scuderia Toro Rosso.This season, Vettel makes his full-time F1 foray. Although Toro Rosso is one of the smaller teams in the lineup, "the two Sebs" start the season with an updated "B" version of last year's STR2. The car is well sorted out and reliable."Right now, it looks like we're in the mix," Bourdais said. "If [the other teams] show up in Melbourne or in Malaysia with big updates, then we might not be in the mix anymore. So let's see what they come up with -- hopefully not too much."
Honda Racing F1 Team
Chassis: Honda RA108
Engine: Honda RA808E
Team principal: Nick Fry
Car number/driver/country
16 --
Jenson Button
, Great Britain
17 --
Rubens Barrichello
, Brazil
To say that Honda had a miserable season in 2007 would be an understatement. The results speak for themselves: a meager six points.Yet there is a massive amount of motivation and optimism in the team as it heads into 2008 and looks ahead to 2009. Honda has brought in Ross Brawn, a key figure behind all seven of Michael Schumacher's world championships, as team principal. He oversees all technical aspects of the team."Ross brings confidence to the team," said team CEO Fry. "Most of the team are exactly the same people who have been around for the past couple of years. They just needed someone to point them in the right direction."The main problem with the 2007 RA108 was its aerodynamics."The difficulty with last year's car was that it produced a lot of downforce but it was in a very aggressive way," Brawn explained. "The focus on this car has been to make sure we produce the aero downforce in a more friendly way, a more usable way."In testing, the RA108 has been off the pace, and the team hoped the final aero upgrade package due just before the first race would improve the car.As for Button and Barrichello, both remain positive."I am very excited," Button said. "It is a complete team now. The personnel changes we have made are very positive. So looking at 2008 and the future, I am very positive."
Super Aguri F1 Team
Chassis: Super Aguri SA-08A
Engine: Honda RA808E
Team principal: Aguri Suzuki
Car number/driver/country
18 --
Takuma Sato
, Japan
19 --
Anthony Davidson
, Great Britain
Like a terrier going after a lion, the tiny Super Aguri Honda team often punched way above its weight in 2007. One of the highlights was Sato's passing both
Ralf Schumacher
's Toyota and Fernando Alonso's McLaren to snatch sixth place in the waning moments of the Canadian Grand Prix. Davidson's qualifying 11th in Turkey was another bright moment.But all was not well at Super Aguri as several sponsors did not deliver the promised funds. In the offseason, Super Aguri has been somewhat in limbo as team owner Aguri Suzuki tried to put together a financial package for the team. Sato and Davidson are expected to be back, but the team had yet to officially confirm them two just weeks before the first race of 2008.The team is confident it will have two cars on the grid in Australia, however.
Force India Formula One Team
Chassis: Force India VJM01
Engine: Ferrari 056
Team principal: Colin Kolles
Car number/driver/country
20 --
Adrian Sutil
, Germany
21 --
Giancarlo Fisichella
, Italy
The team is wearing an "Under New Ownership" banner for the third time in as many years. Formerly Jordan/Midland/Spyker, it is now owned by Vijay Mallya, the Indian billionaire whose portfolio includes Kingfisher Airlines and Kingfisher beer in his home country, and Holland's Michiel Mol.Mallya has nearly doubled the budget to $120 million, and his goal is to return the team to its glory days, when it was Jordan at its best and capable of podiums and even an occasional win. Although still based at the old Jordan factory in England, Force India's official entry lists it as an Indian team, making it the first F1 team from that country.Technical boss Mike Gascoyne is convinced that the team can make significant steps forward in 2008 and beyond, but Mallya's goal of podium finishes in 2010 might be a bit of a stretch. The 2008 VJM01 is basically last year's Spyker F8-VII chassis with a new aerodynamic package.Sutil is back with the team for a second season in F1. No fewer than seven drivers tried out for the other seat, and experienced Fisichella won the ride because he impressed the team with his speed and technical feedback. After three years with Renault, Fisichella is now with one of the smallest teams, but he relishes the challenge of building it up.
Vodafone McLaren Mercedes
Chassis: McLaren MP4-23
Engine: Mercedes-Benz FO108V
Team principal: Ron Dennis
Car number/driver/country
22 -- Lewis Hamilton, Great Britain
23 --
Heikki Kovalainen
, Finland
McLaren should have had numbers 3 and 4 this season after it finished second in the 2007 constructors' championship. But as the FIA stripped McLaren of all its team points because of the Ferrari/McLaren spy scandal, McLaren fills the last two spots in the race program.McLaren's trials and tribulations, including the whopping $100 million fine for the spy saga, were constantly in the news last year. Although there are still some residual things going on because of all last year's happenings, McLaren is looking forward not backward. Fernando Alonso is gone, having lasted just 10 months at McLaren, and basically swapping seats at Renault with Kovalainen. The latter, in his second season of F1, teams up with fellow F1 sophomore Hamilton.Hamilton, of course, had an amazing record-breaking season and nearly won the world championship. And he plans to go head-to-head with Ferrari and Kimi Raikkonen again in 2008. Hamilton disagrees with those who say Ferrari starts the season with an edge over McLaren, especially as the two teams rarely tested at the same track at the same time during the winter."With the package we have, I doubt very much that Kimi will run away with it," Hamilton said. "What they [Ferrari] have is a very good car. We have very equal cars."Although driver and constructor didn't always get along, McLaren is going to miss the experienced technical input Alonso provided. Hamilton and Kovalainen have done many thousands of miles of testing, but each is in only his second season of racing in F1.Still, as Hamilton proved last year, he is capable of fighting it out with the best drivers in the lineup.
Dan Knutson covers Formula One for National Speed Sport News and ESPN.com.