Danza's kart flips after 'bump and run' from Wallace
Updated:
May 10, 2005, 2:35 AM ET
Associated Press
NEW YORK -- Tony Danza got quite a scare when he and NASCAR star Rusty Wallace were racing go-karts during the taping of a segment for the nationally syndicated "The Tony Danza Show."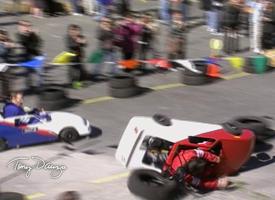 In this image taken from video released by Buena Vista Television, Tony Danza's go-kart is shown flipping over during the "DayTony 500."
Danza was leading as they entered the final lap Monday morning on West 66th Street, the show said. After Wallace gave Danza's vehicle a little "bump and run," the 54-year-old talk-show host lost control of his go-kart, which flipped over.
"Although slightly worse for wear, Danza escaped with no injuries," the show said in a statement.
Wallace, who rushed to Danza's side after the crash, said, "I thought I killed ya," to which Danza responded, "Yeah ... just before you retire, 'I killed Tony Danza.'"
"I know you're tough, but that [was] ridiculous, man!" Wallace was quoted as saying.
The "DayTony 500" segment aired on Monday's show.

Copyright 2005 by The Associated Press
SPONSORED HEADLINES
ESPN TOP HEADLINES
MOST SENT STORIES ON ESPN.COM