Burton knows driver only part of equation
We've all heard the cliché that says a year can make all the difference. And while it might sound tired, there's a measure of truth in the mantra.
Consider Jeff Burton living proof.
At this point in 2004, Burton was still adjusting to a new crew chief – and wondering about the long-term health of his No. 99 Roush Racing team.
Sponsorship couldn't be secured, and he had spent some races in a car that was painted white or black and missing full-time sponsorship. And as much as he didn't want to leave a team that he'd won with 17 times, he realized something needed to change.
And change it did in August, when he moved to Richard Childress Racing, with Carl Edwards taking over his seat at Roush. While Edwards has earned more than his share of the spotlight since then, Burton's success hasn't been quite as visible.
He still has yet to visit Victory Lane, where he hasn't been since Phoenix in fall 2001. But Burton knows things are improving as he sits 16th in points heading into Saturday night's Chevy American Revolution 400 at Richmond.
"What I'm thinking about today is what we need to do to take the next step, [instead of fretting over] what I need to do to keep my career going and doing what I want to do," Burton said when asked how things have changed in the last year. "That's a big difference. I'm happier and much more relaxed with what's going on around me than I was last year. There's no comparison."
Still, that hasn't translated to victory for Burton, who has just one top-five finish in 10 races. The third-place run at Phoenix last month was nice, but it wasn't enough to hang his hat on.
Burton says that his team hasn't taken advantage of some situations and that part of that is because his Monte Carlos haven't always been fast enough to get the job done.
"You've got to be knocking on that door a lot of times before the thing might open," he said. "Or, you might run well one day and everything works your way and you win. But the way you win consistently in this business is by continually putting yourself in position to win. We haven't done that enough. Our downfall of where we are in the points is because we have let so many points slip away.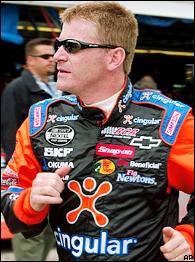 Jeff Burton hopes his team can take the steps needed to contend.
"We haven't taken advantage of the opportunities we've had, in most cases. We did at Phoenix, and we had good fortune at Talladega. We missed a wreck and finished in the top 10. So, we've got to do a better job of taking advantage of opportunities and we've got to have a little faster car so we can continually put ourselves in position to win races."
The team has added engineering support Burton hopes will make a difference. In his eyes, it's up to the engineers to make sure the team's cars are as fast as possible.
In the past, top drivers could will a car to the front on a consistent basis, but as aerodynamics play an increasingly larger role in the outcome, Burton knows drivers can only do so much.
"If we're going to rely on me to be the one who brings the technology, we're going to be in trouble," Burton said. "I might be the one who raises my hand and says, 'I don't think we have enough technology in this area,' but our engineering staff and crew chiefs are the guys who need to be bringing the technology. It's my role to tell them what the car is doing and give them my ideas about how I think we need to fix those weak points.
"But the days are gone when the race car driver tells the teams how to build race cars that they take to the racetrack. Today, races are won with what you unload at the track. When you pull that gun out of that trailer, that thing's got to be loaded with some heavy ammunition and it's got to be ready to go. And if it's not, you can't fix it at the racetrack anymore."
Burton has won at Richmond before and hopes a recent test session will have him in fine form this weekend. After all, despite the fact he's finished outside the top 10 in points each of the past three seasons, he knows he can get the job done.
"I believe in my heart – and no one questions me more than me – that I'm a better race car driver today than I was when everybody was picking me to win the championship [entering 2001]," Burton said. "And there have been days that I've run 15th in the last three years and got out of my car and went home and thought there are only a few people in the world who could have done what I did today and finished 15th."
Burton realizes there are some who doubt such statements, but he accepts that because he knows they don't know exactly what it takes to be successful. A quarterback can be forgiven for mistakes if defensive linemen are immediately in his face. In those cases, the blame often falls on the offensive line.
In racing, though, the intangibles aren't as visible to the naked eye. And that's where technology and engineering come into play.
"You can't watch a race car driver and understand why he's running 15th instead of winning," Burton said. "What happened to me and to my level of success going down had more to do with technology and the way that we had success in the past compared to the way we have success today.
"In the past, [former crew chiefs] Buddy Parrot and myself and Frank Stoddard and Tony Liberati would sit down and say, 'What do you think?' and then I'd make the decisions. The final decision was always mine."
Now, though, those decisions need to be made by computers. And Burton admits he didn't accept that as quickly as he should have.
"When we built the No. 99 team, I was the computer. I was the guy who said this is what we need to do. This is how we need to do it because I can feel it," Burton said. "Well, today, we have drivers coming in – and I'm being brutally honest here – that don't know one end of the race car from the other. They couldn't bolt a race car together if their lives depended on it. But they can win races.
"And so for me to be successful in today's environment, I have to have engineering support and more support behind me than I did when I was having success. And I didn't adapt to that quick enough. I didn't demand enough out of Jack [Roush]. I didn't say I had to have better this and that – I can't carry the load.
"I didn't do that because I was trying to carry the load. Well, today, I'm doing it different. Today, I say to Richard [Childress] that I've got to have more help with engineering and this and that if we're going to compete with Jimmie Johnson and Jeff Gordon and Kurt Busch and all those guys. That's the difference. But if you asked me today if I can drive as well as I did when I won seven races in a year or whatever it was, I could outdrive myself today. There's no doubt in my mind."
Mark Ashenfelter is an associate editor at NASCAR Scene magazine and a contributor to ESPN.com.
NASCAR
• Ashenfelter is an Event News Editor at ESPN.
• Worked at NASCAR Scene for eight years.
• Has covered NASCAR since 1999.