Atlanta win leaves Edwards hungry for more
Originally Published:
October 30, 2005
By
Rupen Fofaria
| Special to ESPN.com
After Jeff Burton told team owner Jack Roush that it was time for him to part ways with Roush Racing, Roush didn't want to waste any time grooming his next star. He threw Carl Edwards into the mix, making him a Nextel Cup racer with 13 events left in the year.
The consequences: Edwards would lose his rookie status for 2005, but gain some knowledge in return.
That knowledge was gained faster than Roush thought. As the 2004 season winded down, Edwards posted a career-high third-place finish at Atlanta Motor Speedway. Afterward, Roush told his young up-and-comer that he wanted more finishes just like that. Edwards retorted: We'll do even better.
So far, he has. In two races at Atlanta since that day, Edwards has finished first and first.
"I think he's got this Atlanta thing figured out," Roush said Sunday, stealing a glance over at his 26-year-old racer.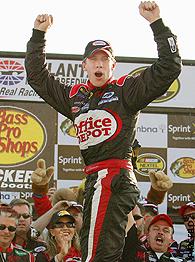 Getty Images Carl Edwards' quick rise to stardom has been a surprise to many, including his car owner.
Edwards' win on Sunday was his third of the year. It was his first checkered flag during the Chase for the Nextel Cup, and it bumped him up one spot in the standings to fourth -- just 107 points behind leader Tony Stewart.
"We're making a run," Edwards said of his title hopes. "That's what we're here doing today -- just doing our very best. We had some bad runs [during the Chase]. We ran poorly at New Hampshire and Martinsville [Va.], and I'm just not as good as I need to be at those tracks yet. So what we're going to do is take advantage of these tracks that we are good at, and we have great cars for, and we're going to do our best to make a run."
That Edwards is talking title doesn't surprise Roush. Not after seeing his glorified rookie contend for wins and top-fives all season. But had you asked Roush last season if he threw out Edwards' shot at a rookie title because he knew that Edwards could contend for a big boy's title, he would've laughed.
"Carl's been a real surprise," Roush said. "We had a strategy last year when we didn't restrict the number of races we ran to seven. We ran as many races as we could. I forgot how many it was, but that's the reason he's not a rookie this year even though it is his first full year. But for him to have led this team to three victories and to have the blue sky that he's got and the potential he's got is beyond my wildest imagination."
Now, Edwards is letting his imagination run wild.
"I feel great about our chances coming up to these next few races," he said. "But anything can happen. We could run great or we could run awful, but we're going to try our very best. There's still an opportunity to win a championship."
Roush has decided not to count that out. He didn't really know what to make of his driver's promise to do better than that third-place run a year ago in Atlanta. And he didn't really know what to do with his driver's insistant belief that he could win a title once he snuck into the Chase.
So far, Edwards has managed to achieve lofty goals and Roush says he knows better than to sell him short.
"I wouldn't bet against Carl Edwards," Roush cautioned, "if anybody that's got any money that they're going to Las Vegas with or whatever. I bet heavily with the investments that I make, as [do] my sponsors, but we think that Carl can be as good in this business as anybody that's been. The sky is the limit."
| | | |
| --- | --- | --- |
| | " | I feel great about our chances coming up to these next few races. But anything can happen. We could run great or we could run awful, but we're going to try our very best. There's still an opportunity to win a championship. " |
| | | — Carl Edwards |
Roush said that he dreamed "that we could make [Edwards] a championship contender [in 2005]. Did I think that would happen? No, not really. But did I hope it would happen? You bet. I was up on the balls of my feet cheering for him and cheering for [crew chief] Bob [Osborne] and chucking everything in there that I had that could make a difference and, wow, here we stand."
Three races remain. Edwards finished 19th earlier this year at Texas Motor Speedway, where he and his fellow Chasers run next. Then it's on to Phoenix, where Edwards finished seventh earlier this season and where Jack Roush's boys have dominated. Finally, it's Homestead-Miami Speedway, where Edwards finished 14th in the 2004 season finale.
But a lot has changed since that day. He's gone from budding star to rising star to risen. He's a bona fide title contender, and he couldn't be happier.
"I don't feel any pressure," Edwards said. "To be honest with you, everything in my life for the last three years has been icing on the cake and that's the truth. I put a lot of pressure on myself. I really do. I'm borderline neurotic sometimes about certain things. But I do not feel pressure from other people -- from anything outside. There just isn't any pressure.
"I do this because I really love racing and I want to win this championship. I think, if anything, I might be having just a little bit too much fun. … We're having a good time. Nobody expects us to be here. Nobody expects us to win the championship. We're going to go give it our best and see what happens."
Rupen Fofaria is a freelance writer living in Chicago and a regular contributor to ESPN.com. He can be reached at rfofaria@espnspecial.com.
SPONSORED HEADLINES
ESPN TOP HEADLINES
MOST SENT STORIES ON ESPN.COM