Some diehards lament NASCAR's evolution
Originally Published:
February 14, 2005
By
Jerry F. Boone
| Special to ESPN.com
Old timers say this isn't the NASCAR Big Bill France created.
And that's just fine if you are a sponsor or television producer.
But the new NASCAR upsets many of its hardcore fans. It irritates some of those who have been around racing for a decade or more. Though, of course, it is a non-issue for those who watch the Daytona 500 every year only because the chips and beer are in the same room as the television.
Unlike enthusiasts who first fell in love with racing by sitting in the stands at their local bullring, the group of nouveaux-NASCAR fans often can't tell the difference between a camshaft and a carburetor. Frankly, they don't care.
For example, the legion of young women who want to know if Kasey Kahne wears boxers or briefs aren't at all concerned about what car he drives, as long as he looks buff in his red uniform.
Dodge? Chevy? DeSoto? There's a difference?
They are there for the show.
And make no mistake, NASCAR has become show business.
As a spectator sport, it is second only to the National Football League in popularity.
And unlike the NFL, NASCAR has no "hometown team" connection that creates a built-in base of supporters.
Instead of regional affiliations, NASCAR has created a broad-based following that befuddles critics of circle track racing. They simply can't comprehend how a book like "Driver #8," the ghost-written autobiography of Dale Earnhardt Jr., can spend 17 weeks on the New York Times best sellers list and become Amazon.com's best-selling book of 2002.
Recognized as the most popular driver in the history of American racing, the son of the late seven-time champion has been able to appeal equally to the veteran fans who revered his father and the NASCAR newcomers who are taken by his boyish good looks and genuine country charm.
The fact he can drive the wheels off a stock car and comes to the Daytona 500 as the defending race winner simply adds to his stature.
There is no driver whose name can make the grandstands erupt like that of "Junior."
That appeal makes him NASCAR's franchise, because he has been able to do as a driver what NASCAR struggles to do as a business. It must retain the 40-and-over fan who can afford to spend the $1,000 or more it takes to attend an out-of-town race, while also luring fresh, young enthusiasts who demand more than cars going in circles for their ticket money. So NASCAR has added trackside concerts and expanded its television coverage to create stars of its popular young drivers.
About a third of its fans are 18 to 34 years old, and slightly more than a quarter of them are 35 to 44. The largest single group -- 45 percent -- is over 45.
The Nextel Cup series can already boast 40 percent of its audience are women, so expansion plans are aimed at the African American and Latino communities. This year, for example, its Busch drivers will race in Mexico, making it the first time one of NASCAR's "big three" series will compete for points outside the U.S.
But there's a backlash to growth. Critics say NASCAR is abandoning its traditional Southern fans who have crowded into its tiny, old tracks for half a century in favor of shiny, new ovals near large cities, where fans eagerly buy up to 150,000 tickets.
And they've good reason to complain.
NASCAR has shifted some of its traditional race dates from those southern ovals to speedways in Southern California and Texas. International Speedway Corp., NASCAR's track-building sister company, is currently looking for land to build a speedway in the Pacific Northwest, one of the few areas in the country without a NASCAR race.
NASCAR recognizes that to strengthen its fan base it has to broaden its appeal and attract new followers, thus its appetite for converts has become almost insatiable. And sometimes NASCAR's constant sell job is hard to swallow, even for those riding highest on the wave of success.
"There's a lot of different ways you can approach shilling the sport to somebody, and I think a lot of times we force it upon even the media," Earnhardt Jr. said. "I think the impression sometimes that people get is we are a little bit of a brute about our sport. I think sometimes we push it a little too hard."
Those who don't like the current state of affairs contend that in the past decade NASCAR has become less of a racing series and more of an entertainment medium that generates millions upon millions of dollars for the France family, vendors and the tracks that host race dates. And the drivers, who don't do badly, either.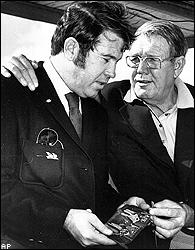 "Big Bill" France, left, founded NASCAR and passed it along to his son, Bill Jr. But did he really ruin a Rolex for a yellow flag?
But is that really any different than it was 50 years ago?
"It's always been that way," Hershel McGriff, one of stock-car racing's pioneers, said of NASCAR's marketing goals.
McGriff is a virtual unknown to today's racing fans, but in the 1950s he helped sow the seeds that have grown into NASCAR. He was NASCAR's first media star. France flew him to the cities where they were planning a race. McGriff's job was to hit the radio and television stations, talk about racing and get locals excited about buying tickets.
"We'd fly around in Bill's old airplane and even back then he would have huge maps and plans laid out on his table. I really think he knew how successful this would be some day," said McGriff, now 77.
He and "Big Bill" met in 1950 on the first Mexican Road Race -- Carrera PanAmericana -- which McGriff won in an Oldsmobile. France was so impressed with the young stock car racer from Oregon that he invited McGriff to run one of his races back East.
"I drove the Mexico car all the way across the country, raced seven hours at Darlington and finished ninth, then drove the car back home," he said. "That's when stock cars really were stock."
And that's one of the things he -- and other critics of NASCAR -- complain about. NASCAR has developed a series of body templates that all of its cars must fit under today. Over the past few years, more and more of the templates are common to all cars, so the visual differences between a Dodge and a Ford have been reduced to little more than the grill opening and decals.
"I kinda wish we could get back to where cars looked more like they do in the showroom," McGriff said. "But I doubt we'll ever see that."
The look-alike cars are all part of the constantly evolving rules NASCAR uses to tighten the fields and foster closer competition. Back in what NASCAR calls its "pre-modern era" of racing, it wasn't uncommon for a good driver in the best car to lap the field two or three times in a long race.
Ned Jarrett once won a race in which he lapped the second-place finisher 14 times, and that still stands as the record.
If that was your favorite driver in front, it was the best day ever in racing. If not, you muttered about "the fix" being in and wondered about coming back next year.
The templates fixed that. They controlled the closeness of a race by taking away the aerodynamic advantage of any one body style. Tightening the racing is one thing, but it had little to do with the outcome of a season. Sometimes the ultimate victory doesn't go to the fastest racer, but the smartest one.
Two years ago Matt Kenseth won the final Winston Cup championship with a single victory, matched with a strong points-paying performance Sunday after Sunday.
By the end of the season, he had built up such a cushion that all he had to do was show up for work the last race of the year and the championship was his. Instead of drivers dueling for a title, the season closed with fans trying to stifle a yawn.
So NASCAR changed the rules beginning in 2004, creating a "Chase for the Championship" that takes the top 10 drivers in points and virtually levels the playing field for the final 10 races of the year.
It worked. Last year Kurt Busch won the first Nextel Cup title by the closest margin ever. And television ratings -- now NASCAR's most important figure -- were up, even with the series facing its annual battle for fans with the NFL.
"The new points system did exactly what we wanted it to do," said Brian France, who inherited the keys to NASCAR from Bill France Jr., who likewise took over the business from his founding father.
The points system isn't the only thing that goes under the knife. During the season, series officials constantly tinker with the rulebook -- some say the writing is in pencil so it can be easily erased -- to keep parity.
"
I kinda wish we could get back to where cars looked more like they do in the showroom. But I doubt we'll ever see
that. "
.
— Hershel McGriff, a NASCAR pioneer named one of the 50 greatest drivers of all-time
It's frustrating for the teams and fans.
Last summer, while Jimmie Johnson was the hottest driver in the series, Chad Knaus, his crew chief, was asked about his team's chances of taking the 2004 title.
"It depends on the rules of the day," Knaus said. "This constant changing drives us nuts. NASCAR comes up with something they want different and it takes countless hours and thousands of dollars in the wind tunnel for us to figure out how to work with it.
"Either they don't realize what they are doing to us, or they don't care."
NASCAR cares. It has always cared, even back to its early years.
"I remember when we were at Talledega and I was driving for the Pettys," recalled McGriff. "It was when the series was just beginning to go from the big block engines to the small ones.
"We had something like a 440-cubic-inch engine in our car and the Wood Brothers showed up with a 350-something in their Ford. To make them more equal, NASCAR made us use a restrictor plate.
"The problem was that the Wood Brothers' car was about 15 miles an hour faster than ours. We could keep up to it for a while in the draft, but eventually they would break the draft and just take off and get away from us.
"So Bill France comes over and says not to worry. 'If they get too far ahead of you, we'll just throw a caution flag and tighten everything back up,' he said. And that's what they did. They didn't have to do it much, because we had a lot of blown engines and wrecks, so it was never a big problem."
And that story will confirm what every die-hard NASCAR fan already believes. There's a conspiracy afoot.
If there is, it's simply to make the show better. It is part of NASCAR's tradition.
Perhaps the best Big Bill France legend -- and he's not alive to confirm or deny it -- has NASCAR's founder standing outside the fence just as a driver is getting ready to lap the field. Domination like that is the kiss of death to a promoter who wants fans to come back next week.
So France shakes his head, then takes off his Rolex watch and tosses it over the fence, into the racing line.
Then he tells his assistant to radio in for a yellow flag.
"Tell 'em 'There's debris on the track.'"
Did he do it? Probably not.
"But it's a great story," said McGriff. "And I can see Bill doing something like that. I really can."
Jerry F. Boone writes columns for The Oregonian. He can be reached at jfboone@aol.com.
SPONSORED HEADLINES
ESPN TOP HEADLINES
MOST SENT STORIES ON ESPN.COM