Commentary
The Kid, The King, the Silver Fox and two of open-wheel racing's very best
The Kid has won more NASCAR races than any active driver. The King has won more than anybody, period. The rest of drivers 10 through six in ESPN.com's top 25 drivers of all time? Two open-wheel legends and the only man to consistently beat Richard Petty at his own game, writes Terry Blount.
Updated:
May 23, 2008, 11:29 PM ET
By
Terry Blount
| ESPN.com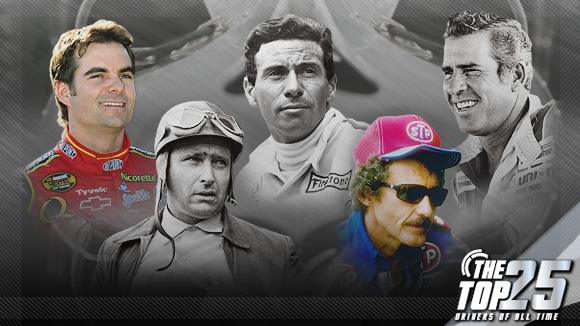 ESPN.com IllustrationJeff Gordon, Juan Manuel Fangio, Jim Clark, Richard Petty and David Pearson upped the ante.
Who are the top 25 drivers of all time? ESPN.com asked 19 experts to vote for any driver who piloted something with wheels and a motor. Today's list presents drivers 10-6.
10. Jeff Gordon
Series: NASCAR

I've always said he's the best out there. What set him apart is he's so smart. He's won so many races by outsmarting the other guys. He might not have had the best car, but he planned his moves the right way at the right time.
-- David Pearson

Championships: Four Cup titles (1995, '97, '98 and 2001).
Years competed: 1993 to present.
Birthdate: Aug. 4, 1971.
Hometown: Vallejo, Calif.
Why he made the top 25: One of only three drivers to win four Cup championships.

Accomplishments: He was youngest driver to win the sprint car Silver Crown at age 20 in 1991. Cup Rookie of the Year in 1993. Gordon has three Daytona 500 victories. His 81 victories rank sixth on NASCAR's all-time list and first among active drivers. The only driver to win the Allstate 400 at the Brickyard four times. Has earned a NASCAR record $95 million in his career.
9. Juan Manuel Fangio
Series: Formula One

You must always strive to be the best, but you must never believe that you are.
-- Juan Manuel Fangio

Championships: Five (1951, '54, '55, '56 and '57).
Years competed: 1948-58.
Birthdate: June 24, 1911.
Died: July 17, 1995
Hometown: Balcarce, Argentina
Why he made the top 25: The first driver to win five F1 championships.

Accomplishments: Fangio dominated the first decade of F1. His five championships were unmatched for almost half a century until Michael Schumacher won his sixth in 2003. Fangio's championships came for four different teams, a feat that never has been matched. Even more amazing is that all five of his championship seasons came after he was 40 years old, with the last one coming at age 46.
8. Jim Clark
Series: Formula One and Indy car

When Jackie Stewart talks about him, he's still in awe. And for Jackie to be like that, the guy must have been amazing.
-- Dario Franchitti

Championships: Two (1963, '65).
Years competed: 1960-68.
Birthdate: March 4, 1936.
Died: April 7, 1968 in a crash at Hockenheimring course in Germany during a Formula Two race.
Hometown: Fife, Scotland.
Why he made the top 25: At the time of his death, Clark had won more races (25) and more poles (33) than any driver in F1 history.

Accomplishments: Clark won the Indy 500 in 1965, becoming the only man to win the F1 championship and Indy in the same season. And Clark almost did it in 1963, finishing second at Indy. He was the first driver to win the Indy 500 in a rear-engine car. Clark won seven of 10 F1 races in 1963 and six of his nine starts in 1965.
7. David Pearson
Series: NASCAR

People always ask me who was the best driver I ever raced against and I always tell them David Pearson. He was a better pure driver than I was, and probably the best.
-- Richard Petty

Championships: Three Cup titles (1966, '68 and '69).
Years competed: 1960-86.
Birthdate: Dec. 22, 1934.
Hometown: Spartanburg, S.C.
Why he made the top 25: Second on NASCAR's all-time victory list with 105 wins.

Accomplishments: Only four times in his career did Pearson compete in more than 80 percent of the scheduled races for a season. He won the championship in three of those four years. His rivalry with Richard Petty was one of NASCAR's best. From 1963 through 1977, the duo finished 1-2 in 63 Cup races. Pearson won 33 of those events.
6. Richard Petty
Series: NASCAR

Richard was a tremendous competitor. The thing that set him apart was his dedication. He worked harder at it than anyone else.
-- Cale Yarborough

Championships: Seven Cup titles (1964, '67, '71, '72, '74, '75 and '79).
Years competed: 1958-92.
Birthdate: July 2, 1937.
Hometown: Level Cross, N.C.
Why he made the top 25: No. 1 on NASCAR career victories list with 200, and one of only two men to win seven Cup championships.

Accomplishments: Petty won the Daytona 500 a record seven times. He won a record 27 races, including 10 in a row, in 1967. In 1,185 starts, he posted a remarkable 712 top-10 finishes. His 13 victories in 1975 is a modern-era record that Jeff Gordon tied in 1998, but Petty's wins came in three fewer starts (30 to 33).
Terry Blount covers motorsports for ESPN.com. He can be reached at terry@blountspeak.com.
ESPN Seattle Seahawks reporter
Covered the NFL at the Houston Post and Houston Chronicle, including eight Super Bowls
Received Citation for Writing Excellence from Hearst Newspapers
Also has covered NBA Finals, World Series, Finals Fours, Indy 500 and Daytona 500
TOP 25 DRIVERS OF ALL TIME